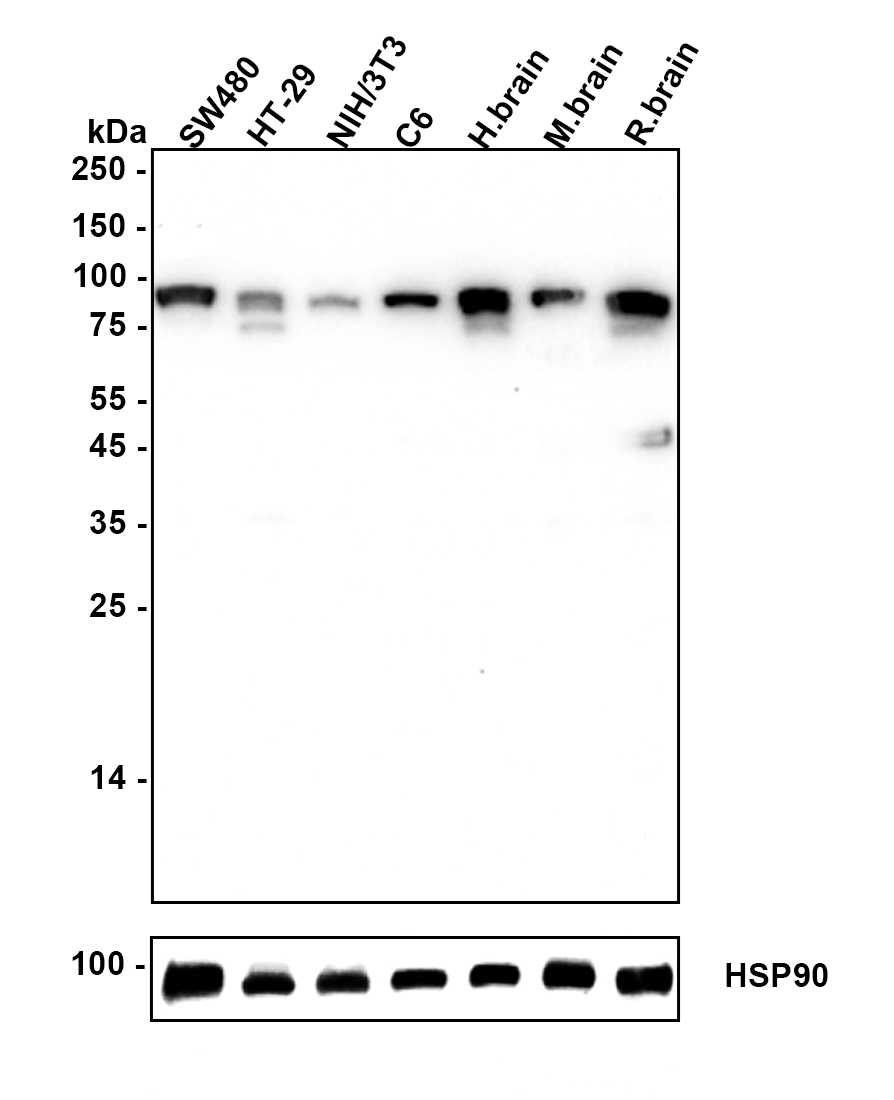 Western blot analysis of beta-catenin on different cell lysates using anti- beta-catenin antibody at 1/2,000 dilution.

Lane 1: A431 cell lysate
Lane 2: NCCIT cell lysate
Lane 3: SW480 cell lysate
Lane 4: HT-29 cell lysate
Lane 5: Mouse brain tissue lysate
SPECIFICATIONS
Product Name
Beta-Catenin Mouse Monoclonal Antibody [A6-F8] (EM0306)
Immunogen
Synthetic peptide (klh-coupled) within human beta-catenin aa 320-400.
Positive Control
A431 cell lysate, NCCIT cell lysate, SW480 cell lysate, HT-29 cell lysate, mouse brain tissue lysate, Hela, rat testis tissue, human liver tissue, human colon cancer tissue.
PROPERTIES
Storage Condition
Store at +4C after thawing. Aliquot store at -20C or -80C. Avoid repeated freeze / thaw cycles.
Storage Buffer
1*PBS (pH7.4), 0.2% BSA, 40% Glycerol. Preservative: 0.05% Sodium Azide.
PURIFICATION
Protein A affinity purified.
TARGET
SYNONYMS
β Catenin;Beta catenin antibody;Beta-catenin antibody;Cadherin associated protein antibody;Catenin (cadherin associated protein), beta 1, 88kDa antibody;Catenin beta 1 antibody;Catenin beta-1 antibody;CATNB antibody;CHBCAT antibody;CTNB1_HUMAN antibody;CTNNB antibody;CTNNB1 antibody;DKFZp686D02253 antibody;FLJ25606 antibody;FLJ37923 antibody;OTTHUMP00000162082 antibody;OTTHUMP00000165222 antibody;OTTHUMP00000165223 antibody;OTTHUMP00000209288 antibody;OTTHUMP00000209289 antibody
SEQUENCE SIMILARITIES
Belongs to the beta-catenin family.
TISSUE SPECIFICITY
Expressed in several hair follicle cell types: basal and peripheral matrix cells, and cells of the outer and inner root sheaths. Expressed in colon. Present in cortical neurons (at protein level). Expressed in breast cancer tissues (at protein level).
POST-TRANSLATIONAL MODIFICATION
Phosphorylation at Ser-552 by AMPK promotes stabilizion of the protein, enhancing TCF/LEF-mediated transcription (By similarity). Phosphorylation by GSK3B requires prior phosphorylation of Ser-45 by another kinase. Phosphorylation proceeds then from Thr-41 to Ser-37 and Ser-33. Phosphorylated by NEK2. EGF stimulates tyrosine phosphorylation. Phosphorylation on Tyr-654 decreases CDH1 binding and enhances TBP binding. Phosphorylated on Ser-33 and Ser-37 by HIPK2 and GSK3B, this phosphorylation triggers proteasomal degradation. Phosphorylation on Ser-191 and Ser-246 by CDK5. Phosphorylation by CDK2 regulates insulin internalization. Phosphorylation by PTK6 at Tyr-64, Tyr-142, Tyr-331 and/or Tyr-333 with the predominant site at Tyr-64 is not essential for inhibition of transcriptional activity.; Ubiquitinated by the SCF(BTRC) E3 ligase complex when phosphorylated by GSK3B, leading to its degradation. Ubiquitinated by a E3 ubiquitin ligase complex containing UBE2D1, SIAH1, CACYBP/SIP, SKP1, APC and TBL1X, leading to its subsequent proteasomal degradation. Ubiquitinated and degraded following interaction with SOX9 (By similarity).; S-nitrosylation at Cys-619 within adherens junctions promotes VEGF-induced, NO-dependent endothelial cell permeability by disrupting interaction with E-cadherin, thus mediating disassembly adherens junctions.; O-glycosylation at Ser-23 decreases nuclear localization and transcriptional activity, and increases localization to the plasma membrane and interaction with E-cadherin CDH1.; Deacetylated at Lys-49 by SIRT1.
FUNCTION
Key downstream component of the canonical Wnt signaling pathway In the absence of Wnt, forms a complex with AXIN1, AXIN2, APC, CSNK1A1 and GSK3B that promotes phosphorylation on N-terminal Ser and Thr residues and ubiquitination of CTNNB1 via BTRC and its subsequent degradation by the proteasome. In the presence of Wnt ligand, CTNNB1 is not ubiquitinated and accumulates in the nucleus, where it acts as a coactivator for transcription factors of the TCF/LEF family, leading to activate Wnt responsive genes Involved in the regulation of cell adhesion, as component of an E-cadherin:catenin adhesion complex. Acts as a negative regulator of centrosome cohesion. Involved in the CDK2/PTPN6/CTNNB1/CEACAM1 pathway of insulin internalization. Blocks anoikis of malignant kidney and intestinal epithelial cells and promotes their anchorage-independent growth by down-regulating DAPK2. Disrupts PML function and PML-NB formation by inhibiting RANBP2-mediated sumoylation of PML. Promotes neurogenesis by maintaining sympathetic neuroblasts within the cell cycle. Involved in chondrocyte differentiation via interaction with SOX9: SOX9-binding competes with the binding sites of TCF/LEF within CTNNB1, thereby inhibiting the Wnt signaling.
CITATIONS
Wang, Shihao et al.

Wnt Signaling Modulates Routes of Retinoic Acid-Induced Differentiation of Embryonic Stem Cells. | Stem Cells and Development [2019]

WB

IS

Embryonic Stem Cells