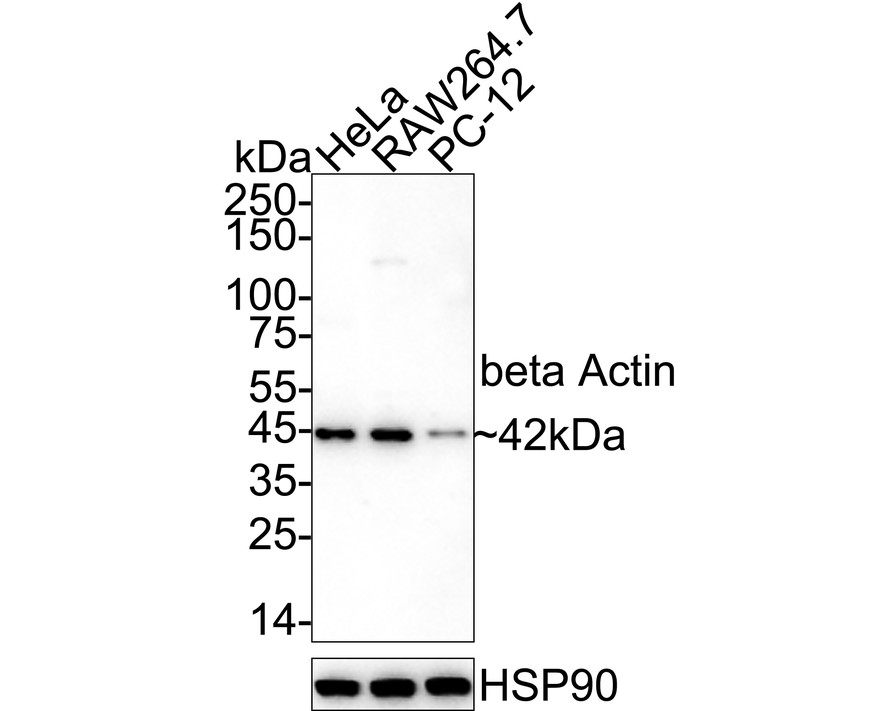 Western blot analysis of β-Actin on different cell lysate. Proteins were transferred to a PVDF membrane and blocked with 5% BSA in PBS for 1 hour at room temperature. The primary antibody was used at a 1:50,000 dilution in 5% BSA at room temperature for 2 hours. Goat Anti-rabbit IgG - HRP Secondary Antibody (HA1001) at 1:5,000 dilution was used for 1 hour at room temperature.
Positive control:
Lane A: PC12 cell lysates
Lane B: Hela cell lysates
Lane C: NIH/3T3 cell lysates
SPECIFICATIONS
Product Type
Rabbit polyclonal primary
Product Name
Beta Actin Rabbit Polyclonal Antibody (R1102-1)
Immunogen
Synthetic peptide within n-terminal residues of human beta actin.
Positive Control
Different cell lysates, MCF-7, human kidney tissue, human tonsil tissue, human colon cancer tissue, HT-29.
PROPERTIES
Storage Condition
Store at +4C after thawing. Aliquot store at -20C. Avoid repeated freeze / thaw cycles.
Storage Buffer
1*PBS (pH7.4), 0.2% BSA, 50% Glycerol. Preservative: 0.05% Sodium Azide.
PURIFICATION
Peptide affinity purified.
TARGET
SYNONYMS
A26C1A antibody; A26C1B antibody; ACTB antibody; ACTB_HUMAN antibody; Actin beta antibody; Actin cytoplasmic 1 antibody; Actin, cytoplasmic 1, N-terminally processed antibody; Actx antibody; b actin antibody; Beta cytoskeletal actin antibody; Beta-actin antibody; BRWS1 antibody; E430023M04Rik antibody; MGC128179 antibody; PS1TP5 binding protein 1 antibody; PS1TP5BP1 antibody
SEQUENCE SIMILARITIES
Belongs to the actin family.
POST-TRANSLATIONAL MODIFICATION
ISGylated.; Oxidation of Met-44 and Met-47 by MICALs (MICAL1, MICAL2 or MICAL3) to form methionine sulfoxide promotes actin filament depolymerization. MICAL1 and MICAL2 produce the (R)-S-oxide form. The (R)-S-oxide form is reverted by MSRB1 and MSRB2, which promote actin repolymerization.; Monomethylation at Lys-84 (K84me1) regulates actin-myosin interaction and actomyosin-dependent processes. Demethylation by ALKBH4 is required for maintaining actomyosin dynamics supporting normal cleavage furrow ingression during cytokinesis and cell migration.; Methylated at His-73 by SETD3. Methylation at His-73 is required for smooth muscle contraction of the laboring uterus during delivery (By similarity).; [Actin, cytoplasmic 1, N-terminally processed]: N-terminal acetylation by NAA80 affects actin filament depolymerization and elongation, including elongation driven by formins. In contrast, filament nucleation by the Arp2/3 complex is not affected.; (Microbial infection) Monomeric actin is cross-linked by V.cholerae toxins RtxA and VgrG1 in case of infection: bacterial toxins mediate the cross-link between Lys-50 of one monomer and Glu-270 of another actin monomer, resulting in formation of highly toxic actin oligomers that cause cell rounding. The toxin can be highly efficient at very low concentrations by acting on formin homology family proteins: toxic actin oligomers bind with high affinity to formins and adversely affect both nucleation and elongation abilities of formins, causing their potent inhibition in both profilin-dependent and independent manners.
FUNCTION
Beta-actin (human gene and protein abbreviation ACTB/ACTB) is one of six different actin isoforms which have been identified in humans. This is one of the two nonmuscle cytoskeletal actins. Actins are highly conserved proteins that are involved in cell motility, structure and integrity. Alpha actins are a major constituent of the contractile apparatus. Beta-actin has been shown to interact with SPTBN2. In addition, RNA-binding protein Sam68 was found to interact with the mRNA encoding β-actin, which regulates the synaptic formation of the dendritic spines with its cytoskeletal components. Beta-actin has been shown to activate eNOS, thereby increasing NO production. An eight-amino acid residue (326-333) in actin has been shown to mediate the interaction between actin and eNOS. Recurrent mutations in this gene have been associated to cases of diffuse large B-cell lymphoma. Beta actin is usually used as a loading control, for among others, the integrity of cells, protein degradation, in PCR and Western blotting. Its molecular weight is approximately 42 kDa.
CITATIONS
Luo, Jingying et al.

Activation of TGF-β_1 by AQP3-Mediated H2O2 Transport into Fibroblasts of a Bleomycin-Induced Mouse Model of Scleroderma. | The Journal of Investigative Dermatology [2016]

Lee, S., & Kim, Y.

Protocol for whole-brain immunostaining of the turquoise killifish after tissue clearing. STAR protocols, 2(2), 100564.

He, An-Yuan et al.

Systemic adaptation of lipid metabolism in response to low- and high-fat diet in Nile tilapia (Oreochromis niloticus). | Physiological Reports [2015]

Liu, Q., Xiang, P., Chen, M...

Nano-Sized Hydroxyapatite Induces Apoptosis and Osteogenic Differentiation of Vascular Smooth Muscle Cells via JNK/c-JUN Pathway. International journal of nanomedicine, 16, 3633–3648.

Pan, Jielu et al.

Extracts of Zuo Jin Wan, a traditional Chinese medicine, phenocopies 5-HTR1D antagonist in attenuating Wnt/β-catenin signaling in colorectal cancer cells. | Bmc Complementary and Alternative Medicine [2017]

Wu, J., Feng, Z., Chen, L.,...

TNF antagonist sensitizes synovial fibroblasts to ferroptotic cell death in collagen-induced arthritis mouse models