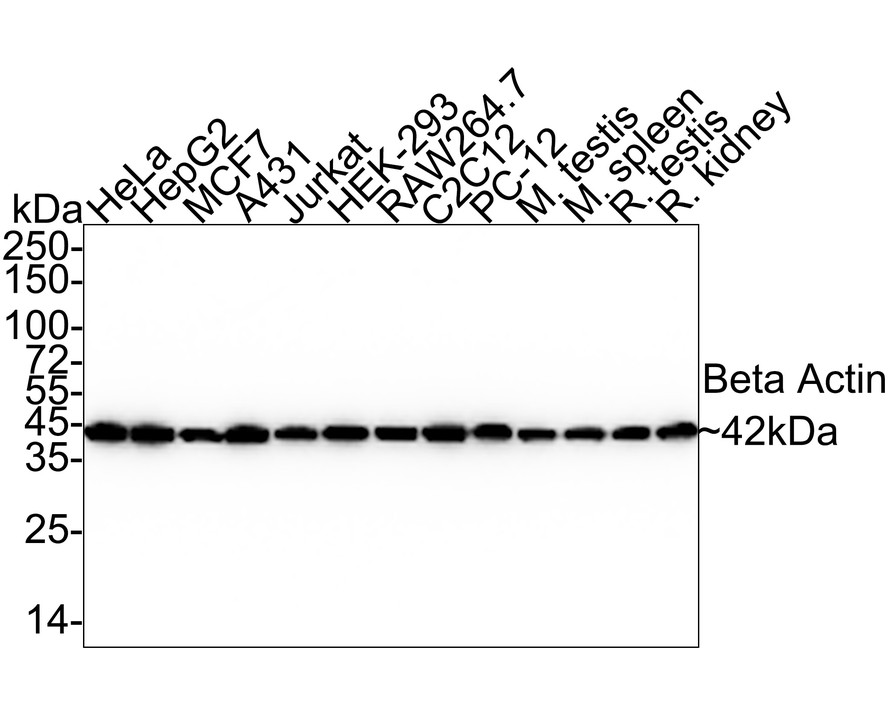 ICC staining of Beta actin in NIH/3T3 cells (green). Formalin fixed cells were permeabilized with 0.1% Triton X-100 in TBS for 10 minutes at room temperature and blocked with 10% negative goat serum for 15 minutes at room temperature. Cells were probed with the primary antibody (M1210-2, 1/50) for 1 hour at room temperature, washed with PBS. Alexa Fluor®488 conjugate-Goat anti-Mouse IgG was used as the secondary antibody at 1/1,000 dilution. The nuclear counter stain is DAPI (blue).
SPECIFICATIONS
Product Name
Beta actin Mouse Monoclonal Antibody [A2-F6] (M1210-2)
Immunogen
Synthetic peptide within n-terminal of human beta antin.
Positive Control
NIH/3T3, NIH/3T3 cell lysate, PC12 cell lysate, MCF-7 cell lysate, HepG2 cell lysate, Hela cell lysate, mouse lungtissue lysate, human colon carcinoma tissue, mouse kidney tissue.
PROPERTIES
Storage Condition
Store at -20 C. Stable for 12 months from date of receipt.
Storage Buffer
1*PBS (pH7.4), 0.2% BSA, 40% Glycerol. Preservative: 0.05% Sodium Azide.
PURIFICATION
Peptide affinity purified.
TARGET
SYNONYMS
A26C1A antibody; A26C1B antibody; ACTB antibody; ACTB_HUMAN antibody; Actin beta antibody; Actin cytoplasmic 1 antibody; Actin, cytoplasmic 1, N-terminally processed antibody; Actx antibody; b actin antibody; Beta cytoskeletal actin antibody; Beta-actin antibody; BRWS1 antibody; E430023M04Rik antibody; MGC128179 antibody; PS1TP5 binding protein 1 antibody; PS1TP5BP1 antibody
SEQUENCE SIMILARITIES
Belongs to the actin family.
POST-TRANSLATIONAL MODIFICATION
ISGylated.; Oxidation of Met-44 and Met-47 by MICALs (MICAL1, MICAL2 or MICAL3) to form methionine sulfoxide promotes actin filament depolymerization. MICAL1 and MICAL2 produce the (R)-S-oxide form. The (R)-S-oxide form is reverted by MSRB1 and MSRB2, which promote actin repolymerization.; Monomethylation at Lys-84 (K84me1) regulates actin-myosin interaction and actomyosin-dependent processes. Demethylation by ALKBH4 is required for maintaining actomyosin dynamics supporting normal cleavage furrow ingression during cytokinesis and cell migration.; Methylated at His-73 by SETD3. Methylation at His-73 is required for smooth muscle contraction of the laboring uterus during delivery (By similarity).; [Actin, cytoplasmic 1, N-terminally processed]: N-terminal acetylation by NAA80 affects actin filament depolymerization and elongation, including elongation driven by formins. In contrast, filament nucleation by the Arp2/3 complex is not affected.; (Microbial infection) Monomeric actin is cross-linked by V.cholerae toxins RtxA and VgrG1 in case of infection: bacterial toxins mediate the cross-link between Lys-50 of one monomer and Glu-270 of another actin monomer, resulting in formation of highly toxic actin oligomers that cause cell rounding. The toxin can be highly efficient at very low concentrations by acting on formin homology family proteins: toxic actin oligomers bind with high affinity to formins and adversely affect both nucleation and elongation abilities of formins, causing their potent inhibition in both profilin-dependent and independent manners.
FUNCTION
Beta actin also know as Cytoplasmic Actin is a 43 kDa, highly conserved protein, ubiquitously expressed in all eukaryotic cells. They comprise, along with microtubules, a major component of the cytoskeleton. β-Actin is a relatively stable cytoskeletal protein normally at a constant level in cells, regardless of experimental treatment or technical procedure. For this reason, measurement of β -Actin is generally used as an internal control for experimental error. In vertebrates 3 main groups of actin isoforms, alpha, beta and gamma have been identified. The alpha actins are found in muscle tissues and are a major constituent of the contractile apparatus. The beta and gamma actins coexist in most cell types as components of the cytoskeleton and as mediators of internal cell motility.
CITATIONS
Zhou, Jianwei et al.

Protein Interactions Network of Porcine Circovirus Type 2 Capsid With Host Proteins. | Frontiers in Microbiology [2020]

Liang, L., Gu, W., Li, M., ...

The long noncoding RNA HOTAIRM1 controlled by AML1 enhances glucocorticoid resistance by activating RHOA/ROCK1 pathway through suppressing ARHGAP18. Cell death & disease, 12(7), 702.

Liang, Ruichao et al.

Macrophage Polarization in Response to Varying Pore Sizes of 3D Polyurethane Scaffolds. | Journal of Biomedical Nanotechnology [2018]

Guo, Chuansheng et al.

Cholesterol Homeostatic Regulator SCAP-SREBP2 Integrates NLRP3 Inflammasome Activation and Cholesterol Biosynthetic Signaling in Macrophages. | Immunity [2018]

Yang, X., Wei, W., Tan, S.,...

Identification and verification of HCAR3 and INSL5 as new potential therapeutic targets of colorectal cancer

Yang, Dahai et al.

The Edwardsiella piscicida thioredoxin-like protein inhibits ASK1-MAPKs signaling cascades to promote pathogenesis during infection. | PloS Pathogens [2019]

Wu, Y., Zhang, C., Liu, X.,...

ARIH1 signaling promotes anti-tumor immunity by targeting PD-L1 for proteasomal degradation. Nature communications, 12(1), 2346.

Zhang, Bo et al.

Cooperative transport mechanism of human monocarboxylate transporter 2. | Nature Communications [2020]

Lu, Meng et al.

Basolateral CD147 induces hepatocyte polarity loss by E-cadherin ubiquitination and degradation in hepatocellular carcinoma progress. | Hepatology (Baltimore, Md.) [2018]

Jie Wu ;Ayaz Najafov;Honggu...

Pharmacological targeting of MCL-1 promotes mitophagy and improves disease pathologies in an Alzheimer's disease mouse model

Zhang, Meng-Yi et al.

Bromodomains and Extra-Terminal (BET) Inhibitor JQ1 Suppresses Proliferation of Acute Lymphocytic Leukemia by Inhibiting c-Myc-Mediated Glycolysis. | Medical Science Monitor : International Medical Journal of Experimental and Clinical Research [2020]

Wang, Fei et al.

Telocytes in liver regeneration: possible roles. | Journal of Cellular and Molecular Medicine [2014]

Liu, Jiang et al.

A critical role of DDRGK1 in endoplasmic reticulumhomoeostasis via regulation of IRE1a stability. | Nature Communications [2017]

WB

HEK293T

MCF7 and HepG2 cells

Lv, Dandan et al.

A novel cell-based assay for dynamically detecting neutrophil extracellular traps-induced lung epithelial injuries. | Experimental Cell Research [2020]

Dr Tao Li;Professor Wenjun ...

Narasin inhibits tumor metastasis and growth of ERα-positive breast cancer cells by inactivation of the TGF-β/SMAD3 and IL-6/STAT3 signaling pathways

Jinyan Gu; Jiyong Zhou

Nucleolar protein NPM1 is essential for circovirus replication by binding to viral capsid

Qihan Wu;Jiemin Wong

USP7 negatively controls global DNA methylation by attenuating ubiquitinated histone-dependent DNMT1 recruitment

Jiang, X., Wang, X., Ding, ...

FAM134B oligomerization drives endoplasmic reticulum membrane scission for ER-phagy. The EMBO journal, 39(5), e102608.

Zhou, L., Zhang, L., Chen, ...

Elevated Neddylation Pathway Promotes Th2 Cells Infiltration by Transactivating STAT5A in Hepatocellular Carcinoma

Duan, X., Huang, Y., Chen, ...

Moderate DNA hypomethylation suppresses intestinal tumorigenesis by promoting caspase-3 expression and apoptosis. Oncogenesis, 10(5), 38.

Yu, Weiwei et al.

One-Carbon Metabolism Supports S-Adenosylmethionine and Histone Methylation to Drive Inflammatory Macrophages. | Molecular Cell [2019]

Qihan Wu;Jiemin Wong

USP7 negatively controls global DNA methylation by attenuating ubiquitinated histone-dependent DNMT1 recruitment

Zijun Chen;Yunsen Li

Anti-H1N1 viral activity of three main active ingredients from zedoary oil

You, D., Du, D., Zhao, X., ...

Mitochondrial malic enzyme 2 promotes breast cancer metastasis via stabilizing HIF-1α under hypoxia. Chinese journal of cancer research = Chung-kuo yen cheng yen chiu, 33(3), 308–322.

Xu, Yanli et al.

Transcription coactivator Cited1 acts as an inducer of trophoblast-like state from mouse embryonic stem cells through the activation of BMP signaling. | Cell Death & Disease [2018]

Shangguan, Wenbing et al.

FoxD2-AS1 is a prognostic factor in glioma and promotes temozolomide resistance in a O6-methylguanine-DNA methyltransferase-dependent manner. | The Korean Journal of Physiology & Pharmacology : Official Journal of the Korean Physiological Society and the Korean Society of Pharmacology [2019]

Ma, X., Zhang, M., Yan, R.,...

β2SP/TET2 complex regulates gene 5hmC modification after cerebral ischemia

Cao, Huifang et al.

Edwardsiella piscicida Type III Secretion System Effector EseK Inhibits Mitogen-Activated Protein Kinase Phosphorylation and Promotes Bacterial Colonization in Zebrafish Larvae. | Infection and Immunity [2018]

Pan, X., Tan, J., Weng, X.,...

ICT1 Promotes Osteosarcoma Cell Proliferation and Inhibits Apoptosis via STAT3/BCL-2 Pathway

Hou, Mingyu et al.

Phosphothreonine Lyase Promotes p65 Degradation in a Mitogen-Activated Protein Kinase/Mitogen- and Stress-Activated Protein Kinase 1-Dependent Manner. | Infection and Immunity [2019]

Tao Xu

Disabling phosphorylation at the homer ligand of the metabotropic glutamate receptor 5 alleviates complete Freund's adjuvant-induced inflammatory pain

Chen, X. H., Chen, R., Shi,...

Chimeric antigen receptor T cells targeting CD147 for non-small cell lung cancer therapy

Zhou, J., Li, J., Li, H., Z...

The serine-48 residue of nucleolar phosphoprotein nucleophosmin-1 plays critical role in subcellular localization and interaction with porcine circovirus type 3 capsid protein. Veterinary research, 52(1), 4.

Yang, Fan et al.

HPRT1 activity loss is associated with resistance to thiopurine in ALL. | Oncotarget [2018]

Shao, R., Wang, X., Xu, T.,...

The balance between AIM2-associated inflammation and autophagy: the role of CHMP2A in brain injury after cardiac arrest

Wu, C. J., Fu, F. D., Qin, ...

Vacuum therapy ameliorates erectile dysfunction in bilateral cavernous nerve crush rats by inhibiting apoptosis and activating autophagy

Wenjin Yin;Xueli Zhang; Jin...

TIMELESS regulates sphingolipid metabolism and tumor cell growth through Sp1/ACER2/S1P axis in ER-positive breast cancer

Li, Ping et al.

Coordinated regulation of IFITM1, 2 and 3 genes by an IFN-responsive enhancer through long-range chromatin interactions. | Biochimica Et Biophysica Acta. Gene Regulatory Mechanisms [2017]

Li, Yi-Ming et al.

Programmed Death Ligand 1 Indicates Pre-Existing Adaptive Immune Response by Tumor-Infiltrating CD8+ T Cells in Non-Small Cell Lung Cancer. | International Journal of Molecular Sciences [2019]

Zhao, S-J et al.

SPARCL1 suppresses osteosarcoma metastasis and recruits macrophages by activation of canonical WNT/β-catenin signaling through stabilization of the WNT-receptor complex. | Oncogene [2018]

Wang, K., Huang, W., Chen, ...

Di-methylation of CD147-K234 promotes the progression of NSCLC by enhancing lactate export

Chen, R., Huang, M., Yang, ...

CALR-TLR4 Complex Inhibits Non-Small Cell Lung Cancer Progression by Regulating the Migration and Maturation of Dendritic Cells

Cai, Jiaoyang et al.

A novel fusion gene PLEKHA6-NTRK3 in langerhans cell histiocytosis. | International Journal of Cancer [2019]

WB

HEK293T cells;t NIH 3T3 cells

Lu, Yan et al.

Palmitoylation of NOD1 and NOD2 is required for bacterial sensing. | Science (New York, N.Y.) [2019]

Zhou, J., Qiu, Y., Zhu, N.,...

The Nucleolar Localization Signal of Porcine Circovirus Type 4 Capsid Protein Is Essential for Interaction With Serine-48 Residue of Nucleolar Phosphoprotein Nucleophosmin-1

Li, Jialun et al.

Activated MEK/ERK Pathway Drives Widespread and Coordinated Overexpression of UHRF1 and DNMT1 in Cancer cells. | Scientific Reports [2019]

Liu, Xia et al.

Silencing RRM2 inhibits multiple myeloma by targeting the Wnt/β-catenin signaling pathway. | Molecular Medicine Reports [2019]

Zhao, Shu-Jie et al.

SLIT2/ROBO1 axis contributes to the Warburg effect in osteosarcoma through activation of SRC/ERK/c-MYC/PFKFB2 pathway. | Cell Death & Disease [2018]

Zhang, X., He, Y., Jiang, Y...

TMEM229A suppresses non‑small cell lung cancer progression via inactivating the ERK pathway. Oncology reports, 46(2), 176.

Chen, Z., Zhang, Y., Guan, ...

Linking nuclear matrix-localized PIAS1 to chromatin SUMOylation via direct binding of histones H3 and H2A.Z

Heybrock, Saskia et al.

Lysosomal integral membrane protein-2 (LIMP-2/SCARB2) is involved in lysosomal cholesterol export. | Nature Communications [2019]

Zhang, Fanghui et al.

Specific Decrease in B-Cell-Derived Extracellular Vesicles Enhances Post-Chemotherapeutic CD8+ T Cell Responses. | Immunity [2019]

Shen, Yifei et al.

S1P/S1PR3 axis promotes aerobic glycolysis by YAP/c-MYC/PGAM1 axis in osteosarcoma. | EbioMedicine [2019]

Wang, Shihao et al.

Wnt Signaling Modulates Routes of Retinoic Acid-Induced Differentiation of Embryonic Stem Cells. | Stem Cells and Development [2019]

WB

IS

Embryonic Stem Cells

Guo, Y., Liu, Y., Zhao, S.,...

Oxidative stress-induced FABP5 S-glutathionylation protects against acute lung injury by suppressing inflammation in macrophages

Qiu, Qiang et al.

Targeting glutaminase1 and synergizing with clinical drugs achieved more promising antitumor activity on multiple myeloma. | Oncotarget [2019]

Yu, Jiekai et al.

High-throughput proteomics integrated with gene microarray for discovery of colorectal cancer potential biomarkers. | Oncotarget [2016]

Zhang Bao;Jianying Zhou

Triptolide induces atrophy of myotubes by triggering IRS-1 degradation and activating the FoxO3 pathway. Toxicology in vitro : an international journal published in association with BIBRA, 65, 104793.

Li, Yang et al.

The function of a heterozygous p53 mutation in a Li-Fraumeni syndrome patient. | PloS One [2020]

Yu, Jiekai et al.

Identification of Kininogen 1 as a Serum Protein Marker of Colorectal Adenoma in Patients with a Family History of Colorectal Cancer. | Journal of Cancer [2018]

Lu, Huan et al.

Targeting cancer stem cell signature gene SMOC-2 Overcomes chemoresistance and inhibits cell proliferation of endometrial carcinoma. | EbioMedicine [2019]

Li, Yi-Ming et al.

Alterations of the Immunologic Co-Stimulator B7 and TNFR Families Correlate with Hepatocellular Carcinoma Prognosis and Metastasis by Inactivating STAT3. | International Journal of Molecular Sciences [2019]

Zhou, J., Wang, Y., Qiu, Y....

Contribution of DEAD-Box RNA Helicase 21 to the Nucleolar Localization of Porcine Circovirus Type 4 Capsid Protein

Wang, Han et al.

The role of sphingosine-1-phosphate signaling pathway in cementocyte mechanotransduction. | Biochemical and Biophysical Research Communications [2020]