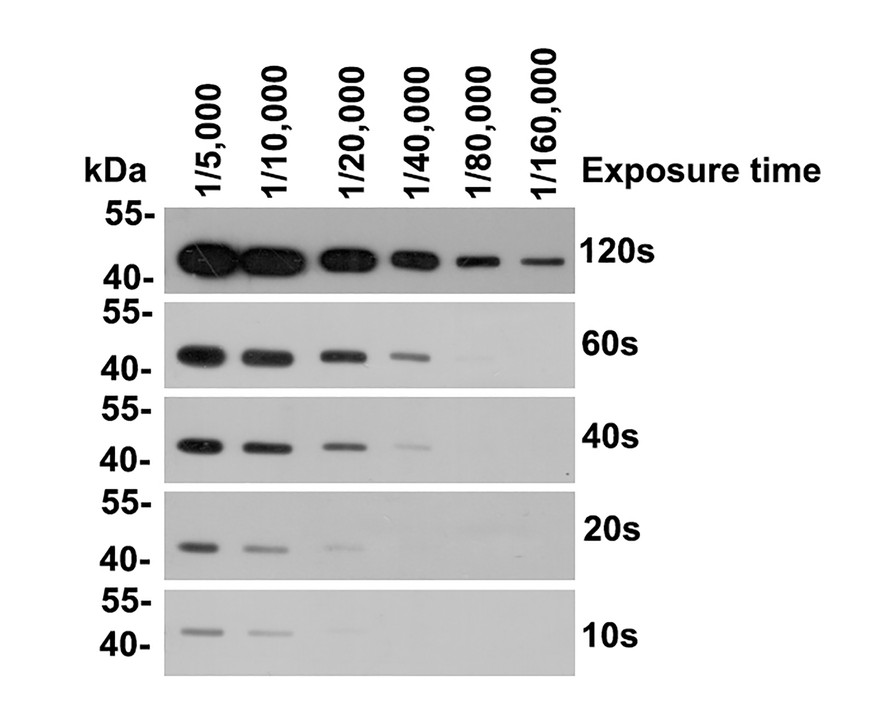 Western blot analysis of Beta actin on different lysates. Proteins were transferred to a PVDF membrane and blocked with 5% BSA in PBS for 1 hour at room temperature. The primary antibody (M1210-2, 1/10,000) was used in 5% BSA at room temperature for 2 hours. Goat Anti-Mouse IgG - HRP Secondary Antibody (HA1006) at 1:20,000 dilution was used for 1 hour at room temperature.
Positive control:
Lane 1: NIH/3T3 cell lysate
Lane 2: PC-12 cell lysate
Lane 3: MCF-7 cell lysate
Lane 4: HepG2 cell lysate
Lane 5: Hela cell lysate
Lane 6: Mouse lung tissue lysate
SPECIFICATIONS
Product Name
Beta Actin Mouse Monoclonal Antibody [A2-F6] (EM21002)
Immunogen
Synthetic peptide (klh-coupled) within human beta-actin n terminal.
Positive Control
NIH/3T3 cell lysate, PC-12 cell lysate, MCF-7 cell lysate, HepG2 cell lysate, Hela cell lysate, mouse lung tissue lysate, Hela, A549, NIH/3T3, human colon carcinoma tissue, mouse prostate tissue, mouse kidney tissue.
PROPERTIES
Storage Condition
Store at +4C after thawing. Aliquot store at -20C or -80C. Avoid repeated freeze / thaw cycles.
Storage Buffer
1*PBS (pH7.4), 0.2% BSA, 40% Glycerol. Preservative: 0.05% Sodium Azide.
TARGET
SYNONYMS
A26C1A antibody; A26C1B antibody; ACTB antibody; ACTB_HUMAN antibody; Actin beta antibody; Actin cytoplasmic 1 antibody; Actin, cytoplasmic 1, N-terminally processed antibody; Actx antibody; b actin antibody; Beta cytoskeletal actin antibody; Beta-actin antibody; BRWS1 antibody; E430023M04Rik antibody; MGC128179 antibody; PS1TP5 binding protein 1 antibody; PS1TP5BP1 antibody
SEQUENCE SIMILARITIES
Belongs to the actin family.
POST-TRANSLATIONAL MODIFICATION
ISGylated.; Oxidation of Met-44 and Met-47 by MICALs (MICAL1, MICAL2 or MICAL3) to form methionine sulfoxide promotes actin filament depolymerization. MICAL1 and MICAL2 produce the (R)-S-oxide form. The (R)-S-oxide form is reverted by MSRB1 and MSRB2, which promote actin repolymerization.; Monomethylation at Lys-84 (K84me1) regulates actin-myosin interaction and actomyosin-dependent processes. Demethylation by ALKBH4 is required for maintaining actomyosin dynamics supporting normal cleavage furrow ingression during cytokinesis and cell migration.; Methylated at His-73 by SETD3. Methylation at His-73 is required for smooth muscle contraction of the laboring uterus during delivery (By similarity).; [Actin, cytoplasmic 1, N-terminally processed]: N-terminal acetylation by NAA80 affects actin filament depolymerization and elongation, including elongation driven by formins. In contrast, filament nucleation by the Arp2/3 complex is not affected.; (Microbial infection) Monomeric actin is cross-linked by V.cholerae toxins RtxA and VgrG1 in case of infection: bacterial toxins mediate the cross-link between Lys-50 of one monomer and Glu-270 of another actin monomer, resulting in formation of highly toxic actin oligomers that cause cell rounding. The toxin can be highly efficient at very low concentrations by acting on formin homology family proteins: toxic actin oligomers bind with high affinity to formins and adversely affect both nucleation and elongation abilities of formins, causing their potent inhibition in both profilin-dependent and independent manners.
FUNCTION
Beta actin also know as Cytoplasmic Actin is a 42 kDa, highly conserved protein, ubiquitously expressed in all eukaryotic cells. They comprise, along with microtubules, a major component of the cytoskeleton. β-Actin is a relatively stable cytoskeletal protein normally at a constant level in cells, regardless of experimental treatment or technical procedure. For this reason, measurement of β -Actin is generally used as an internal control for experimental error.
CITATIONS
Jian Huang

Tumor-derived HMGB1 induces CD62Ldim neutrophil polarization and promotes lung metastasis in triple-negative breast cancer

Haiyan Song,Guang Ji

Elevated serum A20 is associated with severity of chronic hepatitis B and A20 inhibits NF-κB-mediated inflammatory response

Dr Zhiguo Zheng

Expression and clinical significance of methyl-CpG binding domain protein 2 in high-grade serous ovarian cancer

Jiang, J., Wang, W., Sun, F...

Bacterial infection reinforces host metabolic flux from arginine to spermine for NLRP3 inflammasome evasion. Cell reports, 34(10), 108832.

Yang, Huipeng et al.

Activation of cAMP-response element-binding protein is positively regulated by PKA and calcium-sensitive calcineurin and negatively by PKC in insect. | Insect Biochemistry and Molecular Biology [2013]

Jin, Xing et al.

An essential role for GLUT5-mediated fructose utilization in exacerbating the malignancy of clear cell renal cell carcinoma. | Cell Biology and Toxicology [2019]

Wang, Yuan-Li et al.

Involvement of the single Cul4 gene of Chinese mitten crab Eriocheir sinensis in spermatogenesis. | Gene [2014]

John H. Werren & Gongyin Ye

Insights into the venom composition and evolution of an endoparasitoid wasp by combining proteomic and transcriptomic analyses

Xu, Jing et al.

Neuroligin 3 Regulates Dendritic Outgrowth by Modulating Akt/mTOR Signaling. | Frontiers in Cellular Neuroscience [2019]

Zhang, Yuefeng et al.

Pancreatic cancer-derived exosomes suppress the production of GIP and GLP-1 from STC-1 cells in vitro by down-regulating the PCSK1/3. | Cancer Letters [2018]

WB

STC-1

PANC-1

MIA PaCa-2

and SW620 cell

Ge, Jiafeng et al.

Ubiquitin carboxyl-terminal hydrolase isozyme L5 inhibits human glioma cell migration and invasion via downregulating SNRPF. | Oncotarget [2017]

H Chen

Induction and inhibition of the pan-nuclear gamma-H2AX response in resting human peripheral blood lymphocytes after X-ray irradiation

Wang, Zheng et al.

Overexpression of ceramide synthase 1 increases C18-ceramide and leads to lethal autophagy in human glioma. | Oncotarget [2017]

Liu, Han et al.

Quantitative Proteomic Analysis of Germination of Nosema bombycis Spores under Extremely Alkaline Conditions. | Frontiers in Microbiology [2016]

Guang Ji

Increased ARPP-19 Expression Is Associated with Hepatocellular Carcinoma

Xiangru Wang

Induction of VEGFA and Snail-1 by meningitic Escherichia coli mediates disruption of the blood-brain barrier

Guo, Chuansheng et al.

Bile Acids Control Inflammation and Metabolic Disorder through Inhibition of NLRP3 Inflammasome. | Immunity [2016]

Wang, Qian et al.

Myricetin suppresses differentiation of 3 T3-L1 preadipocytes and enhances lipolysis in adipocytes. | Nutrition Research (New York, N.Y.) [2015]

Chen, Yingzhu et al.

Necrostatin-1 Improves Long-term Functional Recovery Through Protecting Oligodendrocyte Precursor Cells After Transient Focal Cerebral Ischemia in Mice. | Neuroscience [2018]

Honghong Chen

Niclosamide sensitizes triple-negative breast cancer cells to ionizing radiation in association with the inhibition of Wnt/β-catenin signaling

Guohong Zhuang,Ping Yin

The pro-apoptotic effects of TiPe2 on aa rat fibroblast-like synoviocytes via regulation of the Dr5–caspase–NF-κB pathway in vitro

Wang, Quanquan et al.

The Relationship between the Bcl-2/Bax Proteins and the Mitochondria-Mediated Apoptosis Pathway in the Differentiation of Adipose-Derived Stromal Cells into Neurons. | PloS One [2016]

Zhou, Yan et al.

The multi-targeted tyrosine kinase inhibitor vandetanib plays a bifunctional role in non-small cell lung cancer cells. | Scientific Reports [2015]

Yang, Xiao-Pei et al.

EGFR transactivation contributes to neuroinflammation in Streptococcus suis meningitis. | Journal of Neuroinflammation [2016]

Xie, Jiamin et al.

Involvement of follistatin-like 3 in preeclampsia. | Biochemical and Biophysical Research Communications [2018]

Shan, Ying et al.

Nucleocapsid protein from porcine epidemic diarrhea virus isolates can antagonize interferon-λ production by blocking the nuclear factor-κB nuclear translocation. | Journal of Zhejiang University. Science. B [2018]

Gao, Fei et al.

Cotesia vestalis teratocytes express a diversity of genes and exhibit novel immune functions in parasitism. | Scientific Reports [2016]

Wu, Weiche et al.

Muscle-specific deletion of Prkaa1 enhances skeletal muscle lipid accumulation in mice fed a high-fat diet. | Journal of Physiology and Biochemistry [2018]

Jie-Feng Cui

Dynamic Expression Patterns of Differential Proteins during Early Invasion of Hepatocellular Carcinoma

Chen, Ao et al.

Liraglutide attenuates NLRP3 inflammasome-dependent pyroptosis via regulating SIRT1/NOX4/ROS pathway in H9c2 cells. | Biochemical and Biophysical Research Communications [2018]

Jingwei, Chen et al.

Effect of Bushenwenyanghuayu decoction on nerve growth factor and bradykinin/bradykinin B1 receptor in a endometriosis dysmenorrhea mouse model. | Journal of Traditional Chinese Medicine = Chung I Tsa Chih Ying Wen Pan [2015]

Chen, Hao et al.

The Bacterial T6SS Effector EvpP Prevents NLRP3 Inflammasome Activation by Inhibiting the Ca2+-Dependent MAPK-Jnk Pathway. | Cell Host & Microbe [2017]

Sun, Huawang et al.

Niacin activates the PI3K/Akt cascade via PKC- and EGFR-transactivation-dependent pathways through hydroxyl-carboxylic acid receptor 2. | PloS One [2014]

Yinfang Wu

ING4 expressing oncolytic vaccinia virus promotes anti-tumor efficiency and synergizes with gemcitabine in pancreatic cancer

Xiang, Qian et al.

Gerontoxanthone I and Macluraxanthone Induce Mitophagy and Attenuate Ischemia/Reperfusion Injury. | Frontiers in Pharmacology [2020]

Li, Z et al.

Growth hormone-releasing hormone promotes therapeutic effects of peripheral blood endothelial progenitor cells in ischemic repair. | Journal of Endocrinological Investigation [2020]

Ju, Yanqin et al.

Cav1.2 of L-type Calcium Channel Is a Key Factor for the Differentiation of Dental Pulp Stem Cells. | Journal of Endodontics [2015]

Xu, Xiu-Ping et al.

Ang II-AT2R increases mesenchymal stem cell migration by signaling through the FAK and RhoA/Cdc42 pathways in vitro. | Stem Cell Research & Therapy [2017]

Zaijie Dong

A Novel igf3 Gene in Common Carp (Cyprinus carpio): Evidence for Its Role in Regulating Gonadal Development

Shu, Xiangbing et al.

Extracts of Salvia-Nelumbinis Naturalis Ameliorate Nonalcoholic Steatohepatitis via Inhibiting Gut-Derived Endotoxin Mediated TLR4/NF-�B Activation. | Evidence-Based Complementary and Alternative Medicine : ECam [2017]

Deng, T., Hu, B., Wang, X.,...

DeSUMOylation of Apoptosis Inhibitor 5 by Avibirnavirus VP3 Supports Virus Replication

Cai, Chenlei et al.

PLGA-based dual targeted nanoparticles enhance miRNA transfection efficiency in hepatic carcinoma. | Scientific Reports [2017]

Sun, Dawei et al.

bFGF plays a neuroprotective role by suppressing excessive autophagy and apoptosis after transient global cerebral ischemia in rats. | Cell Death & Disease [2018]

Zhen-Yu Du

Nutritional background changes the hypolipidemic effects of fenofibrate in Nile tilapia (Oreochromis niloticus).

Chengwei Liang

Defective autophagy leads to the suppression of stem-like features of CD271+osteosarcoma cells

Xu, Qianghua et al.

Molecular cloning of heat shock protein 60 (PtHSP60) from Portunus trituberculatus and its expression response to salinity stress. | Cell Stress & Chaperones [2012]

WB

Portunus trituberculatus

Dazhi Xu & Zhaohui Gong

MircoRNA-33a inhibits epithelialto- mesenchymal transition and metastasis and could be a prognostic marker in non-small cell lung cancer

Professor Mingjun Xie

Prognostic and predictive value of monocarboxylate transporter 4 in patients with breast cancer

Li, H et al.

Smurf1 regulates lung cancer cell growth and migration through interaction with and ubiquitination of PIPKI�_. | Oncogene [2017]

Li, Zhongping et al.

Hawthorn leaf flavonoids alleviate nonalcoholic fatty liver disease by enhancing the adiponectin/AMPK pathway. | International Journal of Clinical and Experimental Medicine [2015]

WB

Hawthorn(Crataeguspinnatifida)

Ning, Li-Jun et al.

Mechanisms and metabolic regulation of PPAR� activation in Nile tilapia (Oreochromis niloticus). | Biochimica Et Biophysica Acta [2016]

Deng, T., Hu, B., Wang, X.,...

Inhibition of Antiviral Innate Immunity by Avibirnavirus VP3 via Blocking TBK1-TRAF3 Complex Formation and IRF3 Activation. mSystems, 6(3), e00016-21.

Xie, Yuexia et al.

Size-dependent cytotoxicity of Fe3O4 nanoparticles induced by biphasic regulation of oxidative stress in different human hepatoma cells. | International Journal of Nanomedicine [2016]

Wu, Huansheng et al.

Ubiquitination Is Essential for Avibirnavirus Replication by Supporting VP1 Polymerase Activity. | Journal of Virology [2019]

Cao, Wei et al.

Gamma Oscillation Dysfunction in mPFC Leads to Social Deficits in Neuroligin 3 R451C Knockin Mice. | Neuron [2018]

Hua-Hua Du

Lipocalin 2 regulates intestine bacterial survival by interplaying with siderophore in a weaned piglet model of Escherichia coli infection

Cong, Xiao Xia et al.

Activation of AKT-mTOR Signaling Directs Tenogenesis of Mesenchymal Stem Cells. | Stem Cells (Dayton, Ohio) [2018]

WB

Murine C3H10T1/2 MSC line

Liu, Jiang et al.

A critical role of DDRGK1 in endoplasmic reticulumhomoeostasis via regulation of IRE1a stability. | Nature Communications [2017]

Wang, Xuan et al.

A LY-15, a novel cyclic pentapeptide that inhibits B16 cell proliferation and migration and induces cell apoptosis. | Oncology Letters [2018]

Huang, Wan et al.

Promoter mutations and cellular distribution of telomerase in non-clear cell and clear cell hepatocellular carcinoma. | Oncotarget [2017]

Xu, Yunbin et al.

The co-chaperone Cdc37 regulates the rabies virus phosphoprotein stability by targeting to Hsp90AA1 machinery. | Scientific Reports [2016]

Lixin Wei

Activation of autophagy protects against cholestasis-induced hepatic injury

Guang Ji

Hepatoprotective and antioxidant activities of extracts from Salvia–Nelumbinis naturalis against nonalcoholic steatohepatitis induced by methionine- and choline-deficient diet in mice

Zheng, Shuli et al.

Sphingosine kinase 1 mediates neuroinflammation following cerebral ischemia. | Experimental Neurology [2015]

Kang, Liang et al.

Effect of Huazhuojiedu medicated serum on the proliferation and activation of hepatic stellate cells and the expression of PI3K and p-Akt in rats. | International Journal of Clinical and Experimental Medicine [2014]

Chen, Haiqun et al.

Vasodilator-stimulated phosphoprotein (VASP), a novel target of miR-4455, promotes gastric cancer cell proliferation, migration, and invasion, through activating the PI3K/AKT signaling pathway. | Cancer Cell International [2018]

Zhang, Biyan et al.

Antineoplastic activity of isoliquiritigenin, a chalcone compound, in androgen-independent human prostate cancer cells linked to G2/M cell cycle arrest and cell apoptosis. | European Journal of Pharmacology [2018]

Zhao, Xibao et al.

Teuvincenone F Suppresses LPS-Induced Inflammation and NLRP3 Inflammasome Activation by Attenuating NEMO Ubiquitination. | Frontiers in Pharmacology [2017]

He, An-Yuan et al.

Systemic adaptation of lipid metabolism in response to low- and high-fat diet in Nile tilapia (Oreochromis niloticus). | Physiological Reports [2015]

Zhang, Qiao et al.

Differential regulation of the ten-eleven translocation (TET) family of dioxygenases by O-linked �_-N-acetylglucosamine transferase (OGT). | The Journal of Biological Chemistry [2014]

Wu, H., Yang, H., Ji, G., Z...

SUMO1 Modification Facilitates Avibirnavirus Replication by Stabilizing Polymerase VP1. Journal of virology, 93(10), e02227-18.

Miao, Lu-Jie et al.

miR-106b promotes proliferation and invasion by targeting Capicua through MAPK signaling in renal carcinoma cancer. | OncoTargets and Therapy [2019]

Tizhong Shan & Yizhen Wang

AMPK regulates lipid accumulation in skeletal muscle cells through FTO-dependent demethylation of N6-methyladenosine

Wang, Zhijun et al.

MiRNA-130a-3p inhibits cell proliferation, migration, and TMZ resistance in glioblastoma by targeting Sp1. | American Journal of Translational Research [2019]

Shan, Ying et al.

Matrix metalloproteinase-9 plays a role in protecting zebrafish from lethal infection with Listeria monocytogenes by enhancing macrophage migration. | Fish & Shellfish Immunology [2016]

Dong, Xian-Hui et al.

Effective components of Chinese herbs reduce central nervous system function decline induced by iron overload. | Neural Regeneration Research [2015]

Wang, Yixuan et al.

Forkhead box K1 regulates the malignant behavior of gastric cancer by inhibiting autophagy. | Annals of Translational Medicine [2020]

Wang, Jing et al.

The impact of acute thermal stress on green mussel Perna viridis: Oxidative damage and responses. | Comparative Biochemistry and Physiology. Part A, Molecular & Integrative Physiology [2018]

Yanning Liu,Min Zheng

MiR‐122 modification enhances the therapeutic efficacy of adipose tissue‐derived mesenchymal stem cells against liver fibrosis

Li, Wenfeng et al.

Molecular cloning and characterization of juvenile hormone acid methyltransferase in the honey bee, Apis mellifera, and its differential expression during caste differentiation. | PloS One [2013]

WB

honey bee larvae and pupae

Xiang, Bingyu et al.

Transplantation of Menstrual Blood-Derived Mesenchymal Stem Cells Promotes the Repair of LPS-Induced Acute Lung Injury. | International Journal of Molecular Sciences [2017]