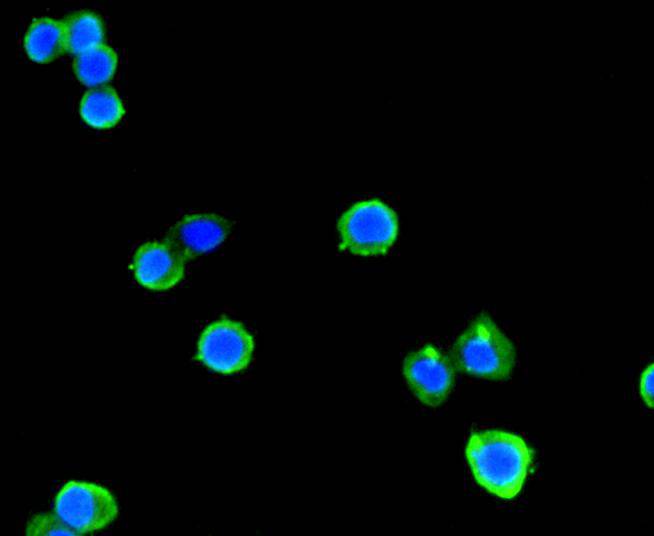 Immunocytochemical staining of N2A cells using anti-BECN1 rabbit polyclonal antibody.
SPECIFICATIONS
Product Type
Rabbit polyclonal primary
Product Name
BECN1 Rabbit Polyclonal Antibody (R1510-8)
Immunogen
Synthetic peptide (klh-coupled) within human becn1 c terminal.
Positive Control
Hela, N2A, MCF-7, SHG-44, human liver cancer tissue, human breast tissue, human lung tissue, human kidney tissue, mouse brain tissue, mouse heart tissue, HepG2.
PROPERTIES
Storage Condition
Store at +4C after thawing. Aliquot store at -20C. Avoid repeated freeze / thaw cycles.
Storage Buffer
1*PBS (pH7.4), 0.2% BSA, 40% Glycerol. Preservative: 0.05% Sodium Azide.
PURIFICATION
Peptide affinity purified
TARGET
SYNONYMS
APG6 antibody; ATG 6 antibody; ATG6 antibody; ATG6 autophagy related 6 homolog antibody; Bcl-2-interacting protein beclin antibody; Beclin 1 (coiled coil moesin like BCL2 interacting protein) antibody; Beclin 1 autophagy related antibody; Beclin-1 antibody; Beclin1 antibody; BECN 1 antibody; Becn1 antibody; BECN1_HUMAN antibody; Coiled coil myosin like BCL2 interacting protein antibody; Coiled-coil myosin-like BCL2-interacting protein antibody; GT197 antibody; Protein GT197 antibody; VPS 30 antibody; VPS30 antibody
SEQUENCE SIMILARITIES
Belongs to the beclin family.
POST-TRANSLATIONAL MODIFICATION
Phosphorylation at Thr-119 by DAPK1 reduces its interaction with BCL2 and BCL2L1 and promotes induction of autophagy. In response to autophagic stimuli, phosphorylated at serine residues by AMPK in an ATG14-dependent manner, and this phosphorylation is critical for maximally efficient autophagy.; Polyubiquitinated by NEDD4, both with 'Lys-11'- and 'Lys-63'-linkages. 'Lys-11'-linked polyubiquitination leads to degradation and is enhanced when the stabilizing interaction partner VPS34 is depleted. Deubiquitinated by USP10 and USP13, leading to stabilize the PIK3C3/VPS34-containing complexes. Polyubiquitinated at Lys-402 with 'Lys-48'-linkages. 'Lys-48'-linked polyubiquitination of Lys-402 leads to degradation. Deubiquitinated by ATXN3, leading to stabilization.; Proteolytically processed by caspases including CASP8 and CASP3; the C-terminal fragments lack autophagy-inducing capacity and are proposed to induce apoptosis. Thus the cleavage is proposed to be an determinant to switch from autophagy to apoptosis pathways affecting cellular homeostasis including viral infections and survival of tumor cells.
SUBCELLULAR LOCATION
Cytoplasm, Endosome, Mitochondrion membrane Mitochondrion membrane, Endoplasmic reticulum membrane
FUNCTION
BECN1 (Beclin 1) is a coiled-coil protein that has been implicated as an inhibitor of tumorigenesis. BECN1, which associates with Bcl-2, plays a significant role in autophagy. Autophagy is the degradation of cellular proteins in the lysosomes, and when this pathway is suppressed, cell growth is deregulated. Autophagy is controlled by the same signal transduction pathway that induces the phosphorylation of the Ribosomal Protein S6, and both are mediated via amino acids. BECN1 expression in various carcinoma cell lines such as MCF7 is low, whereas it is ubiquitously expressed in normal breast tissue. In transfected MCF7 cells, BECN1 complements autophagocytosis and, subsequently, inhibits cellular proliferation. Additionally, BECN1 shares structural similarity to the yeast autophagy gene product, Apg6, and was one of the first mammalian proteins discovered to mediate autophagy.