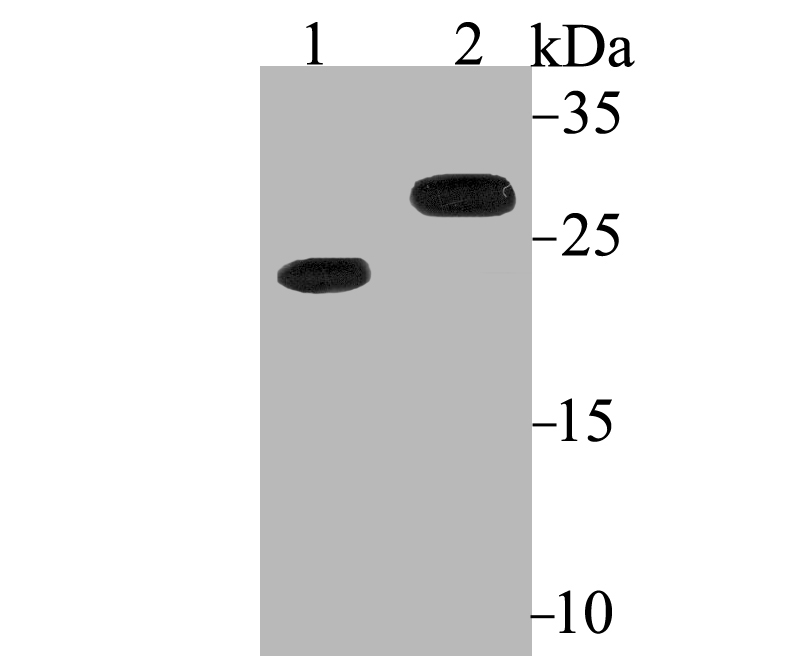 Western blot analysis of Bcl2 on different lysates using anti-Bcl2 antibody at 1/200 dilution.
Positive control:
Lane 1: HL-60
Lane 2: Mouse colon
SPECIFICATIONS
Product Type
Rabbit polyclonal primary
Product Name
Bcl2 Rabbit Polyclonal Antibody (ER1802-97)
Immunogen
Synthetic peptide within human bcl-2 20-100 aa.
Positive Control
HL-60, mouse colon tissue lysate, LOVO, MCF-7, SH-SY-5Y.
PROPERTIES
Storage Condition
Store at +4C after thawing. Aliquot store at -20C. Avoid repeated freeze / thaw cycles.
Storage Buffer
1*PBS (pH7.4), 0.2% BSA, 50% Glycerol. Preservative: 0.05% Sodium Azide.
PURIFICATION
Peptide affinity purified.
TARGET
SYNONYMS
Apoptosis regulator Bcl 2 antibody; Apoptosis regulator Bcl-2 antibody; Apoptosis regulator Bcl2 antibody; AW986256 antibody; B cell CLL/lymphoma 2 antibody; B cell leukemia/lymphoma 2 antibody; Bcl-2 antibody; Bcl2 antibody; BCL2_HUMAN antibody; C430015F12Rik antibody; D630044D05Rik antibody; D830018M01Rik antibody; Leukemia/lymphoma, B-cell, 2 antibody; Oncogene B-cell leukemia 2 antibody; PPP1R50 antibody; Protein phosphatase 1, regulatory subunit 50 antibody
SEQUENCE SIMILARITIES
Belongs to the Bcl-2 family.
TISSUE SPECIFICITY
Expressed in a variety of tissues.
POST-TRANSLATIONAL MODIFICATION
Phosphorylation/dephosphorylation on Ser-70 regulates anti-apoptotic activity. Growth factor-stimulated phosphorylation on Ser-70 by PKC is required for the anti-apoptosis activity and occurs during the G2/M phase of the cell cycle. In the absence of growth factors, BCL2 appears to be phosphorylated by other protein kinases such as ERKs and stress-activated kinases. Phosphorylated by MAPK8/JNK1 at Thr-69, Ser-70 and Ser-87, wich stimulates starvation-induced autophagy. Dephosphorylated by protein phosphatase 2A (PP2A) (By similarity).; Proteolytically cleaved by caspases during apoptosis. The cleaved protein, lacking the BH4 motif, has pro-apoptotic activity, causes the release of cytochrome c into the cytosol promoting further caspase activity.; Monoubiquitinated by PRKN, leading to increase its stability. Ubiquitinated by SCF(FBXO10), leading to its degradation by the proteasome.
SUBCELLULAR LOCATION
Mitochondrion. Endoplasmic reticulum. Nucleus.
FUNCTION
Suppresses apoptosis in a variety of cell systems including factor-dependent lymphohematopoietic and neural cells. Regulates cell death by controlling the mitochondrial membrane permeability. Appears to function in a feedback loop system with caspases. Inhibits caspase activity either by preventing the release of cytochrome c from the mitochondria and/or by binding to the apoptosis-activating factor (APAF-1). May attenuate inflammation by impairing NLRP1-inflammasome activation, hence CASP1 activation and IL1B release.