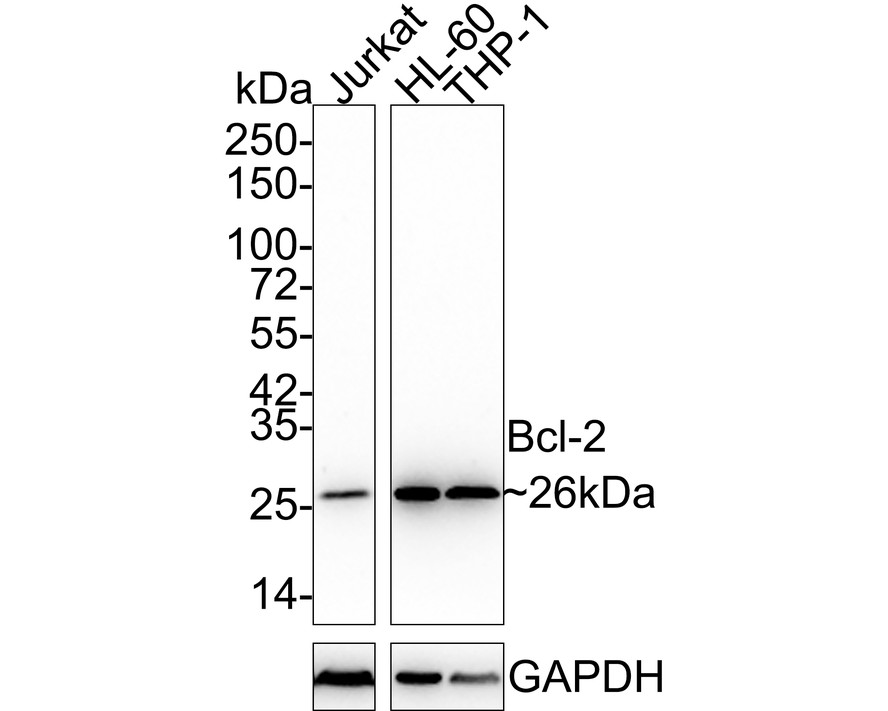 Western blot analysis of Bcl-2 on different cell lysates using anti-Bcl-2 antibody at 1/500 dilution.
SPECIFICATIONS
Product Type
Rabbit polyclonal primary
Product Name
Bcl-2 Rabbit Polyclonal Antibody (ER0602)
Immunogen
Synthetic peptide within n-terminal human bcl-2.
Positive Control
HL-60, Hela, HepG2, A431, human colon carcinoma tissue, human tonsil tissue
PROPERTIES
Storage Condition
Store at +4C after thawing. Aliquot store at -20C or -80C. Avoid repeated freeze / thaw cycles.
Storage Buffer
1*PBS (pH7.4), 0.2% BSA, 40% Glycerol. Preservative: 0.05% Sodium Azide.
PURIFICATION
Peptide affinity purified
TARGET
SYNONYMS
Apoptosis regulator Bcl 2 antibody; Apoptosis regulator Bcl-2 antibody; Apoptosis regulator Bcl2 antibody; AW986256 antibody; B cell CLL/lymphoma 2 antibody; B cell leukemia/lymphoma 2 antibody; Bcl-2 antibody; Bcl2 antibody; BCL2_HUMAN antibody; C430015F12Rik antibody; D630044D05Rik antibody; D830018M01Rik antibody; Leukemia/lymphoma, B-cell, 2 antibody; Oncogene B-cell leukemia 2 antibody; PPP1R50 antibody; Protein phosphatase 1, regulatory subunit 50 antibody
SEQUENCE SIMILARITIES
Belongs to the Bcl-2 family.
TISSUE SPECIFICITY
Expressed in a variety of tissues.
POST-TRANSLATIONAL MODIFICATION
Phosphorylation/dephosphorylation on Ser-70 regulates anti-apoptotic activity. Growth factor-stimulated phosphorylation on Ser-70 by PKC is required for the anti-apoptosis activity and occurs during the G2/M phase of the cell cycle. In the absence of growth factors, BCL2 appears to be phosphorylated by other protein kinases such as ERKs and stress-activated kinases. Phosphorylated by MAPK8/JNK1 at Thr-69, Ser-70 and Ser-87, wich stimulates starvation-induced autophagy. Dephosphorylated by protein phosphatase 2A (PP2A) (By similarity).; Proteolytically cleaved by caspases during apoptosis. The cleaved protein, lacking the BH4 motif, has pro-apoptotic activity, causes the release of cytochrome c into the cytosol promoting further caspase activity.; Monoubiquitinated by PRKN, leading to increase its stability. Ubiquitinated by SCF(FBXO10), leading to its degradation by the proteasome.
SUBCELLULAR LOCATION
Mitochondrion outer membrane, nucleus membrane
FUNCTION
Damage to the Bcl-2 gene has been identified as a cause of a number of cancers, including melanoma, breast, prostate, chronic lymphocytic leukemia, and lung cancer, and a possible cause of schizophrenia and autoimmunity. It is also a cause of resistance to cancer treatments. Antibodies to Bcl-2 can be used with immunohistochemistry to identify cells containing the antigen. In healthy tissue, these antibodies will react with B-cells in the mantle zone, as well as some T-cells. However, there is a considerable increase in positive cells in follicular lymphoma, as well as many other forms of cancer. In some cases, the presence or absence of Bcl-2 staining in biopsies may be significant for the patient's prognosis or likelihood of relapse.
CITATIONS
Xie, Hongqing et al.

Ethanolic extract of Cordyceps cicadae exerts antitumor effect on human gastric cancer SGC-7901 cells by inducing apoptosis, cell cycle arrest and endoplasmic reticulum stress. | Journal of Ethnopharmacology [2019]

Zhang, J. J., Song, C. G., ...

Inhibition of mu-opioid receptor suppresses proliferation of hepatocellular carcinoma cells via CD147-p53-MAPK cascade signaling pathway. American journal of translational research, 13(5), 3967–3986.