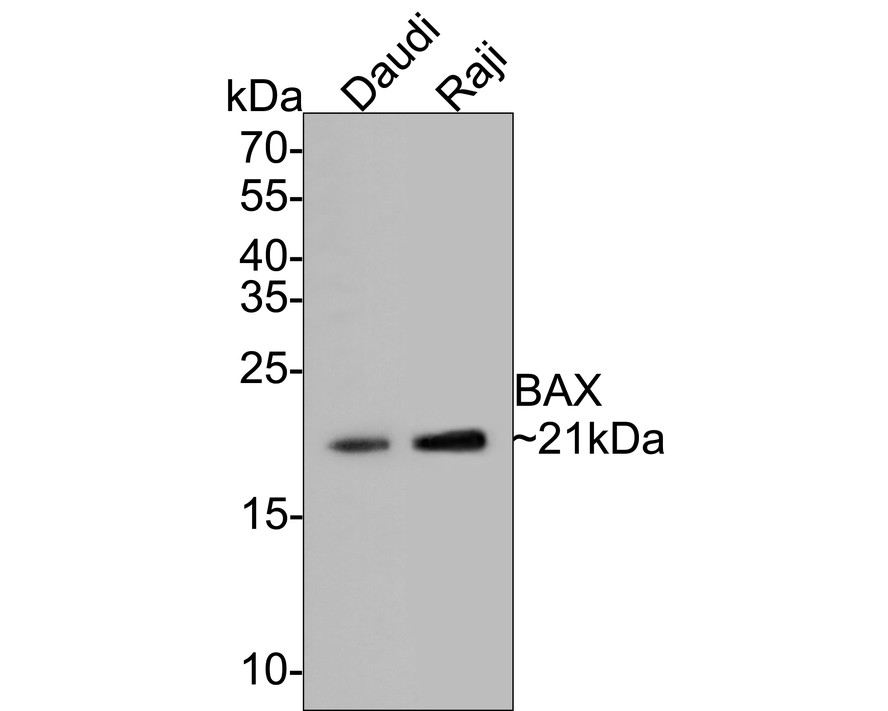 Western blot analysis of Bax on different lysates using anti-BAX antibody at 1/500 dilution.
Positive control:
Lane 1: Raji
Lane 2: Mouse lymphoid tissue
SPECIFICATIONS
Product Name
BAX Mouse Monoclonal Antibody [3-D2] (EM1203)
Immunogen
This antibody is produced by immunizing mice with a synthetic peptide (klh-coupled) corresponding to n-terminal bax.
Positive Control
Raji, mouse lymphoid tissue, HepG2, human gallbladder tissue, mouse testis tissue, Hela
PROPERTIES
Storage Condition
Store at +4C after thawing. Aliquot store at -20C or -80C. Avoid repeated freeze / thaw cycles.
Storage Buffer
1*PBS (pH7.4), 0.2% BSA, 40% Glycerol. Preservative: 0.05% Sodium Azide.
TARGET
SYNONYMS
Apoptosis regulator BAX antibody; BAX antibody; Bax-protein antibody; BAX_HUMAN antibody; BAXA antibody; Baxdelta2G9 antibody; Baxdelta2G9omega antibody; Baxdelta2omega antibody; Bcl-2-like protein 4 antibody; BCL2 associated X protein antibody; BCL2 associated X protein omega antibody; BCL2 associated X protein transcript variant delta2 antibody; Bcl2-L-4 antibody; BCL2L4 antibody; membrane isoform alpha antibody
SEQUENCE SIMILARITIES
Belongs to the Bcl-2 family.
TISSUE SPECIFICITY
Expressed in a wide variety of tissues. Isoform Psi is found in glial tumors. Isoform Alpha is expressed in spleen, breast, ovary, testis, colon and brain, and at low levels in skin and lung. Isoform Sigma is expressed in spleen, breast, ovary, testis, lung, colon, brain and at low levels in skin. Isoform Alpha and isoform Sigma are expressed in pro-myelocytic leukemia, histiocytic lymphoma, Burkitt's lymphoma, T-cell lymphoma, lymphoblastic leukemia, breast adenocarcinoma, ovary adenocarcinoma, prostate carcinoma, prostate adenocarcinoma, lung carcinoma, epidermoid carcinoma, small cell lung carcinoma and colon adenocarcinoma cell lines.
SUBCELLULAR LOCATION
Mitochondrion membrane, cytoplasm
FUNCTION
BAX is a member of the Bcl-2 gene family. Apoptosis regulator BAX promotes apoptosis by binding to and antagonizing the Bcl-2 protein. In healthy mammalian cells, the majority of BAX is found in the cytosol, but upon initiation of apoptotic signaling, Bax undergoes a conformational shift. Upon induction of apoptosis, BAX becomes organelle membrane-associated, and in particular, mitochondrial membrane associated. The expression of BAX is upregulated by the tumor suppressor protein p53, and BAX has been shown to be involved in p53-mediated apoptosis. The p53 protein is a transcription factor that, when activated as part of the cell's response to stress, regulates many downstream target genes, including BAX.
CITATIONS
Jian Li; Caiqiao Zhang

Metformin Prevents Follicular Atresia in Aging Laying Chickens through Activation of PI3K/AKT and Calcium Signaling Pathways

Xie, Cai-Jun et al.

Curcumin protects neural cells against ischemic injury in N2a cells and mouse brain with ischemic stroke. | Brain and Behavior [2018]