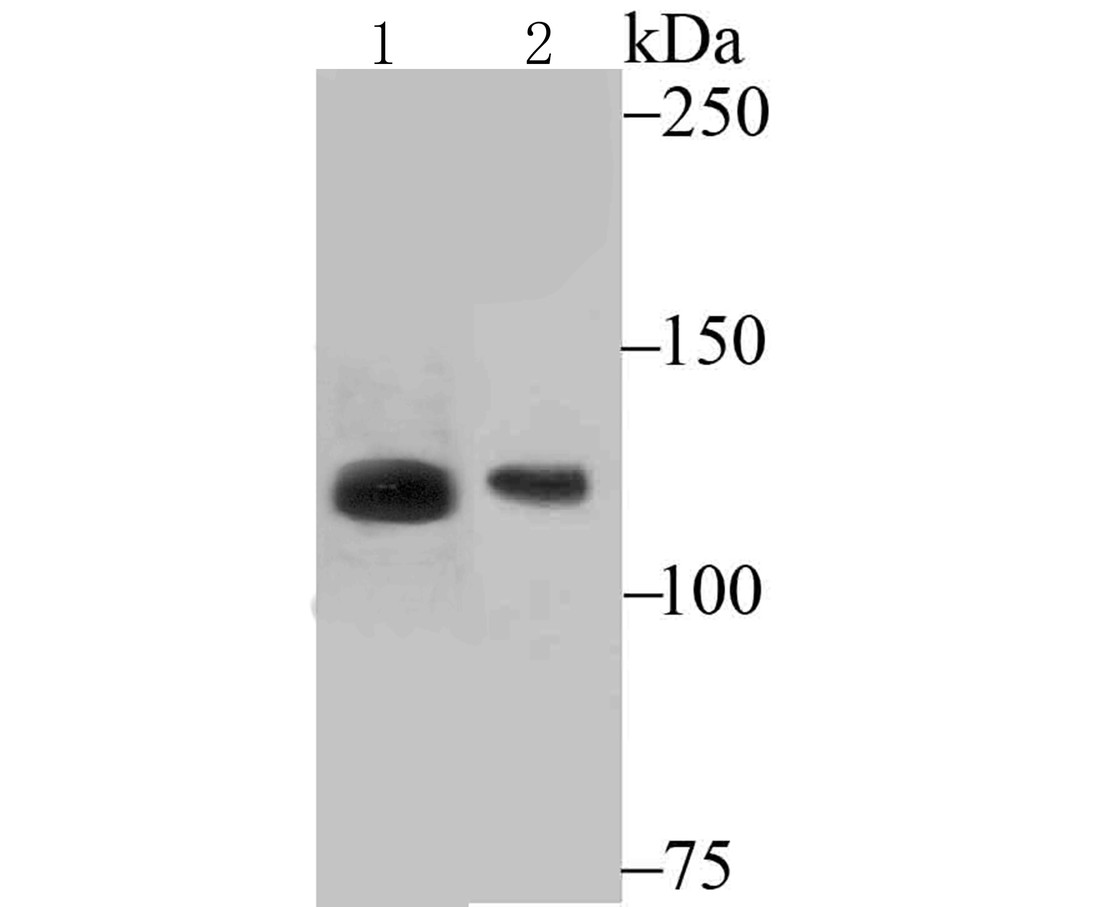 Western blot analysis of ATP citrate lyase on mouse pancreas tissue (1) and NIH-3T3 cell (2) lysate using anti-ATP citrate lyase antibody at 1/200 dilution.
SPECIFICATIONS
Product Type
Rabbit polyclonal primary
Product Name
ATP citrate lyase Rabbit Polyclonal Antibody (ER1706-75)
Immunogen
Recombinant protein within human atp citrate lyase aa 813-1066.
Positive Control
NIH-3T3, A549, SH-SY5Y, mouse pancreas tissue lysate, rat brain tissue, human colon cancer tissue, human pancreas tissue, mouse testis tissue.
PROPERTIES
Storage Condition
Store at +4C after thawing. Aliquot store at -20C or -80C. Avoid repeated freeze / thaw cycles.
Storage Buffer
1*PBS (pH7.4), 0.2% BSA, 50% Glycerol. Preservative: 0.05% Sodium Azide.
PURIFICATION
Protein affinity purified.
TARGET
SYNONYMS
ACL antibody; Acly antibody; ACLY_HUMAN antibody; ATP citrate (pro-S) lyase antibody; ATP citrate lyase antibody; ATP citrate synthase antibody; ATP-citrate (pro-S-)-lyase antibody; ATP-citrate synthase antibody; ATPcitrate synthase antibody; ATPCL antibody; Citrate cleavage enzyme antibody; CLATP antibody; OTTHUMP00000164773 antibody
SEQUENCE SIMILARITIES
In the N-terminal section; belongs to the succinate/malate CoA ligase beta subunit family.; In the C-terminal section; belongs to the succinate/malate CoA ligase alpha subunit family.
POST-TRANSLATIONAL MODIFICATION
Phosphorylated by PKA and GSK3 in a sequential manner; phosphorylation results in activation of its activity. Phosphorylation on Thr-447 and Ser-451 depends on the phosphorylation state of Ser-455 (By similarity). Phosphorylation on Ser-455 is decreased by prior phosphorylation on the other 2 residues (By similarity).; ISGylated.; Acetylated at Lys-540, Lys-546 and Lys-554 by KAT2B/PCAF. Acetylation is promoted by glucose and stabilizes the protein, probably by preventing ubiquitination at the same sites. Acetylation promotes de novo lipid synthesis. Deacetylated by SIRT2.; Ubiquitinated at Lys-540, Lys-546 and Lys-554 by UBR4, leading to its degradation. Ubiquitination is probably inhibited by acetylation at same site (Probable).
FUNCTION
ATP citrate lyase is the primary enzyme responsible for the synthesis of cytosolic acetyl-CoA in many tissues. The enzyme is a tetramer of apparently identical subunits. The product, acetyl-CoA, in animals serves several important biosynthetic pathways, including lipogenesis and cholesterogenesis. It is activated by insulin. In plants, ATP citrate lyase generates the acetyl-CoA for cytosolically-synthesized metabolites. (Acetyl-CoA is not transported across subcellular membranes of plants.) These include: elongated fatty acids (used in seed oils, membrane phospholipids, the ceramide moiety of sphingolipids, cuticle, cutin, and suberin); flavonoids; malonic acid; acetylated phenolics, alkaloids, isoprenoids, anthocyanins, and sugars; and, mevalonate-derived isoprenoids (e.g., sesquiterpenes, sterols, brassinosteroids); malonyl and acyl-derivatives (d-amino acids, malonylated flavonoids, acylated, prenylated and malonated proteins). De novo fatty acid biosynthesis in plants is plastidic, thus ATP citrate lyase is not important for this pathway.