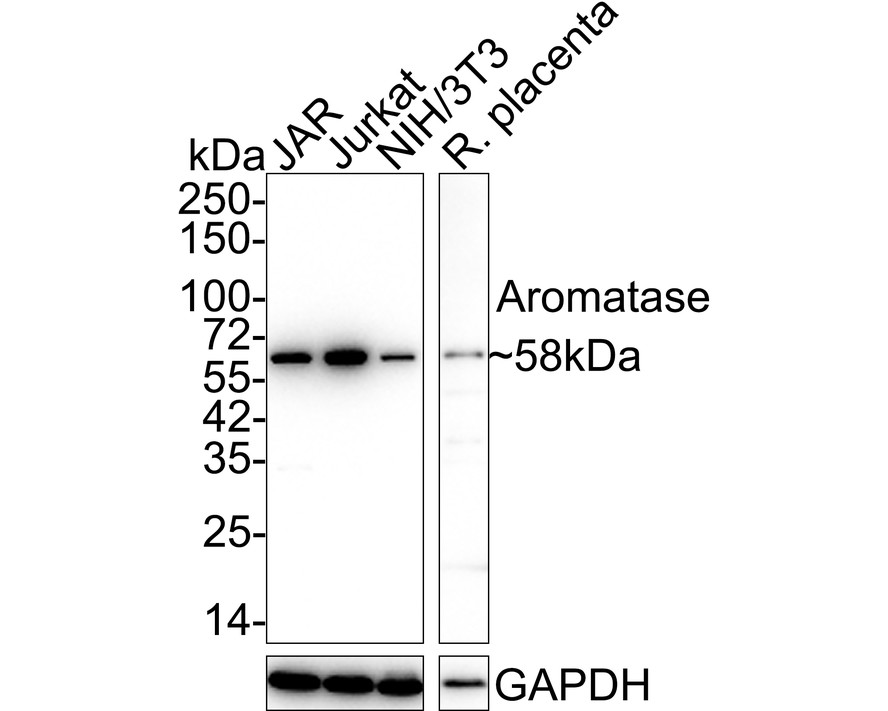 Western blot analysis of Aromatase on mouse cerebellum tissue lysate using anti-Aromatase antibody at 1/500 dilution.
SPECIFICATIONS
Product Type
Rabbit polyclonal primary
Product Name
Aromatase Rabbit Polyclonal Antibody (ER1802-38)
Immunogen
Synthetic peptide within human aromatase aa 91-140 / 503.
Positive Control
HepG2, SH-SY-5Y, SK-Br-3, human placenta tissue, mouse cerebellum tissue lysate.
PROPERTIES
Storage Condition
Store at +4C after thawing. Aliquot store at -20C or -80C. Avoid repeated freeze / thaw cycles.
Storage Buffer
1*PBS (pH7.4), 0.2% BSA, 50% Glycerol. Preservative: 0.05% Sodium Azide.
PURIFICATION
Peptide affinity purified
TARGET
SYNONYMS
ARO antibody; ARO1 antibody; Aromatase antibody; CP19A_HUMAN antibody; CPV1 antibody; CYAR antibody; CYP19 antibody; Cyp19a1 antibody; CYPXIX antibody; Cytochrome P-450AROM antibody; Cytochrome P450 19A1 antibody; Cytochrome P450, family 19, subfamily A, polypeptide 1 antibody; Cytochrome P450, subfamily XIX (aromatization of androgens) antibody; Estrogen synthase antibody; Estrogen synthetase antibody; Flavoprotein linked monooxygenase antibody; MGC104309 antibody; Microsomal monooxygenase antibody; OTTHUMP00000162543 antibody; OTTHUMP00000198350 antibody; P 450AROM antibody
SEQUENCE SIMILARITIES
Belongs to the cytochrome P450 family.
TISSUE SPECIFICITY
Widely expressed, including in adult and fetal brain, placenta, skin fibroblasts, adipose tissue and gonads.
POST-TRANSLATIONAL MODIFICATION
Phosphorylated in vitro by PKA and PKG/PRKG1. These phosphorylations inhibit the catalytic activity as measured by estrone synthesis from androstenedione (36% decrease for PKA and 30% for PKG/PRKG1).
FUNCTION
P450 enzymes constitute a family of monooxygenase enzymes that are involved in the metabolism of a wide array of endogenous and xenobiotic compounds. P450 enzymes can be classified, based on their sequence similarities, into distinct subfamilies, which include CYP1A and CYP2A. Other P450 family members include CYP19, also designated aromatase (P450arom), which catalyzes the conversion of C19 steroids to estrogens in various tissues, including placenta, gonads, adipose tissue, skin and brain. CYP19 expression is controlled by hormonally regulated promoters in different tissues and increased CYP19 activity is associated with familial gynecomastia. Also, a polymorphic allele of CYP19 (repeat (TTTA)12) is present in a majority of breast cancer patients. P450 cholesterol 7α-hydroxylase, CYP7A1, is the rate-limiting enzyme of bile acid synthesis in the liver, and its expression is mediated by the bile acid receptor FXR. CYP27A1 catalyzes vitamin D3 25-hydroxylation and is localized to the mitochondria in kidney and liver.
CITATIONS
Yuling Mi; Caiqiao Zhang

The Attenuating Effect of the Intraovarian Bone Morphogenetic Protein 4 on Age-Related Endoplasmic Reticulum Stress in Chicken Follicular Cells

Caiqiao Zhang

Transcriptome profiling analysis of underlying regulation of growing follicle development in the chicken