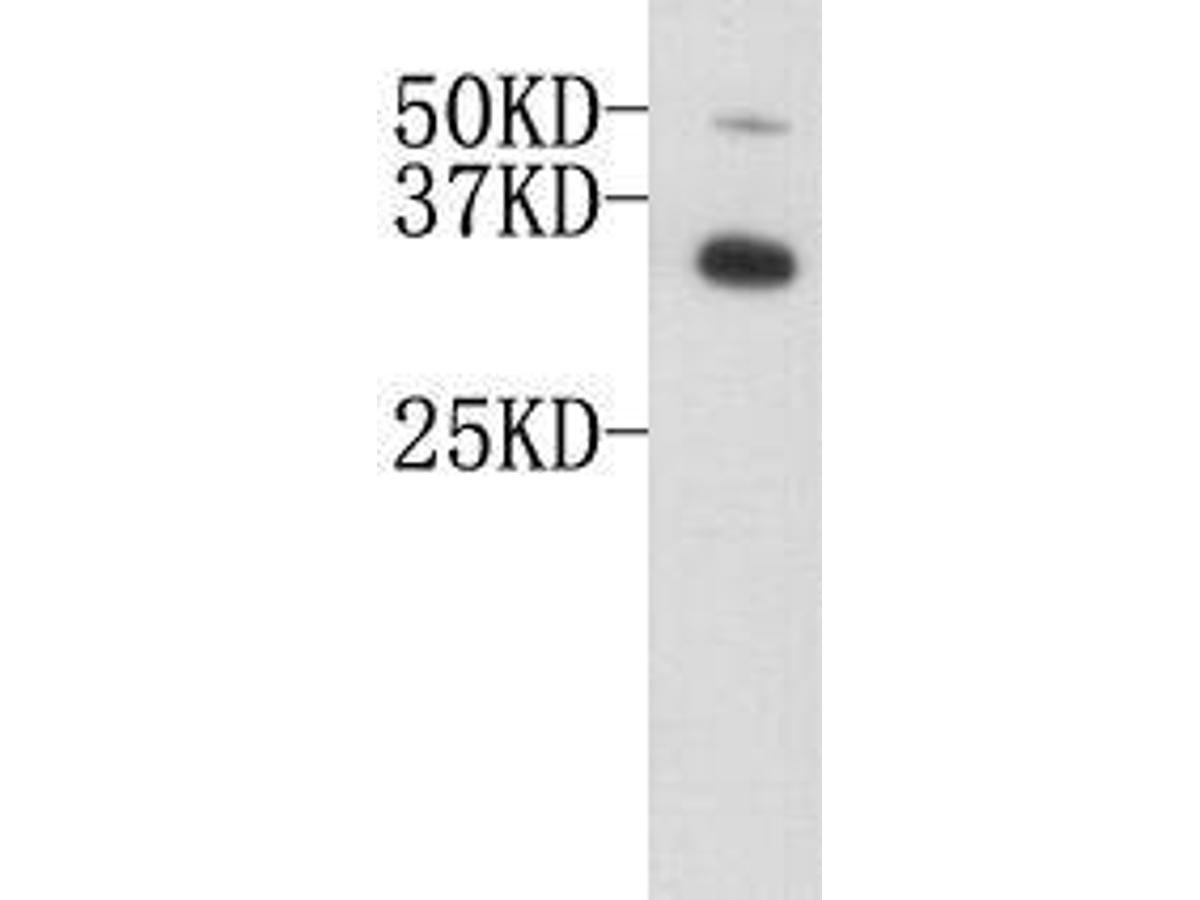 Western blot analysis on human liver using anti-ApoE polyclonal antibody.
SPECIFICATIONS
Product Type
Rabbit polyclonal primary
Product Name
ApoE Rabbit Polyclonal Antibody (0809-6)
Immunogen
Synthetic peptide within human apoe aa 19-58.
PROPERTIES
Storage Condition
Store at +4C after thawing. Aliquot store at -20C or -80C. Avoid repeated freeze / thaw cycles.
Storage Buffer
1*PBS (pH7.4), 0.2% BSA, 40% Glycerol. Preservative: 0.05% Sodium Azide.
PURIFICATION
Immunogen affinity purified
TARGET
SYNONYMS
AD2 antibody; Apo-E antibody; APOE antibody; APOE_HUMAN antibody; APOEA antibody; Apolipoprotein E antibody; Apolipoprotein E3 antibody; ApolipoproteinE antibody; Apoprotein antibody; LDLCQ5 antibody; LPG antibody
SEQUENCE SIMILARITIES
Belongs to the apolipoprotein A1/A4/E family.
TISSUE SPECIFICITY
Produced by several tissues and cell types and mainly found associated with lipid particles in the plasma, the interstitial fluid and lymph. Mainly synthesized by liver hepatocytes. Significant quantities are also produced in brain, mainly by astrocytes and glial cells in the cerebral cortex, but also by neurons in frontal cortex and hippocampus. It is also expressed by cells of the peripheral nervous system. Also expressed by adrenal gland, testis, ovary, skin, kidney, spleen and adipose tissue and macrophages in various tissues.
POST-TRANSLATIONAL MODIFICATION
APOE exists as multiple glycosylated and sialylated glycoforms within cells and in plasma. The extent of glycosylation and sialylation are tissue and context specific. Plasma APOE undergoes desialylation and is less glycosylated and sialylated than the cellular form. Glycosylation is not required for proper expression and secretion. O-glycosylated with core 1 or possibly core 8 glycans. Thr-307 and Ser-314 are minor glycosylation sites compared to Ser-308.; Glycated in plasma VLDL of normal subjects, and of hyperglycemic diabetic patients at a higher level (2-3 fold).; Phosphorylated by FAM20C in the extracellular medium.; Undergoes C-terminal proteolytic processing in neurons. C-terminally truncated APOE has a tendency to form neurotoxic intracellular neurofibrillary tangle-like inclusions in neurons.
FUNCTION
Apolipoprotein-E (apoE) is a protein component of plasma lipoproteins. Three common ApoE alleles have been identified: ApoE2, ApoE3, and ApoE4. The corresponding three major isoforms, E2, E3, and E4, are recognized according to their relative position after isoelectric focusing. ApoE mediates the binding, internalization, and catabolism of lipoprotein particles. It can serve as a ligand for the LDL (Apo B/E) receptor and for the specific Apo-E receptor (chylomicron remnant) of hepatic tissues. Defects in Apolipoprotein E result in familial dysbetalipoproteinemia, or type III hyperlipoproteinemia (HLP III), in which increased plasma cholesterol and triglycerides are the consequence of impaired clearance of chylomicron and VLDL remnants.