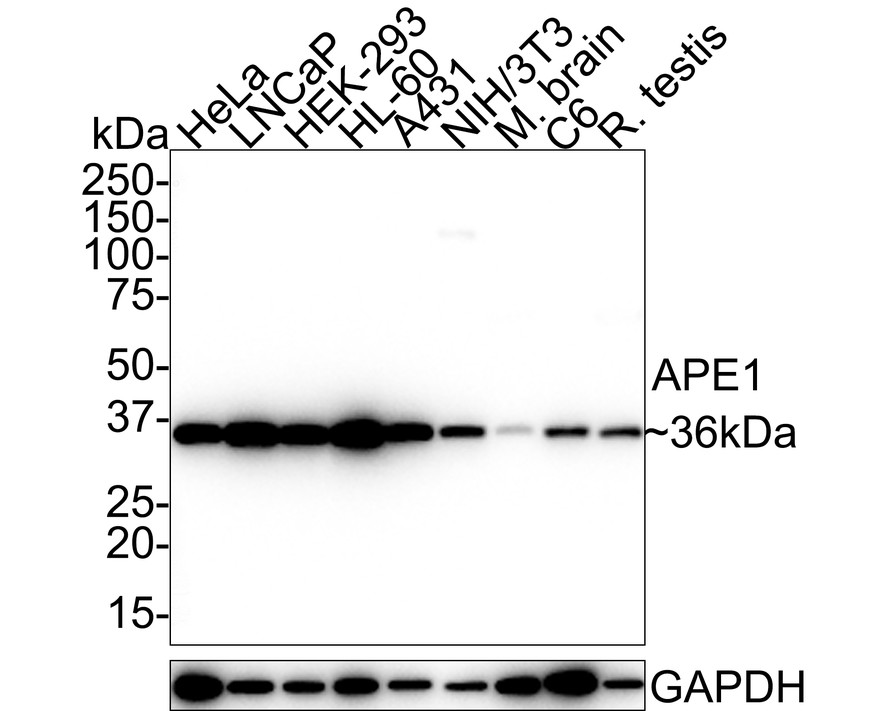 Western blot analysis of APE1 on HL-60 lysates. Proteins were transferred to a PVDF membrane and blocked with 5% BSA in PBS for 1 hour at room temperature. The primary antibody was used at a 1:1,000 dilution in 5% BSA at room temperature for 2 hours. Goat Anti-Mouse IgG - HRP Secondary Antibody (HA1006) at 1:5,000 dilution was used for 1 hour at room temperature.
SPECIFICATIONS
Product Name
APE1 Mouse Monoclonal Antibody [12H2] (EM1801-12)
Immunogen
Recombinant protein within human ape1 aa 20-350.
Positive Control
HL-60, MG-63, human liver tissue, human prostate cancer tissue, human kidney tissue, mouse colon tissue, SiHa.
PROPERTIES
Storage Condition
Store at +4C after thawing. Aliquot store at -20C. Avoid repeated freeze / thaw cycles.
Storage Buffer
1*PBS (pH7.4), 0.2% BSA, 50% Glycerol. Preservative: 0.05% Sodium Azide.
PURIFICATION
Protein affinity purified.
TARGET
SYNONYMS
AP endonuclease 1 antibody; AP endonuclease class I antibody; AP lyase antibody; APE 1 antibody; APE antibody; APE-1 antibody; APEN antibody; APEX 1 antibody; APEX antibody; APEX nuclease (multifunctional DNA repair enzyme) 1 antibody; Apex nuclease 1 antibody; APEX nuclease antibody; APEX1 antibody; APEX1_HUMAN antibody; Apurinic endonuclease antibody; Apurinic-apyrimidinic endonuclease 1 antibody; Apurinic/apyrimidinic (abasic) endonuclease antibody; Apurinic/apyrimidinic endonuclease 1 antibody; Apurinic/apyrimidinic exonuclease antibody; APX antibody; BAP1 antibody; Deoxyribonuclease (apurinic or apyrimidinic) antibody; DNA (apurinic or apyrimidinic site) lyase antibody; DNA-(apurinic or apyrimidinic site) lyase, mitochondrial antibody; EC 4.2.99.18 antibody; HAP 1 antibody; HAP1 antibody; Human Apurinic endonuclease 1 antibody; MGC139790 antibody; Multifunctional DNA repair enzyme antibody; Redox factor 1 antibody; Redox factor-1 antibody; REF 1 antibody; REF 1 protein antibody; REF-1 antibody; REF1 antibody; REF1 protein antibody
SEQUENCE SIMILARITIES
Belongs to the DNA repair enzymes AP/ExoA family.
POST-TRANSLATIONAL MODIFICATION
Phosphorylated. Phosphorylation by kinase PKC or casein kinase CK2 results in enhanced redox activity that stimulates binding of the FOS/JUN AP-1 complex to its cognate binding site. AP-endodeoxyribonuclease activity is not affected by CK2-mediated phosphorylation. Phosphorylation of Thr-233 by CDK5 reduces AP-endodeoxyribonuclease activity resulting in accumulation of DNA damage and contributing to neuronal death.; Acetylated on Lys-6 and Lys-7. Acetylation is increased by the transcriptional coactivator EP300 acetyltransferase, genotoxic agents like H(2)O(2) and methyl methanesulfonate (MMS). Acetylation increases its binding affinity to the negative calcium response element (nCaRE) DNA promoter. The acetylated form induces a stronger binding of YBX1 to the Y-box sequence in the MDR1 promoter than the unacetylated form. Deacetylated on lysines. Lys-6 and Lys-7 are deacetylated by SIRT1.; Cleaved at Lys-31 by granzyme A to create the mitochondrial form; leading in reduction of binding to DNA, AP endodeoxynuclease activity, redox activation of transcription factors and to enhanced cell death. Cleaved by granzyme K; leading to intracellular ROS accumulation and enhanced cell death after oxidative stress.; Cys-65 and Cys-93 are nitrosylated in response to nitric oxide (NO) and lead to the exposure of the nuclear export signal (NES).; Ubiquitinated by MDM2; leading to translocation to the cytoplasm and proteasomal degradation.
SUBCELLULAR LOCATION
Nucleus. Endoplasmic reticulum.
FUNCTION
The role of transcription factors in the regulation of gene expression is well established. Although the activity of these factors can be regulated by phosphorylation, evidence has indicated regulation of DNA binding mediated by changes in reduction-oxidation (redox) status. Mutational analysis has identified a single conserved cysteine residue mapping within the DNA binding domains of Fos and Jun. Chemical oxidation or modification of this cysteine residue inhibits the DNA binding activity of Fos and Jun. A similar mode of regulation has been recently proposed for other nuclear transcription factors. Oxidation is reversible by these compounds or by a cellular redox/DNA repair protein identified originally as Ref-1 (redox factor 1). Ref-1 is identical to a previously characterized DNA repair enzyme designated HAP1, APE or APEX.