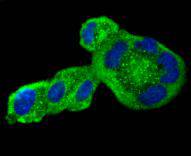 ICC staining Angiotensinogen in Hela cells (green). The nuclear counter stain is DAPI (blue). Cells were fixed in paraformaldehyde, permeabilised with 0.25% Triton X100/PBS.
SPECIFICATIONS
Product Type
Recombinant Rabbit monoclonal primary
Product Name
Angiotensinogen Recombinant Rabbit Monoclonal Antibody [SD201-02] (ET1612-48)
Immunogen
Recombinant protein human angiotensinogen aa 361-485 / 485.
PROPERTIES
Storage Condition
Store at +4C after thawing. Aliquot store at -20C or -80C. Avoid repeated freeze / thaw cycles.
Storage Buffer
1*TBS (pH7.4), 0.05% BSA, 40% Glycerol. Preservative: 0.05% Sodium Azide.
TARGET
SYNONYMS
Aangiotensinogen (serpin peptidase inhibitor clade A member 8) antibody; AGT antibody; AI265500 antibody; Alpha 1 antiproteinase antitrypsin antibody; Ang antibody; Ang I antibody; Ang II antibody; Ang III antibody; AngII antibody; Angiotensin I antibody; Angiotensin II antibody; Angiotensin III antibody; Angiotensin-3 antibody; Angiotensinogen (PAT) antibody; Angiotensinogen antibody; ANGT_HUMAN antibody; ANHU antibody; ANRT antibody; AT-2 antibody; AT-II antibody; Des-Asp[1]-angiotensin II antibody; FLJ92595 antibody; FLJ97926 antibody; MGC105326 antibody; PAT antibody; Pre angiotensinogen antibody; Serine (or cysteine) proteinase inhibitor antibody; Serpin A8 antibody; Serpin peptidase inhibitor clade A member 8 antibody; SERPINA8 antibody
SEQUENCE SIMILARITIES
Belongs to the serpin family.
TISSUE SPECIFICITY
Expressed by the liver and secreted in plasma.
POST-TRANSLATIONAL MODIFICATION
Beta-decarboxylation of Asp-34 in angiotensin-2, by mononuclear leukocytes produces alanine. The resulting peptide form, angiotensin-A, has the same affinity for the AT1 receptor as angiotensin-2, but a higher affinity for the AT2 receptor.; In response to low blood pressure, the enzyme renin/REN cleaves angiotensinogen to produce angiotensin-1. Angiotensin-1 is a substrate of ACE (angiotensin converting enzyme) that removes a dipeptide to yield the physiologically active peptide angiotensin-2. Angiotensin-1 and angiotensin-2 can be further processed to generate angiotensin-3, angiotensin-4. Angiotensin 1-9 is cleaved from angiotensin-1 by ACE2 and can be further processed by ACE to produce angiotensin 1-7, angiotensin 1-5 and angiotensin 1-4. Angiotensin 1-7 has also been proposed to be cleaved from angiotensin-2 by ACE2 or from angiotensin-1 by MME (neprilysin).; The disulfide bond is labile. Angiotensinogen is present in the circulation in a near 40:60 ratio with the oxidized disulfide-bonded form, which preferentially interacts with receptor-bound renin.
FUNCTION
Angiotensin is formed from a precursor, angiotensinogen, which is produced by the liver and found in the a-globulin fraction of plasma. The lowering of blood pressure is a stimulus to secretion of Renin by the kidney into the blood. Renin cleaves from angiotensinogen a terminal decapeptide, Angiotensin I (Ang I). This is further altered by the enzymatic removal of a dipeptide to form Angiotensin II (Ang II). Screening a panel of human-mouse somatic cell hybrids confirmed the assignment of the AGT locus to human chromosome 1. Angiotensin, an octapeptide hormone, is an important physiological effector of blood pressure and volume regulation through vasoconstriction, aldosterone release, sodium uptake and thirst stimulation. It has been shown that mechanical stress causes release of Angiotensin from cardiac myocytes and that Angiotensin acts as an initial mediator of the hypertrophic response. Angiotensin treatment also stimulates phosphorylation of Shc, FAK and MAP kinases and induces MKP-1, indicating stimulation of growth factor pathways. Angiotensin stimulation through AT1 has been shown to activate the JAK/Stat pathway involving a direct interaction between JAK2 and AT1 as demonstrated by co-immunoprecipitation.