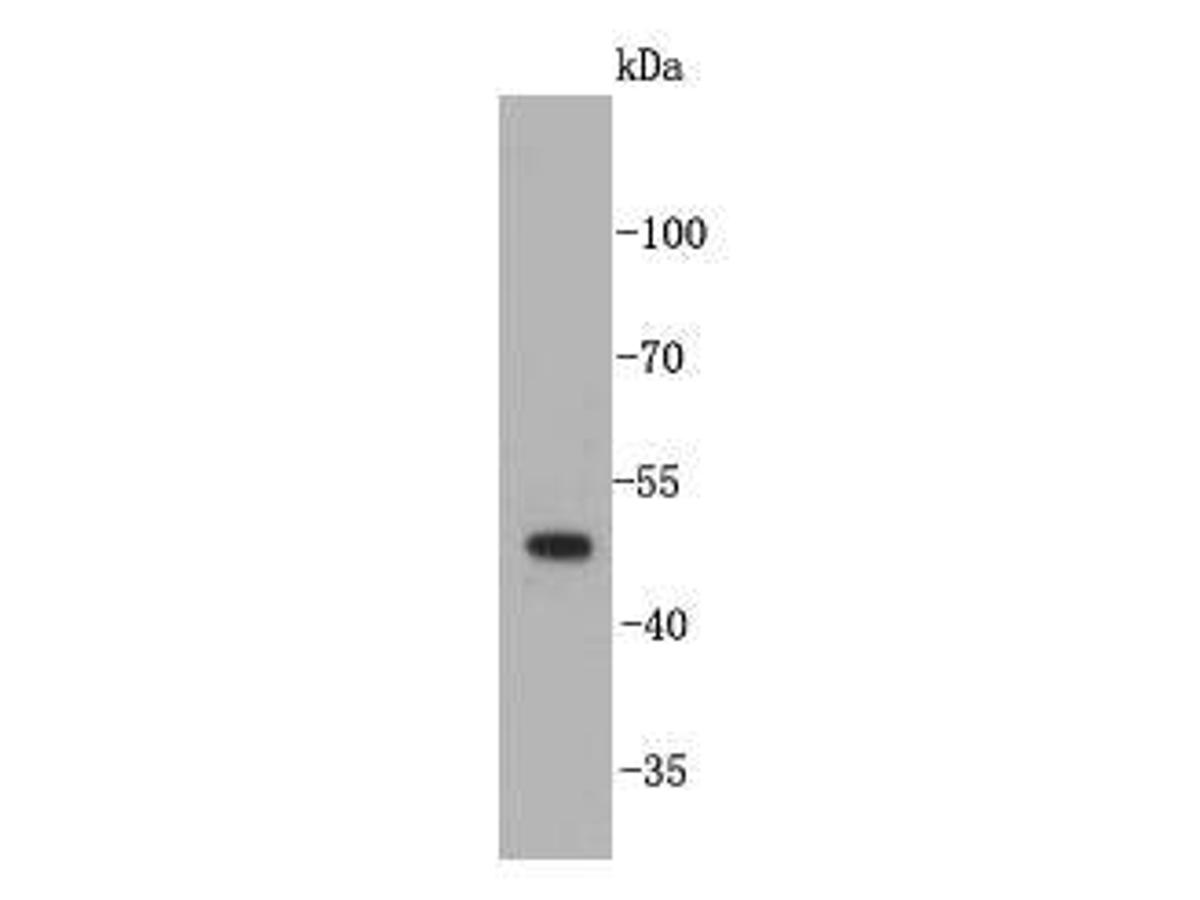 Western blot analysis on mouse liver tissue lysates using anti-angiopoietin-like 4 rabbit polyclonal antibodies.
SPECIFICATIONS
Product Type
Rabbit polyclonal primary
Product Name
Angiopoietin-like 4 Rabbit Polyclonal Antibody (R1310-5)
PROPERTIES
Storage Condition
Store at +4C after thawing. Aliquot store at -20C or -80C. Avoid repeated freeze / thaw cycles.
Storage Buffer
1*PBS (pH7.4), 0.2% BSA, 40% Glycerol. Preservative: 0.05% Sodium Azide.
TARGET
SYNONYMS
Angiopoietin like 4 antibody; Angiopoietin related protein 4 antibody; Angiopoietin-like protein 4 antibody; Angiopoietin-related protein 4 antibody; ANGL4_HUMAN antibody; ANGPT L2 antibody; ANGPT L4 antibody; ANGPTL2 antibody; Angptl4 antibody; ARP4 antibody; Fasting induced adipose factor antibody; FIAF antibody; HARP antibody; Hepatic angiopoietin related protein antibody; Hepatic fibrinogen/angiopoietin related protein antibody; Hepatic fibrinogen/angiopoietin-related protein antibody; HFARP antibody; NL2 antibody; Peroxisome proliferator-activated receptor (PPAR) gamma induced angiopoietin related protein antibody; PGAR antibody; pp1158 antibody; PPARG angiopoietin related protein antibody; PSEC0166 antibody; TGQTL antibody; UNQ171 antibody; Weakly similar to angiopoietin 1 [H.sapiens] antibody
TISSUE SPECIFICITY
Detected in liver and kidney. Predominantly expressed in adipose tissue and is strongly up-regulated by fasting in white adipose tissue and liver.
DEVELOPMENTAL STAGE
Detected in endothelial cells in the capillary plexus, veins and arteries in the retina at 2, 12 and 17 days after birth. Expressed at low levels in most organs and connective tissue at 13.5 dpc. Between 15.5 dpc and 18.5 dpc, strongest expression in brown fat.
POST-TRANSLATIONAL MODIFICATION
N-glycosylated.; [ANGPTL4 N-terminal chain]: Forms disulfide-linked dimers and tetramers.; Cleaved into a smaller N-terminal chain and a larger chain that contains the fibrinogen C-terminal domain; both cleaved and uncleaved forms are detected in the extracellular space. The cleaved form is not present within the cell.
FUNCTION
Angiopoietin-like 4 is a protein that in humans is encoded by the ANGPTL4 gene.This gene is a member of the angiopoietin/angiopoietin-like gene family and encodes a glycosylated, secreted protein with a coiled-coil N-terminal domain and a fibrinogen-like C-terminal domain. The encoded protein may play a role in several cancers and it implicated in the metastatic process by modulating vascular activity as well as tumor cell motility and invasiveness. ANGPTL4 contributed to tumor growth and protected cells from anoikis, a form of programmed cell death induced when contact-dependent cells detach from the surrounding tissue matrix.