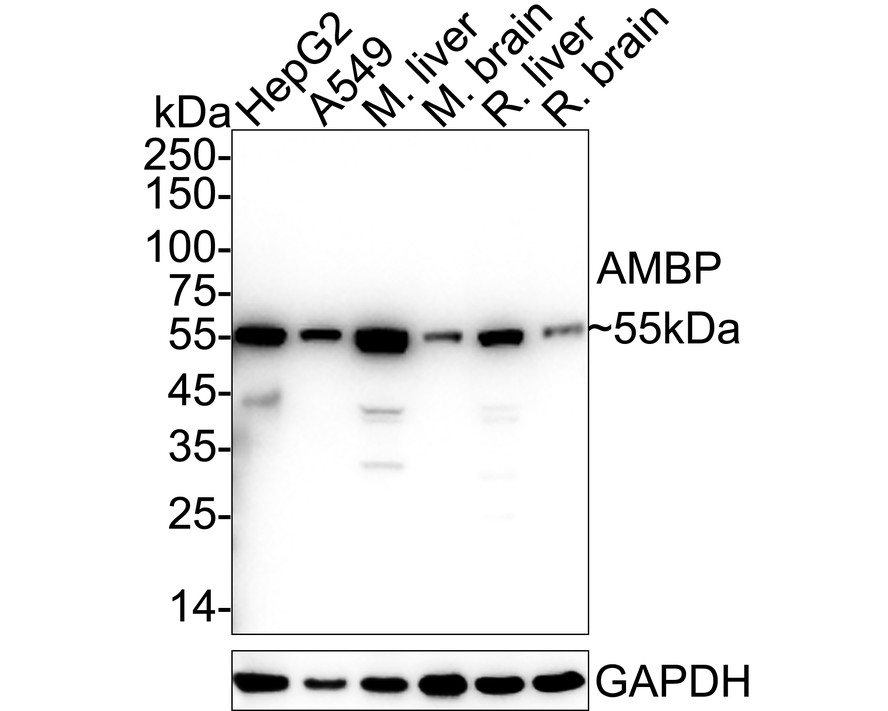 Western blot analysis of AMBP on different cell lysates using anti-AMBP antibody at 1/1,000 dilution.
Positive control:
Lane 1: HepG2
Lane 2: Human liver
Lane 3: Mouse liver
Lane 4: Mouse brain
SPECIFICATIONS
Product Type
Rabbit polyclonal primary
Product Name
AMBP Rabbit Polyclonal Antibody (ER1803-35)
Immunogen
Recombinant protein within human ambp aa 120-320.
Positive Control
Human liver, Mouse liver, Mouse brain, Hela, HepG2, MCF-7, human liver tissue, human liver cancer tissue, human kidney tissue.
PROPERTIES
Storage Condition
Store at +4C after thawing. Aliquot store at -20C. Avoid repeated freeze / thaw cycles.
Storage Buffer
1*PBS (pH7.4), 0.2% BSA, 50% Glycerol. Preservative: 0.05% Sodium Azide.
PURIFICATION
Protein affinity purified.
MOLECULAR WEIGHT
39 kDa (Predicted band size)
TARGET
SYNONYMS
Alpha 1 microglobulin/bikunin precursor antibody; Alpha-1 microglycoprotein antibody; AMBP antibody; AMBP_HUMAN antibody; Bikunin antibody; Complex-forming glycoprotein heterogeneous in charge antibody; EDC1 antibody; Growth inhibiting protein 19 antibody; HI 30 antibody; HI-30 antibody; HI30 antibody; IATIL antibody; Inter alpha trypsin inhibitor light chain antibody; ITI antibody; ITI LC antibody; ITI-LC antibody; ITILC antibody; Protein HC antibody; Trypstatin antibody; Uronic-acid-rich protein antibody; UTI antibody
SEQUENCE SIMILARITIES
In the N-terminal section; belongs to the calycin superfamily. Lipocalin family.
TISSUE SPECIFICITY
Expressed by the liver and secreted in plasma. Alpha-1-microglobulin occurs in many physiological fluids including plasma, urine, and cerebrospinal fluid. Inter-alpha-trypsin inhibitor is present in plasma and urine.
POST-TRANSLATIONAL MODIFICATION
The precursor is proteolytically processed into separately functioning proteins.; 3-hydroxykynurenine, an oxidized tryptophan metabolite that is common in biological fluids, reacts with Cys-53, Lys-111, Lys-137, and Lys-149 to form heterogeneous polycyclic chromophores including hydroxanthommatin. The reaction by alpha-1-microglobulin is autocatalytic; the human protein forms chromophore even when expressed in insect and bacterial cells. The chromophore can react with accessible cysteines forming non-reducible thioether cross-links with other molecules of alpha-1-microglobulin or with other proteins such as Ig alpha-1 chain C region 'Cys-352'.; Heavy chains are interlinked with bikunin via a chondroitin 4-sulfate bridge to the their C-terminal aspartate.; N- and O-glycosylated. N-glycan heterogeneity at Asn-115: Hex5HexNAc4 (major), Hex6HexNAc5 (minor) and dHex1Hex6HexNAc5 (minor). N-glycan at Asn-250: Hex5HexNAc4. O-linkage of the glycosaminoglycan, chondroitin sulfate, at Ser-215 allows cross-linking between the three polypeptide chains.
FUNCTION
The AMBP (α-1-Microglobulin/bikunin precursor) gene encodes a protein precursor, known as AMBP, that is cleaved to produce two distinct proteins, designated a-1-Microglobulin and Bikunin. α-1-Microglobulin, also known as protein HC, is a member of the lipocalin superfamily and is secreted mainly in plasma, urine and cerebrospinal fluid. Thought to have reductase/dehydrogenase activity, α-1-Microglobulin exhibits immunosuppressive properties, such as cytokine secretion and inhibition of antigen-induced lymphocyte cell proliferation, and may be involved in the reduction of biological pro-oxidants. The second protein cleavage product, designated Bikunin and also known as inter-α-trypsin inhibitor light chain, ITI-LC or urinary trypsin inhibitor, is a widely expressed protein that is stored in the granules of human connective tissue mast cells. One of many proteins in the Kunitz-type protease inhibitor family, Bikunin prevents autodigestion by exocrine enzymes, such as trypsinogen and chymo-trypsinogen, and plays a role in the antiinflammatory/antiproteinase immune response. Unlike α-1-Microglobulin, Bikunin is implicated in the pathogenesis of a number of renal diseases, such as urolithiasis.