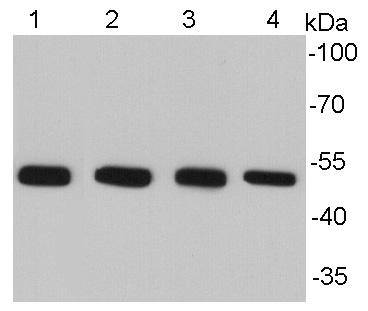 Western blot analysis of Alpha-tubulin on different lysates. Proteins were transferred to a PVDF membrane and blocked with 5% BSA in PBS for 1 hour at room temperature. The primary antibody (ER130905, 1/10,000) was used in 5% BSA at room temperature for 2 hours. Goat Anti-Rabbit IgG - HRP Secondary Antibody (HA1001) at 1:200,000 dilution was used for 1 hour at room temperature.
Positive control:
Lane 1: NIH/3T3 cell lysate
Lane 2: HepG2 cell lysate
Lane 3: PC-12 cell lysate
Lane 4: Hela cell lysate
REACTIVITY
Human

Mouse

Rat

Zebrafish
SPECIFICATIONS
Product Type
Rabbit polyclonal primary
Product Name
Alpha-tubulin Rabbit Polyclonal Antibody (ER130905)
Immunogen
Synthetic peptide within human alpha-tubulin aa 402-451 / 451, (id: p68369, mouse).
Positive Control
NIH/3T3 cell lysate, HepG2 cell lysate, PC-12 cell lysate, Hela cell lysate, HepG2, Hela, human tonsil tissue, mouse pancreas tissue.
PROPERTIES
Storage Condition
Store at +4C after thawing. Aliquot store at -20C or -80C. Avoid repeated freeze / thaw cycles.
Storage Buffer
1*PBS (pH7.4), 0.2% BSA, 40% Glycerol. Preservative: 0.05% Sodium Azide.
PURIFICATION
Peptide affinity purified
TARGET
SYNONYMS
TUBA1 antibody; TUBA1A antibody; TUBA2 antibody; TUBA3 antibody; TUBA3C antibody; TUBA4A antibody; Tubulin, alpha 1a antibody; Tubulin, alpha 3c antibody; Tubulin, alpha 4a antibody
SEQUENCE SIMILARITIES
Belongs to the tubulin family.
POST-TRANSLATIONAL MODIFICATION
Some glutamate residues at the C-terminus are polyglutamylated, resulting in polyglutamate chains on the gamma-carboxyl group. Polyglutamylation plays a key role in microtubule severing by spastin (SPAST). SPAST preferentially recognizes and acts on microtubules decorated with short polyglutamate tails: severing activity by SPAST increases as the number of glutamates per tubulin rises from one to eight, but decreases beyond this glutamylation threshold.; Some glutamate residues at the C-terminus are monoglycylated but not polyglycylated due to the absence of functional TTLL10 in human. Monoglycylation is mainly limited to tubulin incorporated into axonemes (cilia and flagella). Both polyglutamylation and monoglycylation can coexist on the same protein on adjacent residues, and lowering glycylation levels increases polyglutamylation, and reciprocally. The precise function of monoglycylation is still unclear (Probable).; Acetylation of alpha chains at Lys-40 is located inside the microtubule lumen. This modification has been correlated with increased microtubule stability, intracellular transport and ciliary assembly.; Methylation of alpha chains at Lys-40 is found in mitotic microtubules and is required for normal mitosis and cytokinesis contributing to genomic stability.
FUNCTION
The cytoskeleton consists of three types of cytosolic fibers: microtubules, microfilaments (actin filaments), and intermediate filaments. Globular tubulin subunits comprise the microtubule building block, with α/β-tubulin heterodimers forming the tubulin subunit common to all eukaryotic cells. Acetylation of alpha chains at Lys-40 stabilizes microtubules and affects affinity and processivity of microtubule motors. This modification has a role in multiple cellular functions, ranging from cell motility, cell cycle progression or cell differentiation to intracellular trafficking and signaling.
CITATIONS
Liu, Q., Guo, L., Qi, H., L...

A MYBL2 complex for RRM2 transactivation and the synthetic effect of MYBL2 knockdown with WEE1 inhibition against colorectal cancer. Cell death & disease, 12(7), 683.

Wang, Yuan-Li et al.

The E3 Ubiquitin Ligase CRL4 Regulates Proliferation and Progression Through Meiosis in Chinese Mitten Crab Eriocheir sinensis. | Biology of Reproduction [2016]

WB

IF

IHC

Eriocheir sinensis