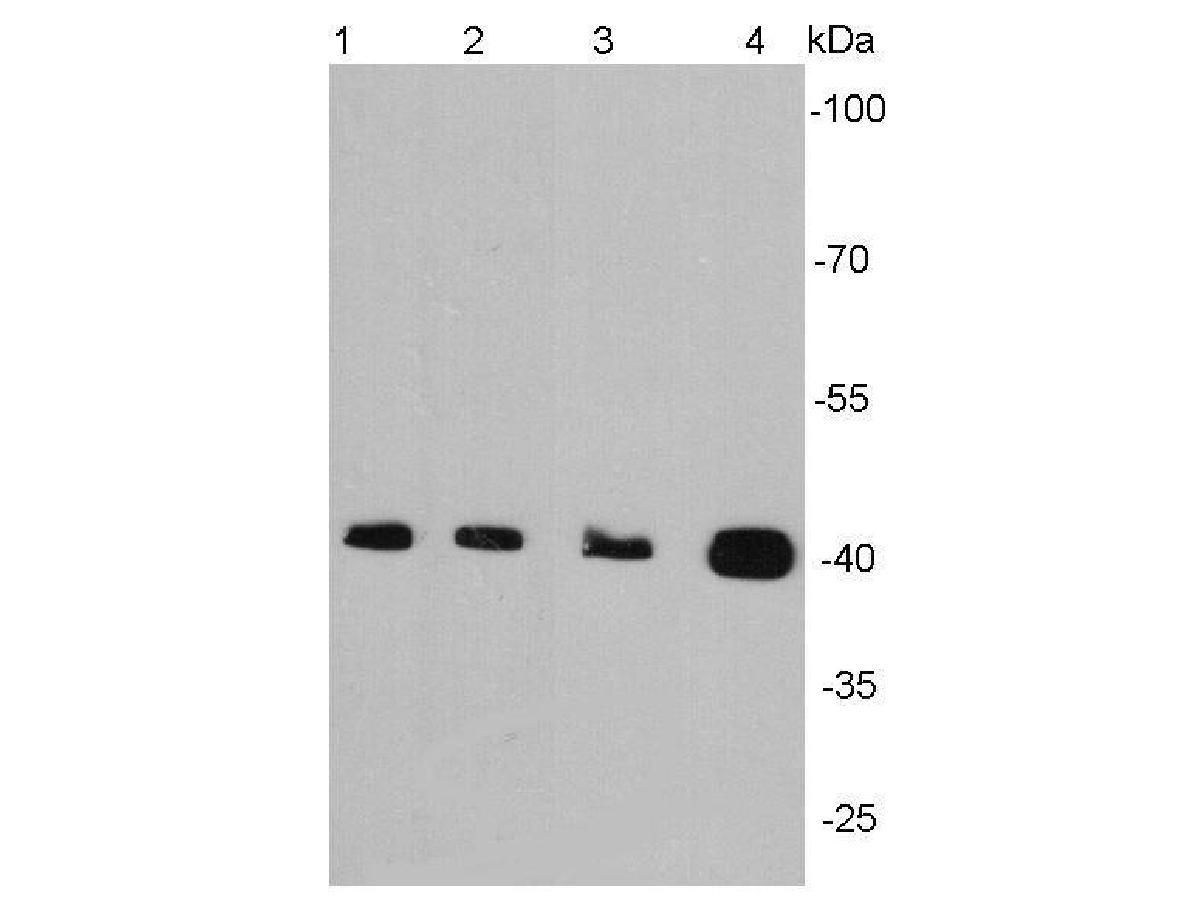 Western blot analysis of alpha smooth muscle actin on different cell lysates using anti-Alpha smooth muscle actin antibody at 1/2000 dilution.
Positive control:
Lane 1: Jurkat
Lane2 : NIH/3T3
Lane 3: Mouse embryonic stem cell
Lane 4: Mouse colon
REACTIVITY
Human

Mouse

Rat

Xenopus laevis

Chicken

Cow

Horse

Monkey
SPECIFICATIONS
Product Type
Rabbit polyclonal primary
Product Name
Alpha smooth muscle Actin Rabbit Polyclonal Antibody (ER1003)
Immunogen
Synthetic peptide corresponding to of human alpha smooth muscle actin aa1-50 / 377.
Positive Control
Jurkat, NIH/3T3, mouse embryonic stem cell, mouse colon tissue, 293, F9, human cervical tissue, mouse skeletal muscle tissue, mouse smooth muscle tissue
PROPERTIES
Storage Condition
Store at +4C after thawing. Aliquot store at -20C or -80C. Avoid repeated freeze / thaw cycles.
Storage Buffer
1*PBS (pH7.4), 0.2% BSA, 40% Glycerol. Preservative: 0.05% Sodium Azide.
PURIFICATION
Peptide affinity purified
TARGET
PROTEIN NAME
Alpha smooth muscle Actin
SYNONYMS
a-SMA antibody; asma antibody; a actin antibody; AAT6 antibody; ACTA_HUMAN antibody; ACTA2 antibody; Actin alpha 2 smooth muscle aorta antibody; Actin aortic smooth muscle antibody; Actin, aortic smooth muscle antibody; ACTSA antibody; ACTVS antibody; Alpha 2 actin antibody; Alpha actin 2 antibody; Alpha cardiac actin antibody; Alpha-actin-2 antibody; Cell growth inhibiting gene 46 protein antibody; Cell growth-inhibiting gene 46 protein antibody; GIG46 antibody; Growth inhibiting gene 46 antibody; MYMY5 antibody
SEQUENCE SIMILARITIES
Belongs to the actin family.
POST-TRANSLATIONAL MODIFICATION
Oxidation of Met-46 and Met-49 by MICALs (MICAL1, MICAL2 or MICAL3) to form methionine sulfoxide promotes actin filament depolymerization. MICAL1 and MICAL2 produce the (R)-S-oxide form. The (R)-S-oxide form is reverted by MSRB1 and MSRB2, which promotes actin repolymerization.; Monomethylation at Lys-86 (K84me1) regulates actin-myosin interaction and actomyosin-dependent processes. Demethylation by ALKBH4 is required for maintaining actomyosin dynamics supporting normal cleavage furrow ingression during cytokinesis and cell migration.; Methylated at His-75 by SETD3.; (Microbial infection) Monomeric actin is cross-linked by V.cholerae toxins RtxA and VgrG1 in case of infection: bacterial toxins mediate the cross-link between Lys-52 of one monomer and Glu-272 of another actin monomer, resulting in formation of highly toxic actin oligomers that cause cell rounding. The toxin can be highly efficient at very low concentrations by acting on formin homology family proteins: toxic actin oligomers bind with high affinity to formins and adversely affect both nucleation and elongation abilities of formins, causing their potent inhibition in both profilin-dependent and independent manners.
FUNCTION
Actins are highly conserved proteins involved in cell motility, structure and integrity. Actin has been found to be expressed in at least six isomeric forms. It is expressed in heart and skeletal striated muscle tissue, and in certain smooth muscle tissues, regulating contractile potentials for these cells. It is also expressed in the cytoplasm of non-muscle cells, functioning to control cell structure and motility. Smooth muscle alpha actin is of further interest because it is one of a few genes whose expression is relatively restricted to vascular smooth muscle cells. Expression of smooth muscle alpha actin is regulated by hormones, cell proliferation, and altered by pathological conditions including oncogenic transformation and atherosclerosis.
CITATIONS
Wang, Shihao et al.

Wnt Signaling Modulates Routes of Retinoic Acid-Induced Differentiation of Embryonic Stem Cells. | Stem Cells and Development [2019]

WB

IS

Embryonic Stem Cells

Yu-Lian Wu

Pancreatic cancer-derived exosomes promoted pancreatic stellate cells recruitment by pancreatic cancer

WB

IF

c cancer cell lines BxPC-3

PANC-1

MIA PaCa-2

and AsPC-1