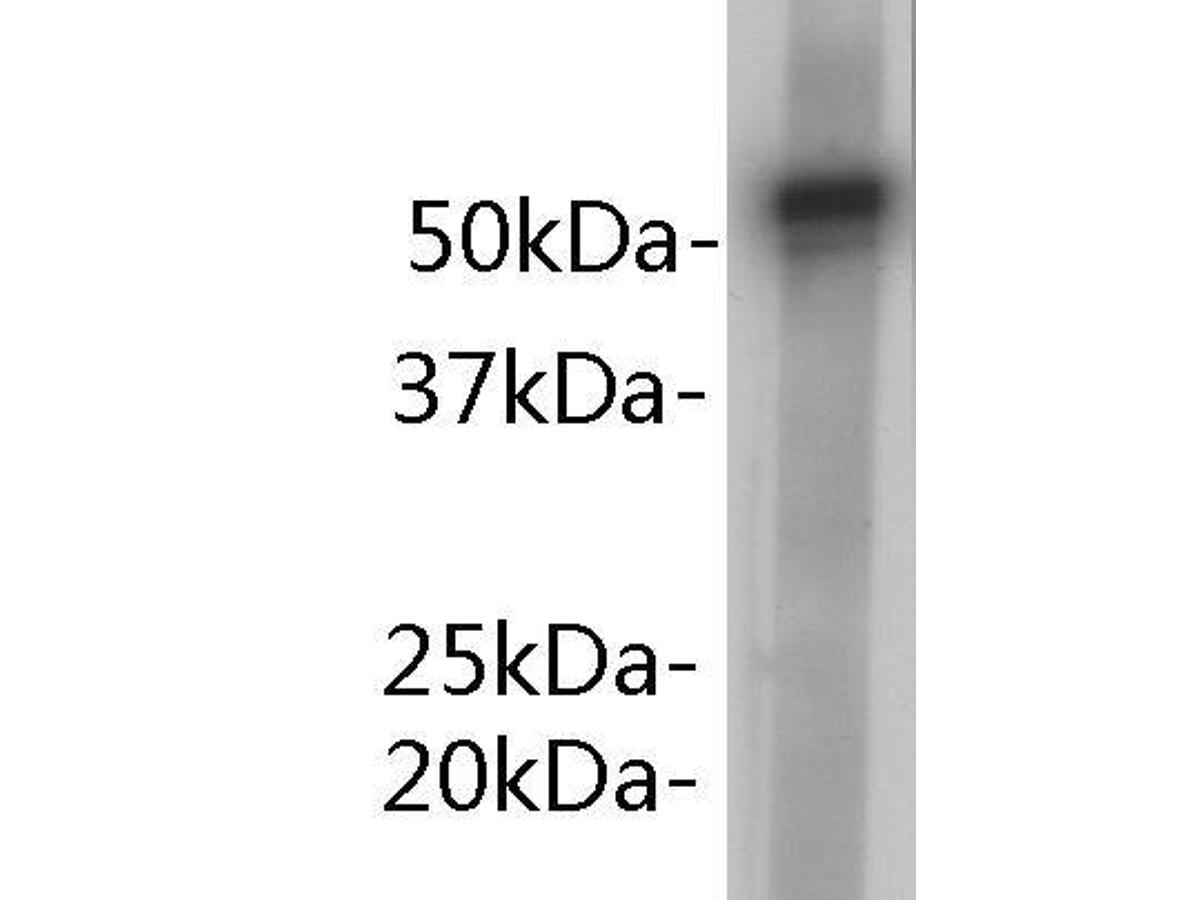 Western blot analysis on human plasma using anti- Alpha 1-Antitrypsin antibody.
SPECIFICATIONS
Product Type
Rabbit polyclonal primary
Product Name
alpha 1-antitrypsin Rabbit Polyclonal Antibody (R1103-1)
PROPERTIES
Storage Condition
Store at +4C after thawing. Aliquot store at -20C or -80C. Avoid repeated freeze / thaw cycles.
Storage Buffer
1*PBS (pH7.4), 0.2% BSA, 40% Glycerol. Preservative: 0.05% Sodium Azide.
PURIFICATION
Immunogen affinity purified
TARGET
SYNONYMS
A1A antibody; A1AT antibody; A1AT_HUMAN antibody; AAT antibody; Alpha 1 antiproteinase antibody; Alpha 1 antitrypsin antibody; Alpha 1 antitrypsin null antibody; Alpha 1 protease inhibitor antibody; Alpha-1 protease inhibitor antibody; Alpha-1-antiproteinase antibody; alpha1 proteinase inhibitor antibody; Alpha1AT antibody; Dom1 antibody; PI antibody; PI1 antibody; PRO2275 antibody; Serine (or cysteine) proteinase inhibitor clade A member 1 antibody; Serine protease inhibitor 1-1 antibody; Serine protease inhibitor A1a antibody; Serpin A1 antibody; Serpin A1a antibody; Serpin peptidase inhibitor clade A member 1 antibody; Serpina1 antibody; Short peptide from AAT antibody; SPAAT antibody; Spi1-1 antibody
SEQUENCE SIMILARITIES
Belongs to the serpin family.
TISSUE SPECIFICITY
Ubiquitous. Expressed in leukocytes and plasma.
POST-TRANSLATIONAL MODIFICATION
N-glycosylated. Differential glycosylation produces a number of isoforms. N-linked glycan at Asn-107 is alternatively di-antennary, tri-antennary or tetra-antennary. The glycan at Asn-70 is di-antennary with trace amounts of tri-antennary. Glycan at Asn-271 is exclusively di-antennary. Structure of glycans at Asn-70 and Asn-271 is Hex5HexNAc4. The structure of the antennae is Neu5Ac(alpha1-6)Gal(beta1-4)GlcNAc attached to the core structure Man(alpha1-6)[Man(alpha1-3)]Man(beta1-4)GlcNAc(beta1-4)GlcNAc. Some antennae are fucosylated, which forms a Lewis-X determinant.; Proteolytic processing may yield the truncated form that ranges from Asp-30 to Lys-418.; (Microbial infection) Proteolytically processed by Staphylococcus aureus seryl, cysteinyl, and metallo-proteases.
FUNCTION
Alpha 1-Antitrypsin is a inhibitor of serine proteases. Its primary target is elastase, but it also has a moderate affinity for plasmin and thrombin. It Irreversibly inhibits trypsin, chymotrypsin and plasminogen activator. The aberrant form inhibits insulin-induced NO synthesis in platelets, decreases coagulation time and has proteolytic activity against insulin and plasmin. Defects in SERPINA1 are the cause of alpha-1-antitrypsin deficiency (A1ATD). A disorder whose most common manifestation is emphysema, which becomes evident by the third to fourth decade. A less common manifestation of the deficiency is liver disease, which occurs in children and adults, and may result in cirrhosis and liver failure.