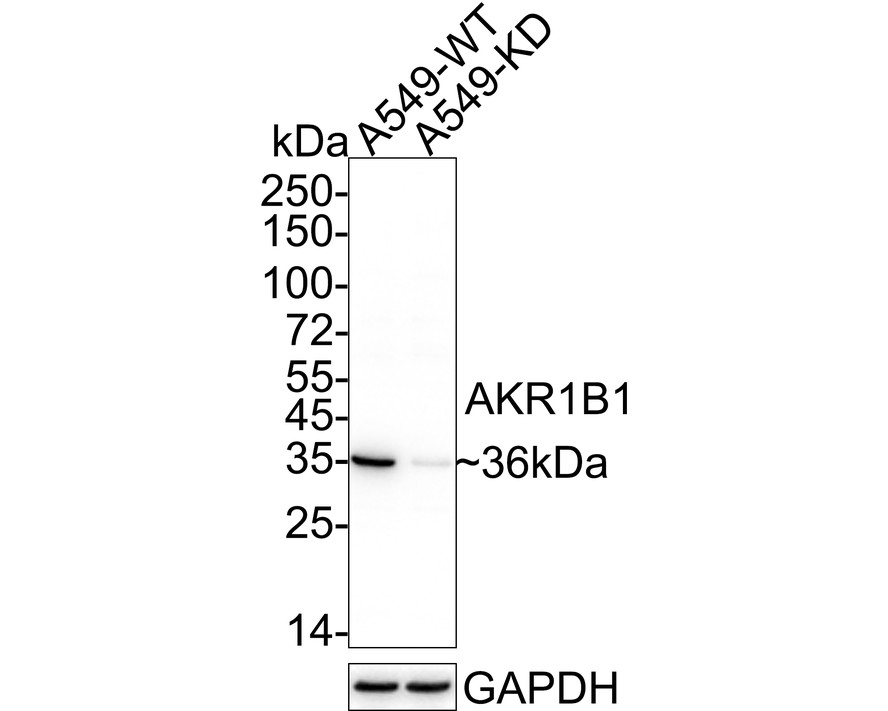 Western blot analysis of AKR1B1 on different lysates. Proteins were transferred to a PVDF membrane and blocked with 5% BSA in PBS for 1 hour at room temperature. The primary antibody (ER2001-27, 1/500) was used in 5% BSA at room temperature for 2 hours. Goat Anti-Rabbit IgG - HRP Secondary Antibody (HA1001) at 1:5,000 dilution was used for 1 hour at room temperature.
Positive control:
Lane 1: Rat skeletal muscle tissue lysate
Lane 2: A549 cell lysate
SPECIFICATIONS
Product Type
Rabbit polyclonal primary
Product Name
AKR1B1 Rabbit Polyclonal Antibody (ER2001-27)
Immunogen
Synthetic peptide within human akr1b1 aa 1-50.
Positive Control
Rat skeletal muscle tissue lysate, A549 cell lysate, rat seminal vesicle tissue, human seminal vesicle tissue.
PROPERTIES
Storage Condition
Store at +4Á¾ after thawing. Aliquot store at -20Á¾. Avoid repeated freeze / thaw cycles.
Storage Buffer
1*TBS (pH7.4), 0.2% BSA, 50% Glycerol. Preservative: 0.05% Sodium Azide.
PURIFICATION
Protein A affinity purified.
TARGET
SYNONYMS
ADR antibody; AKR1B 1 antibody; Akr1b1 antibody; Aldehyde reductase 1 antibody; Aldehyde reductase antibody; Aldo keto reductase family 1, member B1 antibody; Aldo-keto reductase family 1 member B1 antibody; aldo-keto reductase family 1, member B1 (aldose reductase) antibody; Aldose reductase antibody; aldr 1 antibody; ALDR_HUMAN antibody; aldr1 antibody; ALR2 antibody; AR antibody; Lii5 2 CTCL tumor antigen antibody; Low Km aldose reductase antibody; MGC1804 antibody
FUNCTION
Catalyzes the NADPH-dependent reduction of a wide variety of carbonyl-containing compounds to their corresponding alcohols. Displays enzymatic activity towards endogenous metabolites such as aromatic and aliphatic aldehydes, ketones, monosacharides, bile acids and xenobiotics substrates. Key enzyme in the polyol pathway, catalyzes reduction of glucose to sorbitol during hyperglycemia . Reduces steroids and their derivatives and prostaglandins. Displays low enzymatic activity toward all-trans-retinal, 9-cis-retinal, and 13-cis-retinal . Catalyzes the reduction of diverse phospholipid aldehydes such as 1-palmitoyl-2-(5-oxovaleroyl)-sn -glycero-3-phosphoethanolamin (POVPC) and related phospholipid aldehydes that are generated from the oxydation of phosphotidylcholine and phosphatdyleethanolamides. Plays a role in detoxifying dietary and lipid-derived unsaturated carbonyls, such as crotonaldehyde, 4-hydroxynonenal, trans-2-hexenal, trans-2,4-hexadienal and their glutathione-conjugates carbonyls (GS-carbonyls) .