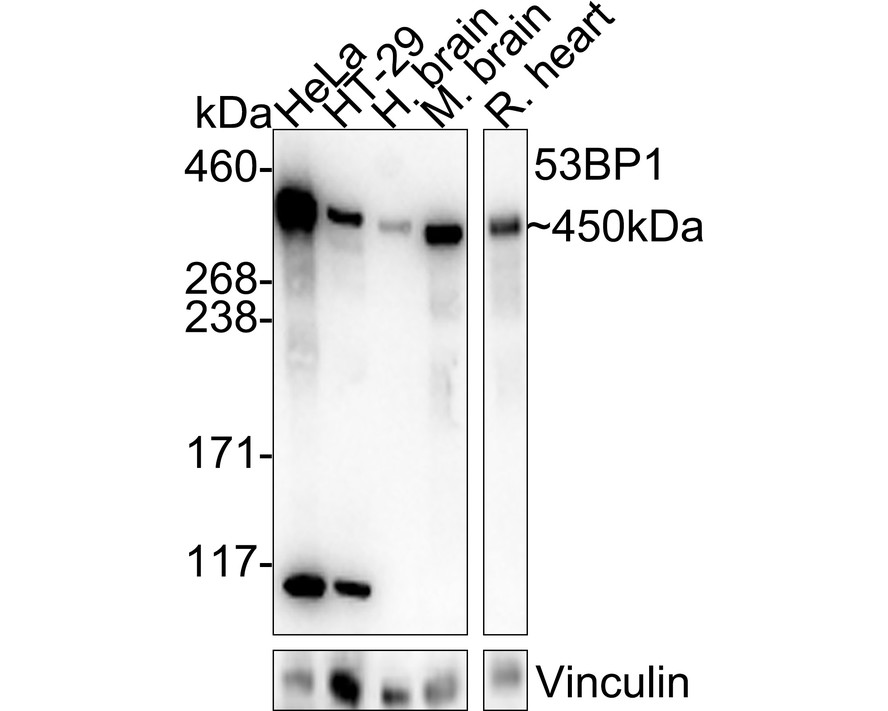 ICC staining 53BP1 in HepG2 cells (green). The nuclear counter stain is DAPI (blue). Cells were fixed in paraformaldehyde, permeabilised with 0.25% Triton X100/PBS.
SPECIFICATIONS
Product Type
Recombinant Rabbit monoclonal primary
Product Name
53BP1 Recombinant Rabbit Monoclonal Antibody [JA66-11] (ET1704-05)
Positive Control
HepG2, 293T, Hela, human liver tissue, human liver cancer tissue, human cervix tissue, human spleen tissue, mouse spleen tissue.
PROPERTIES
Storage Condition
Store at +4C after thawing. Aliquot store at -20C or -80C. Avoid repeated freeze / thaw cycles.
Storage Buffer
1*TBS (pH7.4), 0.05% BSA, 40% Glycerol. Preservative: 0.05% Sodium Azide.
TARGET
SYNONYMS
53 BP1 antibody; 53BP1 antibody; FLJ41424 antibody; MGC138366 antibody; p202 antibody; p53 binding protein 1 antibody; p53 BP1 antibody; p53-binding protein 1 antibody; p53BP1 antibody; TP53 BP1 antibody; TP53B_HUMAN antibody; Tp53bp1 antibody; TRP53 BP1 antibody; Tumor protein 53 binding protein 1 antibody; Tumor protein p53 binding protein 1 antibody; Tumor suppressor p53 binding protein 1 antibody; Tumor suppressor p53-binding protein 1 antibody
POST-TRANSLATIONAL MODIFICATION
Asymmetrically dimethylated on Arg residues by PRMT1. Methylation is required for DNA binding.; Phosphorylated at basal level in the absence of DNA damage. Phosphorylated by ATM in response to DNA damage: phosphorylation at different sites promotes interaction with different set of proteins: phosphorylation at the N-terminus by ATM (residues from 6-178) promotes interaction with PAXIP1 and non-homologous end joining (NHEJ) of dysfunctional telomeres. Phosphorylation by ATM at residues that are located more C-terminus (residues 300-650) leads to promote interaction with RIF1. Interaction with RIF1 leads to disrupt interaction with NUDT16L1/TIRR. Phosphorylation at Thr-1609 and Ser-1618 in the UDR motif blocks interaction with H2AK15ub. Dephosphorylated by PPP4C. Hyperphosphorylation during mitosis correlates with its exclusion from chromatin and DNA lesions. Hyperphosphorylated in an ATR-dependent manner in response to DNA damage induced by UV irradiation. Dephosphorylated by PPP5C.
FUNCTION
The p53 binding proteins 53BP1 and 53BP2 (Bbp) bind to the central DNA-binding domain of wild type p53, but do not bind mutant p53. The central DNA-binding domain of p53 is required for site-specific DNA binding and is frequently mutated in malignant tumors. Binding of 53BP1 to the L3 loop of p53 and of 53BP2 to the L2 loop of p53 confirms that the loop is dependent on p53 conformation. Site-specific binding also suggests that 53BP1 and 53BP2 are involved in p53-mediated tumor suppression. 53BP1 was isolated from H258 cells and is expressed in Jurkat cells in both the cytoplasm and the nucleus. The N-terminus of 53BP2 is localized to the cytoplasm, while the C-terminus might be localized in the nucleus. 53BP1 promotes cell proliferation by binding to p202, whereas 53BP2 induces cell death by binding to Bcl2 and NFkB p65.