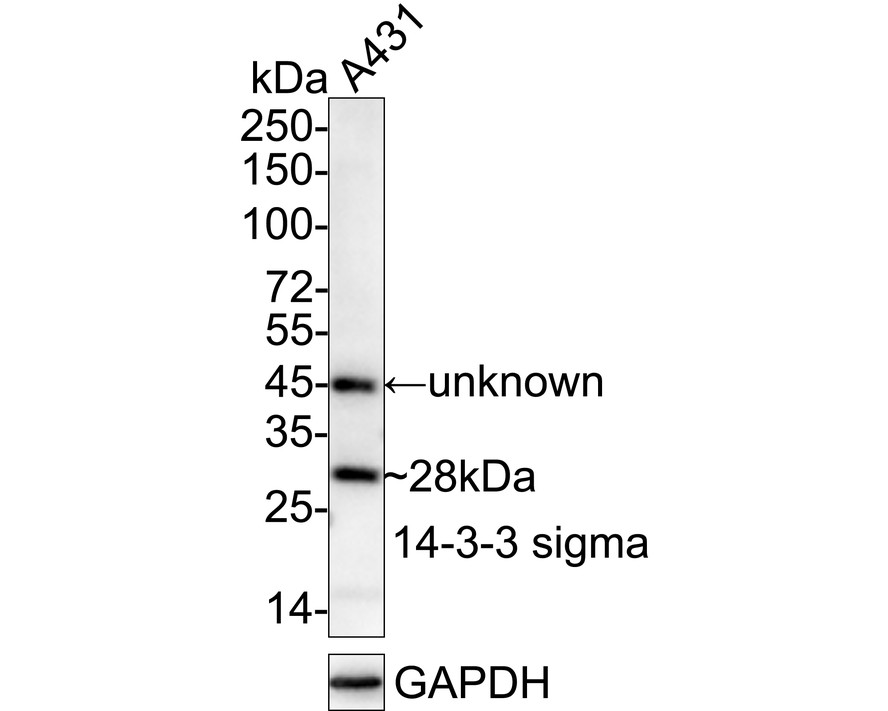 Immunohistochemical analysis of paraffin-embedded human tonsil tissue using anti-14-3-3 sigma antibody. The section was pre-treated using heat mediated antigen retrieval with Tris-EDTA buffer (pH 8.0-8.4) for 20 minutes.The tissues were blocked in 5% BSA for 30 minutes at room temperature, washed with ddH2O and PBS, and then probed with the primary antibody (ET1612-41, 1/50) for 30 minutes at room temperature. The detection was performed using an HRP conjugated compact polymer system. DAB was used as the chromogen. Tissues were counterstained with hematoxylin and mounted with DPX.
SPECIFICATIONS
Product Type
Recombinant Rabbit monoclonal primary
Product Name
14-3-3 sigma Recombinant Rabbit Monoclonal Antibody [SD2070] (ET1612-41)
Immunogen
Synthetic peptide within human 14-3-3 sigmaaa 50-99 / 248.
Positive Control
Human tonsil tissue, human breast carcinoma tissue.
PROPERTIES
Storage Condition
Store at +4C after thawing. Aliquot store at -20C or -80C. Avoid repeated freeze / thaw cycles.
Storage Buffer
1*TBS (pH7.4), 0.05% BSA, 40% Glycerol. Preservative: 0.05% Sodium Azide.
TARGET
SYNONYMS
14 3 3 protein sigma antibody; 14-3-3 protein sigma antibody; 1433S_HUMAN antibody; Epithelial cell marker protein 1 antibody; Er antibody; HME 1 antibody; HME1 antibody; MGC143283 antibody; Mkrn3 antibody; Mme1 antibody; OTTHUMP00000004242 antibody; RP23 137L22.11 antibody; SFN antibody; SFN protein antibody; Stratifin antibody; YWHAS antibody
SEQUENCE SIMILARITIES
Belongs to the 14-3-3 family.
TISSUE SPECIFICITY
Present mainly in tissues enriched in stratified squamous keratinizing epithelium.
POST-TRANSLATIONAL MODIFICATION
Ubiquitinated. Ubiquitination by RFFL induces proteasomal degradation and indirectly regulates p53/TP53 activation.
SUBCELLULAR LOCATION
Cytoplasm, Nucleus, Secreted.
FUNCTION
14-3-3 proteins regulate many cellular processes relevant to cancer biology, notably apoptosis, mitogenic signaling and cell-cycle checkpoints. Seven isoforms, denoted 14-3-3 b, g, e, z, h, q and s, comprise this family of signaling intermediates. 14-3-3 s, also known as SFN, stratifin, HME1 or YWHAS, is a secreted adaptor protein that is involved in regulating both general and specific signaling pathways. Expressed predominately in stratified squamous keratinising epithelium, 14-3-3 s is able to bind and modify the activity of a large number of proteins, such as KRT17 (Keratin 17), through recognition of a phosphothreonine or phosphoserine motif. When bound to Keratin 17, for example, 14-3-3 s acts to stimulate the Akt/mTOR signaling pathway by upregulating protein synthesis and cell growth. 14-3-3 s also functions to positively mediate IGF-I-induced cell cycle progression and can bind to a variety of translation initiation factors, thus controlling mitotic translation. In response to tumor growth, 14-3-3 s positively regulates the tumor suppressor p53 and increases the rate of p53-regulated inhibition of G2/M cell cycle progression. Multiple isoforms of 14-3-3 s exist due to alternative splicing events.