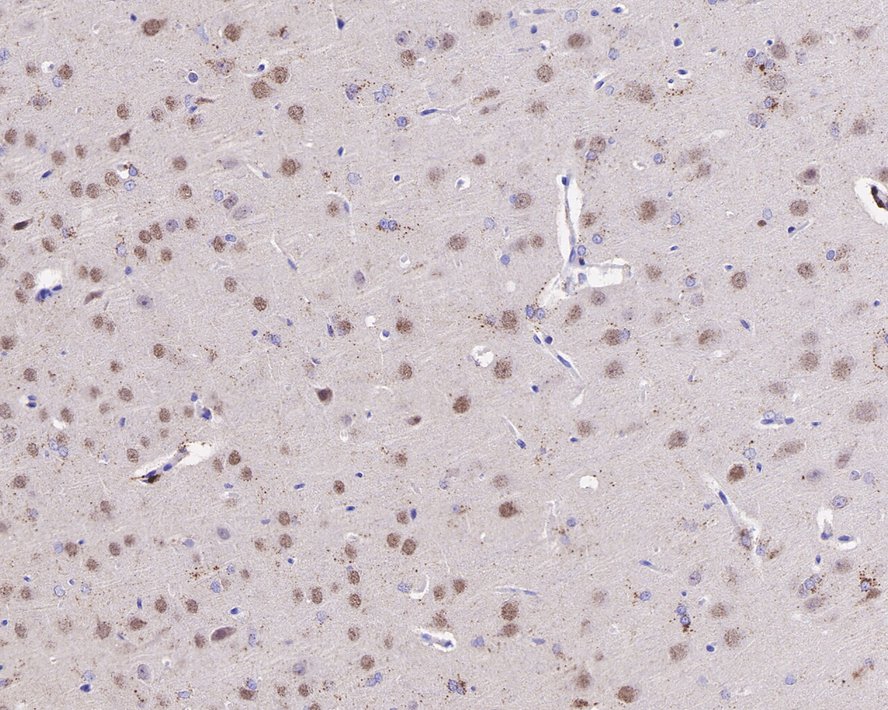 Immunohistochemical analysis of paraffin-embedded rat brain tissue using anti-NeuroD2 antibody. The section was pre-treated using heat mediated antigen retrieval with sodium citrate buffer (pH 6.0) for 20 minutes. The tissues were blocked in 5% BSA for 30 minutes at room temperature, washed with ddH2O and PBS, and then probed with the primary antibody (ET7110-17, 1/50) for 30 minutes at room temperature. The detection was performed using an HRP conjugated compact polymer system. DAB was used as the chromogen. Tissues were counterstained with hematoxylin and mounted with DPX.
SPECIFICATIONS
Product Type
Recombinant Rabbit monoclonal primary
Product Name
NeuroD2 Recombinant Rabbit Monoclonal Antibody [JE50-57] (ET7110-17)
Immunogen
Synthetic peptide within c-terminal human neurod2.
Positive Control
Rat brain tissue, mouse brain tissue.
PROPERTIES
Storage Condition
Store at +4C after thawing. Aliquot store at -20C. Avoid repeated freeze / thaw cycles.
Storage Buffer
1*TBS (pH7.4), 0.05% BSA, 40% Glycerol. Preservative: 0.05% Sodium Azide.
PURIFICATION
Protein A affinity purified.
TARGET
SYNONYMS
bHLHa1 antibody; class A basic helix loop helix protein 1 antibody; Class A basic helix-loop-helix protein 1 antibody; NDF2_HUMAN antibody; NDR2 antibody; NDRF antibody; neuroD related factor antibody; NeuroD-related factor antibody; NeuroD2 antibody; neurogenic basic helix loop helix protein antibody; neurogenic differentiation 2 antibody; Neurogenic differentiation factor 2 antibody; neuronal differentiation 2 antibody
TISSUE SPECIFICITY
Expressed in the external germinal layer (EGL) and internal granular layer (IGL) of the cerebellum (at protein level). Expressed in layers V and VI of the neocortex at postnatal day 1. Expressed in all layers of the neocortex at postnatal day 4. Strongly expressed in layer IV of the neocortex, particularly in the barrel cortex at postnatal day 7. Expressed in the CA1, CA2 and CA3 and dentate gyrus of the hippocampus and many nuclei such as the habenular thalamic nuclei, paraventricular hypothalamic nuclei, amygdala nuclei, and pyramidal nucleus. Expressed in granule cells, molecular layer neurons, and deep cerebella nuclei of the cerebellum. Expressed in brainstem neurons in the external cuneate nucleus and central gray.
DEVELOPMENTAL STAGE
Expressed in dorsal and ventral parts of the lateral, basolateral and basomedial amygdala at 17 and 18 dpc (at protein level). Initially expressed in embryo at 11 dpc, with persistent expression in the nervous system until birth.
POST-TRANSLATIONAL MODIFICATION
Ubiquitinated by the APC/C complex; leading to its degradation in neurons. The CDC20-APC/C-induced degradation of NEUROD2 drives presynaptic differentiation.
FUNCTION
Transcriptional regulator implicated in neuronal determination. Mediates calcium-dependent transcription activation by binding to E box-containing promoter. Critical factor essential for the repression of the genetic program for neuronal differentiation; prevents the formation of synaptic vesicle clustering at active zone to the presynaptic membrane in postmitotic neurons. Induces transcription of ZEB1, which in turn represses neuronal differentiation by down-regulating REST expression. Plays a role in the establishment and maturation of thalamocortical connections; involved in the segregation of thalamic afferents into distinct barrel domains within layer VI of the somatosensory cortex. Involved in the development of the cerebellar and hippocampal granular neurons, neurons in the basolateral nucleus of amygdala and the hypothalamic-pituitary axis. Associates with chromatin to the DPYSL3 E box-containing promoter (By similarity).