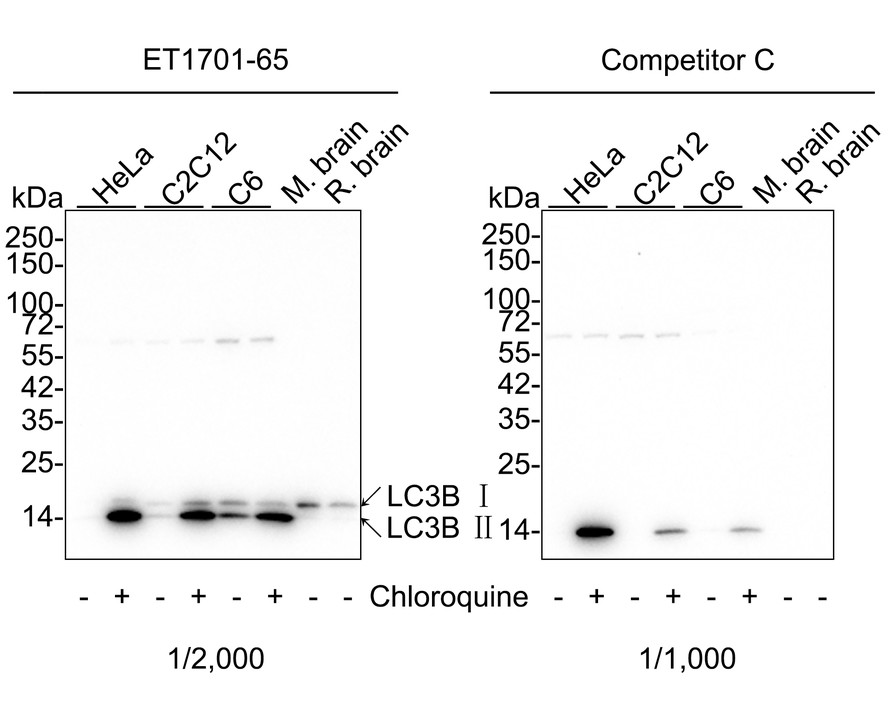 Western blot analysis of LC3B on different lysates. Proteins were transferred to a PVDF membrane and blocked with 5% BSA in PBS for 1 hour at room temperature. The primary antibody (ET1701-65, 1/500) was used in 5% BSA at room temperature for 2 hours. Goat Anti-Rabbit IgG - HRP Secondary Antibody (HA1001) at 1:5,000 dilution was used for 1 hour at room temperature.
Positive control:
Lane 1: Hela cell lysate
Lane 2: MCF-7 cell lysate
SPECIFICATIONS
Product Type
Recombinant Rabbit monoclonal primary
Product Name
LC3B Recombinant Rabbit Monoclonal Antibody [JJ090-6] (ET1701-65)
Immunogen
Synthetic peptide within human lc3 b aa 1-20 and aa 80-120.
Positive Control
Hela cell lysate, MCF-7 cell lysate.
PROPERTIES
Storage Condition
Store at +4C after thawing. Aliquot store at -20C or -80C. Avoid repeated freeze / thaw cycles.
Storage Buffer
1*TBS (pH7.4), 0.05% BSA, 40% Glycerol. Preservative: 0.05% Sodium Azide.
PURIFICATION
Protein A affinity purified.
TARGET
SYNONYMS
ATG8F antibody; Autophagy-related protein LC3 B antibody; Autophagy-related ubiquitin-like modifier LC3 B antibody; LC3B antibody; LC3II antibody; MAP1 light chain 3 like protein 2 antibody; MAP1 light chain 3-like protein 2 antibody; MAP1A/1BLC3 antibody; MAP1A/MAP1B LC3 B antibody; MAP1A/MAP1B light chain 3 B antibody; MAP1ALC3 antibody; MAP1LC3B a antibody; Map1lc3b antibody; Microtubule associated protein 1 light chain 3 beta antibody; Microtubule-associated protein 1 light chain 3 beta antibody; Microtubule-associated proteins 1A/1B light chain 3B antibody; MLP3B_HUMAN antibody
SEQUENCE SIMILARITIES
Belongs to the ATG8 family.
TISSUE SPECIFICITY
Most abundant in heart, brain, skeletal muscle and testis. Little expression observed in liver.
POST-TRANSLATIONAL MODIFICATION
The precursor molecule is cleaved by ATG4B to form the cytosolic form, LC3-I. This is activated by APG7L/ATG7, transferred to ATG3 and conjugated to phospholipid to form the membrane-bound form, LC3-II.; The Legionella effector RavZ is a deconjugating enzyme that produces an ATG8 product that would be resistant to reconjugation by the host machinery due to the cleavage of the reactive C-terminal glycine.; Phosphorylation at Thr-12 by PKA inhibits conjugation to phosphatidylethanolamine (PE) (By similarity). Interaction with MAPK15 reduces the inhibitory phosphorylation and increases autophagy activity.
SUBCELLULAR LOCATION
Cytoplasm, Endomembrane system, Cytoplasmic vesicle.
FUNCTION
Microtubule-associated proteins (MAPs) regulate microtubule stability and play critical roles in neuronal development and in maintaining the balance between neuronal plasticity and rigidity. MAP-light chain 3 beta (MAP-LC3β) and MAP-light chain 3 alpha (MAP-LC3α) are subunits of both MAP1A and MAP1B. MAP-LC3β, a homolog of Apg8p, is essential for autophagy and associated to the autophagosome membranes after processing. Two forms of LC3β, the cytosolic LC3-I and the membrane-bound LC3-II, are produced post-translationally. LC3-I is formed by the removal of the C-terminal 22 amino acids from newly synthesized LC3β, followed by the conversion of a fraction of LC3-I into LC3-II. LC3 enhances fibronectin mRNA translation in ductus arteriosus cells through association with 60S ribosomes and binding to an AU-rich element in the 3′ untranslated region of fibronectin mRNA. This facilitates sorting of fibronectin mRNA onto rough endoplasmic reticulum and translation. MAP LC3β may also be involved in formation of autophagosomal vacuoles. It is expressed primarily in heart, testis, brain and skeletal muscle.
CITATIONS
Wang, Wanqiu et al.

Sinomenine attenuates septic-associated lung injury through the Nrf2-Keap1 and autophagy. | The Journal of Pharmacy and Pharmacology [2020]