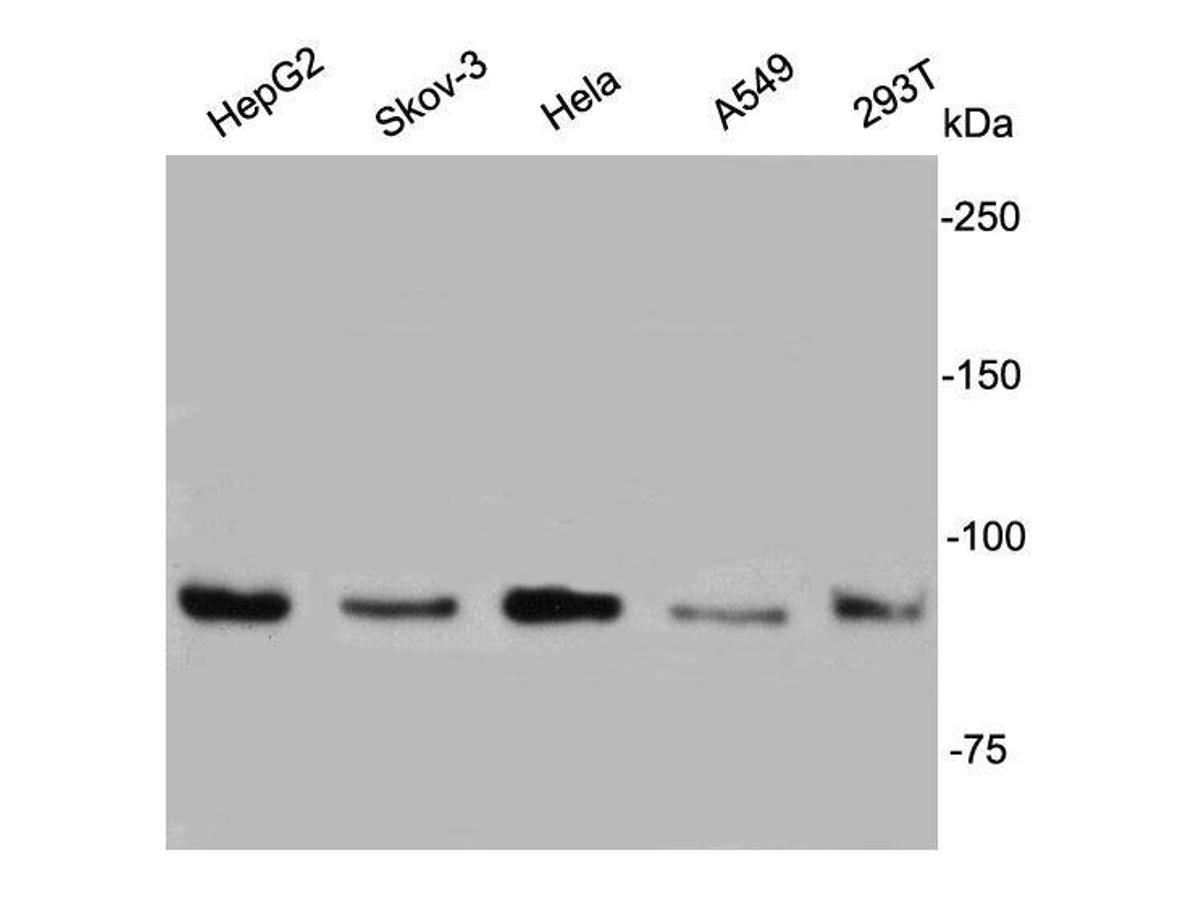 Western blot analysis on cell lysates using anti- IGF1R rabbit polyclonal antibodies.
SPECIFICATIONS
Product Type
Rabbit polyclonal primary
Product Name
IGF1R Rabbit Polyclonal Antibody (R1310-6)
Immunogen
Recombinant protein with human igf1r aa 627-952 / 1,367.
Positive Control
HepG2, SKOV-3, Hela, A549, 293T, human breast carcinoma tissue
PROPERTIES
Storage Condition
Store at +4C after thawing. Aliquot store at -20C or -80C. Avoid repeated freeze / thaw cycles.
Storage Buffer
1*PBS (pH7.4), 0.2% BSA, 40% Glycerol. Preservative: 0.05% Sodium Azide.
PURIFICATION
Protein A affinity purified.
TARGET
SYNONYMS
CD221 antibody;CD221 antigen antibody;IGF 1 receptor antibody;IGF 1R antibody;IGF I receptor antibody;IGF-I receptor antibody;Igf1r antibody;IGF1R_HUMAN antibody;IGFIR antibody;IGFIRC antibody;IGFR antibody;Insulin like growth factor 1 receptor antibody;Insulin like growth factor 1 receptor precursor antibody;Insulin-like growth factor 1 receptor beta chain antibody;Insulin-like growth factor I receptor antibody;JTK13 antibody;MGC142170 antibody;MGC142172 antibody;MGC18216 antibody;Soluble IGF1R variant 1 antibody;Soluble IGF1R variant 2 antibody
SEQUENCE SIMILARITIES
Belongs to the protein kinase superfamily. Tyr protein kinase family. Insulin receptor subfamily.
TISSUE SPECIFICITY
Found as a hybrid receptor with INSR in muscle, heart, kidney, adipose tissue, skeletal muscle, hepatoma, fibroblasts, spleen and placenta (at protein level). Expressed in a variety of tissues. Overexpressed in tumors, including melanomas, cancers of the colon, pancreas prostate and kidney.
POST-TRANSLATIONAL MODIFICATION
Autophosphorylated on tyrosine residues in response to ligand binding. Autophosphorylation occurs in trans, i.e. one subunit of the dimeric receptor phosphorylates tyrosine residues on the other subunit. Autophosphorylation occurs in a sequential manner; Tyr-1165 is predominantly phosphorylated first, followed by phosphorylation of Tyr-1161 and Tyr-1166. While every single phosphorylation increases kinase activity, all three tyrosine residues in the kinase activation loop (Tyr-1165, Tyr-1161 and Tyr-1166) have to be phosphorylated for optimal activity. Can be autophosphorylated at additional tyrosine residues (in vitro). Autophosphorylated is followed by phosphorylation of juxtamembrane tyrosines and C-terminal serines. Phosphorylation of Tyr-980 is required for IRS1- and SHC1-binding. Phosphorylation of Ser-1278 by GSK-3beta restrains kinase activity and promotes cell surface expression, it requires a priming phosphorylation at Ser-1282. Dephosphorylated by PTPN1 (By similarity).; Polyubiquitinated at Lys-1168 and Lys-1171 through both 'Lys-48' and 'Lys-29' linkages, promoting receptor endocytosis and subsequent degradation by the proteasome. Ubiquitination is facilitated by pre-existing phosphorylation.; Sumoylated with SUMO1.; Controlled by regulated intramembrane proteolysis (RIP). Undergoes metalloprotease-dependent constitutive ectodomain shedding to produce a membrane-anchored 52 kDa C-Terminal fragment which is further processed by presenilin gamma-secretase to yield an intracellular 50 kDa fragment.
FUNCTION
Type I insulin-like growth factor receptor (IGF-IR) is a transmembrane receptor tyrosine kinase that is widely expressed in many cell lines and cell types within fetal and postnatal tissues. The activated IGF1R is involved in cell growth and survival control. IGF1R is crucial for tumor transformation and survival of malignant cell. Ligand binding activates the receptor kinase, leading to receptor autophosphorylation, and tyrosines phosphorylation of multiple substrates, that function as signaling adapter proteins including, the insulin-receptor substrates (IRS1/2), Shc and 14-3-3 proteins. Phosphorylation of IRSs proteins lead to the activation of two main signaling pathways: the PI3K-AKT/PKB pathway and the Ras-MAPK pathway. The result of activating the MAPK pathway is increased cellular proliferation, whereas activating the PI3K pathway inhibits apoptosis and stimulates protein synthesis.