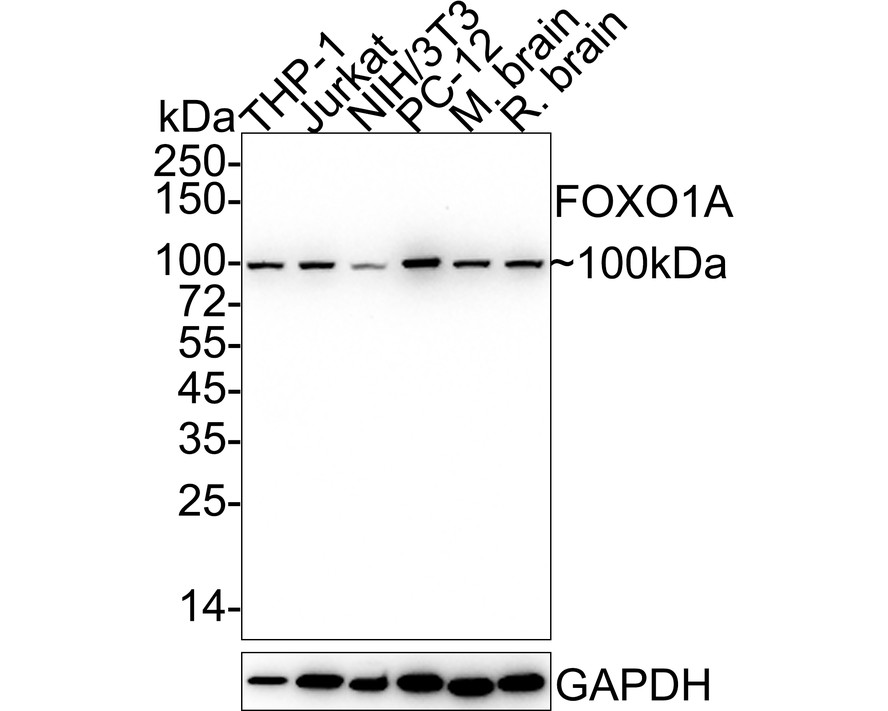 Western blot analysis of FOXO1A on different lysates. Proteins were transferred to a PVDF membrane and blocked with 5% BSA in PBS for 1 hour at room temperature. The primary antibody (ET1608-25, 1/500) was used in 5% BSA at room temperature for 2 hours. Goat Anti-Rabbit IgG - HRP Secondary Antibody (HA1001) at 1:5,000 dilution was used for 1 hour at room temperature.
Positive control:
Lane 1: Hela cell lysate
Lane 2: NIH/3T3 cell lysate
REACTIVITY
Human

Mouse

Rat

Zebrafish
SPECIFICATIONS
Product Type
Recombinant Rabbit monoclonal primary
Product Name
FOXO1A Recombinant Rabbit Monoclonal Antibody [SU33-01] (ET1608-25)
Positive Control
Hela cell lysate, NIH/3T3 cell lysate, Hela, MCF-7, NIH/3T3, human tonsil tissue, human breast carcinoma tissue, mouse brain tissue, mouse heart tissue.
PROPERTIES
Storage Condition
Store at +4C after thawing. Aliquot store at -20C or -80C. Avoid repeated freeze / thaw cycles.
Storage Buffer
1*TBS (pH7.4), 0.05% BSA, 40% Glycerol. Preservative: 0.05% Sodium Azide.
PURIFICATION
Protein A affinity purified.
TARGET
SYNONYMS
FKH 1 antibody; FKH1 antibody; FKHR antibody; Forkhead (Drosophila) homolog 1 (rhabdomyosarcoma) antibody; Forkhead box O1 antibody; Forkhead box protein O1 antibody; Forkhead box protein O1A antibody; Forkhead in rhabdomyosarcoma antibody; Forkhead, Drosophila, homolog of, in rhabdomyosarcoma antibody; FoxO transcription factor antibody; foxo1 antibody; FOXO1_HUMAN antibody; FOXO1A antibody; OTTHUMP00000018301 antibody
POST-TRANSLATIONAL MODIFICATION
Phosphorylation by NLK promotes nuclear export and inhibits the transcriptional activity. In response to growth factors, phosphorylation on Thr-24, Ser-256 and Ser-322 by PKB/AKT1 promotes nuclear export and inactivation of transactivational activity. Phosphorylation on Thr-24 is required for binding 14-3-3 proteins. Phosphorylation of Ser-256 decreases DNA-binding activity and promotes the phosphorylation of Thr-24 and Ser-319, permitting phosphorylation of Ser-322 and Ser-325, probably by CDK1, leading to nuclear exclusion and loss of function. Stress signals, such as response to oxygen or nitric oxide, attenuate the PKB/AKT1-mediated phosphorylation leading to nuclear retention. Phosphorylation of Ser-329 is independent of IGF1 and leads to reduced function. Dephosphorylated on Thr-24 and Ser-256 by PP2A in beta-cells under oxidative stress leading to nuclear retention (By similarity). Phosphorylation of Ser-249 by CDK1 disrupts binding of 14-3-3 proteins leading to nuclear accumulation and has no effect on DNA-binding nor transcriptional activity. Phosphorylation by STK4/MST1 on Ser-212, upon oxidative stress, inhibits binding to 14-3-3 proteins and nuclear export.; Acetylated. Acetylation at Lys-262, Lys-265 and Lys-274 are necessary for autophagic cell death induction. Deacetylated by SIRT2 in response to oxidative stress or serum deprivation, thereby negatively regulating FOXO1-mediated autophagic cell death.; Ubiquitinated by SKP2. Ubiquitination leads to proteasomal degradation.; Methylation inhibits AKT1-mediated phosphorylation at Ser-256 and is increased by oxidative stress.; Once in the nucleus, acetylated by CREBBP/EP300. Acetylation diminishes the interaction with target DNA and attenuates the transcriptional activity. It increases the phosphorylation at Ser-256. Deacetylation by SIRT1 results in reactivation of the transcriptional activity. Oxidative stress by hydrogen peroxide treatment appears to promote deacetylation and uncoupling of insulin-induced phosphorylation. By contrast, resveratrol acts independently of acetylation.
FUNCTION
FKHR (for forkhead in rhabdomyosarcoma) and FKHRL1 are members of the forkhead family of transcription factors. Transcriptional activation of FKHR proteins is regulated by the serine/threonine kinase Akt1, which phosphorylates FKHRL1 and results in FKHRL1 associating with 14-3-3 proteins and being retained in the cytoplasm. Induction of apoptosis or withdrawal of growth factors stimulates dephosphorylation and nuclear translocation of FKHR proteins, leading to FKHR-induced gene-specific transcriptional activation. FKHR, also designated forkhead box protein O1A (FOXO1), is a ubiquitously expressed protein that shuttles between the cytoplasm and nucleus. Genetic mutations in FKHR genes, including the t(2;13) and t(1;3) translocations, are commonly found in alveolar rhabdomyosarcomas. These translocations result in the fusion of the amino terminus of Pax-3 or Pax-7, including the paired box and homeodomain DNA-binding domains, with the carboxy-terminus of FKHR, which contains a transcriptional activation domain. The Pax-3/FKHR fusion protein appears to function as an oncogenic transcription factor that enhances the activation of normal Pax-3 target genes.
CITATIONS
Wang, Zhonghao et al.

Integrated microarray meta-analysis identifies miRNA-27a as an oncogene in ovarian cancer by inhibiting FOXO1. | Life Sciences [2018]

Li, Kaiqun et al.

High cholesterol induces apoptosis and autophagy through the ROS-activated AKT/FOXO1 pathway in tendon-derived stem cells. | Stem Cell Research & Therapy [2020]