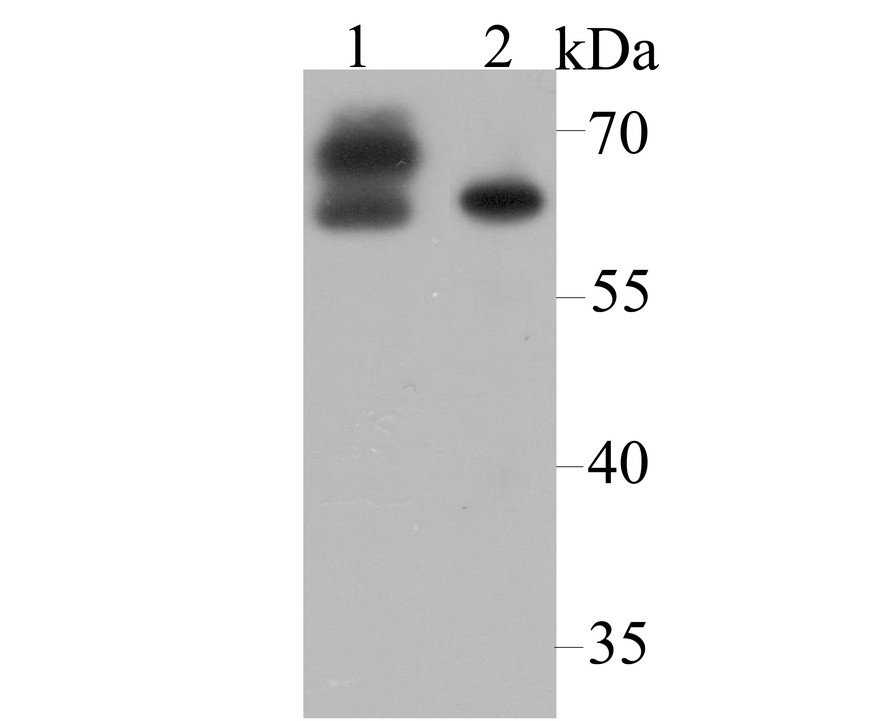 Western blot analysis of CRMP2 on different lysates using anti-CRMP2 antibody at 1/5,000 dilution.
Positive control:
Lane 1: Mouse brain tissue Lane 2: SH-SY-5Y
SPECIFICATIONS
Product Type
Rabbit polyclonal primary
Product Name
CRMP2 Rabbit Polyclonal Antibody (ER1802-45)
Immunogen
Recombinant protein within human crmp2 aa 90-320.
Positive Control
Mouse brain tissue lysate, SH-SY-5Y, A549, SiHa, human tonsil tissue, human colon tissue, human breast cancer tissue.
PROPERTIES
Storage Condition
Store at +4C after thawing. Aliquot store at -20C. Avoid repeated freeze / thaw cycles.
Storage Buffer
1*PBS (pH7.4), 0.2% BSA, 50% Glycerol. Preservative: 0.05% Sodium Azide.
PURIFICATION
Protein affinity purified.
TARGET
SYNONYMS
Collapsin response mediator protein 2 antibody; Collapsin response mediator protein antibody; Collapsin response mediator protein hCRMP 2 antibody; CRAM antibody; CRMP 2 antibody; CRMP-2 antibody; CRMP2 antibody; DHPRP 2 antibody; DHPRP2 antibody; Dihydropyrimidinase 2 antibody; Dihydropyrimidinase like 2 antibody; Dihydropyrimidinase like 2 long form antibody; Dihydropyrimidinase related protein 2 antibody; Dihydropyrimidinase-related protein 2 antibody; DPYL 2 antibody; DPYL2 antibody; DPYL2_HUMAN antibody; DPYSL 2 antibody; Dpysl2 antibody; DRP-2 antibody; DRP2 antibody; Musunc 33 antibody; Musunc33 antibody; N2A3 antibody; TOAD 64 antibody; TOAD64 antibody; ULIP 2 protein antibody; ULIP-2 antibody; Ulip2 antibody; Unc-33-like phosphoprotein 2 antibody
SEQUENCE SIMILARITIES
Belongs to the metallo-dependent hydrolases superfamily. Hydantoinase/dihydropyrimidinase family.
POST-TRANSLATIONAL MODIFICATION
3F4, a monoclonal antibody which strongly stains neurofibrillary tangles in Alzheimer disease brains, specifically labels DPYSL2 when phosphorylated on Ser-518, Ser-522 and Thr-509.; Phosphorylation at Thr-514 by GSK3B abolishes tubulin-binding leading to destabilization of microtubule assembly in axons and neurodegeneration (By similarity). Phosphorylation by DYRK2 at Ser-522 is required for subsequent phosphorylation by GSK3B.
SUBCELLULAR LOCATION
Cytosol. Cytoskeleton. Membrane.
FUNCTION
Collapsin response mediator proteins (CRMPs), including CRMP-1 (DRP-1), CRMP-2 (DRP-2 or TOAD64), CRMP-3 (DRP-4), CRMP-4 (DRP-3) and CRMP-5 (DRP-5), mediate signal transduction after exposure of neural cells to the axon guidance molecule Semaphorin 3A (SEMA3A)/collapsin. CRMPs are present in the developing cerebral cortex and neocortical neurons and are responsive to SEMA3A. In the adult brain, the expression of CRMPs is dramatically downregulated. However, they remain expressed in structures that retain their capacity for differentiation and plasticity. CRMP-2 is involved in axonal growth and guidance. The human CRMP-2 gene maps to 8p21.2, a chromosomal region that has been previously shown to have a significant linkage to schizophrenia and to several deficit symptoms of schizophrenia.