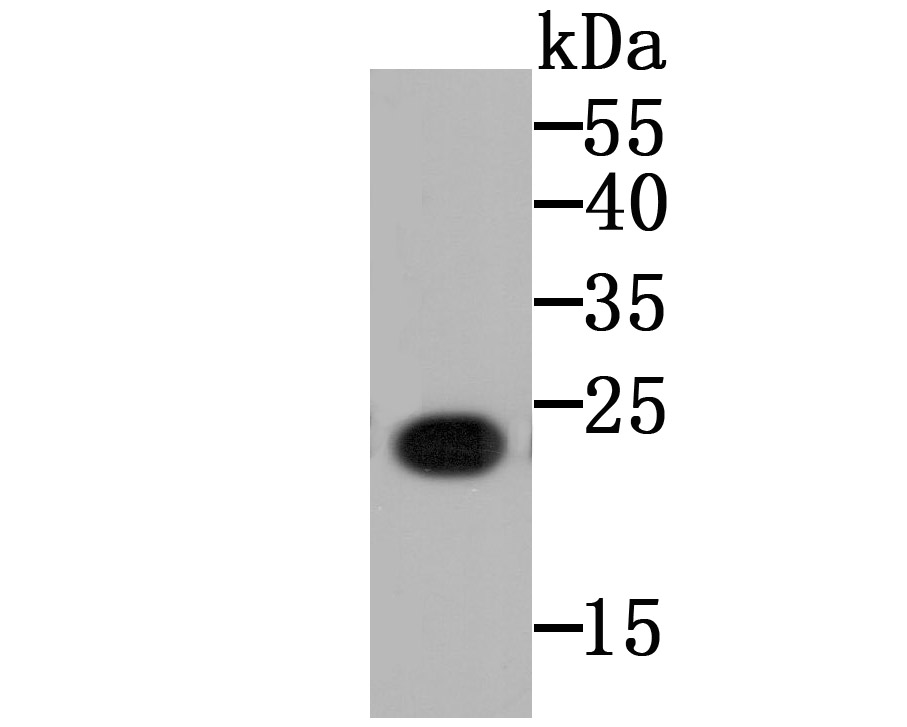 Western blot analysis of CD130 on CD130 recombinant protein using anti-CD130 antibody at 1/5,000 dilution.
SPECIFICATIONS
Product Name
CD130 Mouse Monoclonal Antibody [B11-B9-A8] (EM1701-43)
Immunogen
Recombinant protein within human cd130 238-422 / 918.
Positive Control
CD130 recombinant protein, Raji cell and mouse lung tissue lysates, HUVEC, LOVO, human prostate tissue, human liver tissue, human kidney tissue, human pancreas tissue.
PROPERTIES
Storage Condition
Store at +4C after thawing. Aliquot store at -20C or -80C. Avoid repeated freeze / thaw cycles.
Storage Buffer
1*PBS (pH7.4), 0.2% BSA, 50% Glycerol. Preservative: 0.05% Sodium Azide.
TARGET
SYNONYMS
CD130 antibody; CD130 antigen antibody; CDw130 antibody; gp130 antibody; GP130 RAPS antibody; IL 6R beta antibody; IL-6 receptor subunit beta antibody; IL-6R subunit beta antibody; IL-6R-beta antibody; IL-6RB antibody; IL6 ST antibody; IL6RB_HUMAN antibody; IL6ST antibody; Interleukin 6 receptor subunit beta antibody; Interleukin receptor beta chain antibody; Interleukin-6 receptor subunit beta antibody; Interleukin-6 signal transducer antibody; Membrane glycoprotein 130 antibody; Membrane glycoprotein gp130 antibody; Oncostatin M receptor antibody; Oncostatin M receptor alpha subunit antibody; Oncostatin-M receptor subunit alpha antibody
SEQUENCE SIMILARITIES
Belongs to the type I cytokine receptor family. Type 2 subfamily.
TISSUE SPECIFICITY
Found in all the tissues and cell lines examined. Expression not restricted to IL6 responsive cells. Expressed in blood serum (at protein level).
POST-TRANSLATIONAL MODIFICATION
Phosphorylation of Ser-782 down-regulates cell surface expression.; Heavily N-glycosylated. Glycosylation is required for protein stability and localization in plasma membrane but not for ligand binding.
FUNCTION
Signal-transducing molecule. The receptor systems for IL6, LIF, OSM, CNTF, IL11, CTF1 and BSF3 can utilize IL6ST for initiating signal transmission. Binding of IL6 to IL6R induces IL6ST homodimerization and formation of a high-affinity receptor complex, which activates Janus kinases. That causes phosphorylation of IL6ST tyrosine residues which in turn activates STAT3. Mediates signals which regulate immune response, hematopoiesis, pain control and bone metabolism. Has a role in embryonic development. Does not bind IL6. Essential for survival of motor and sensory neurons and for differentiation of astrocytes. Required for expression of TRPA1 in nociceptive neurons. Required for the maintenance of PTH1R expression in the osteoblast lineage and for the stimulation of PTH-induced osteoblast differentiation. Required for normal trabecular bone mass and cortical bone composition.