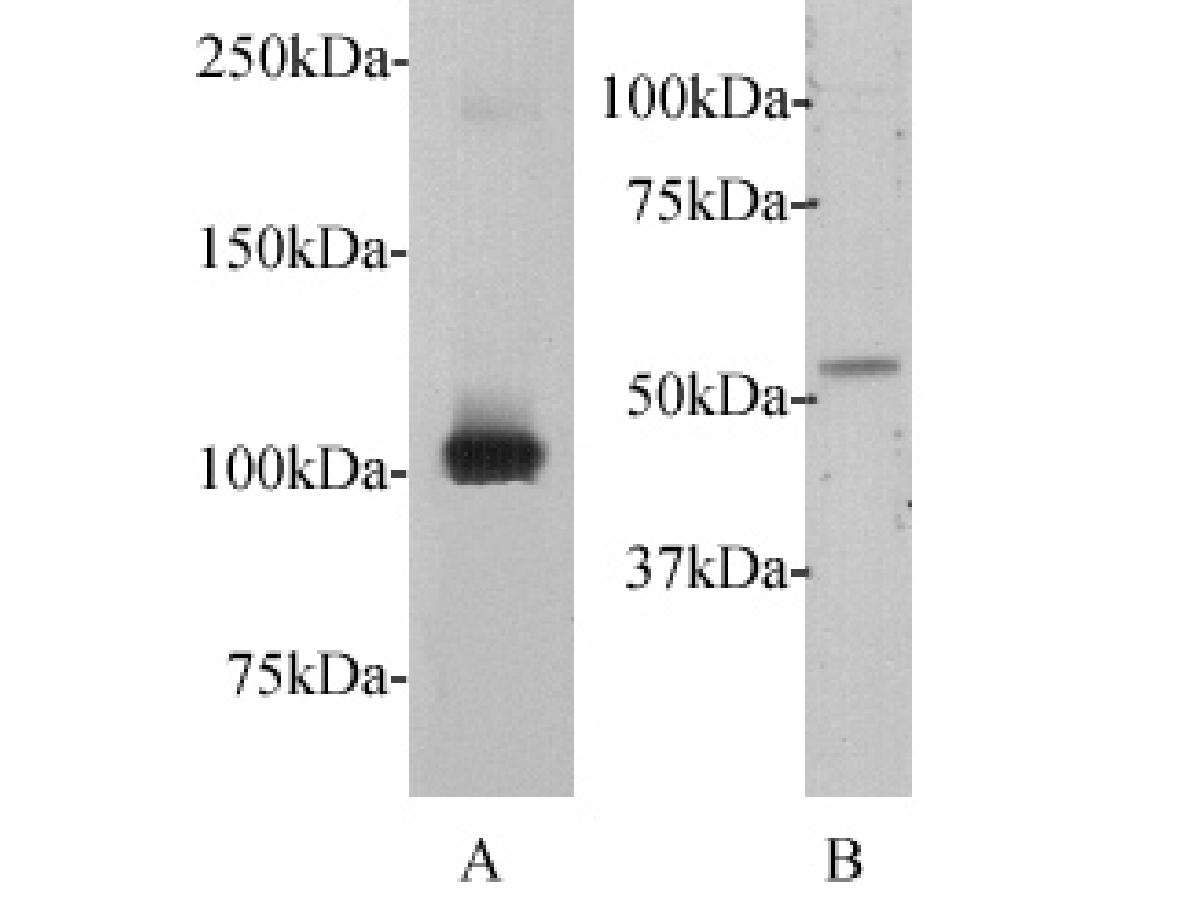 Western blot analysis on myc-tagged recombinant protein with (A) and A549 cell lysates (B).
SPECIFICATIONS
Product Type
Rabbit polyclonal primary
Positive Control
Recombinant protein, A549
PROPERTIES
Storage Condition
Store at +4C after thawing. Aliquot store at -20C or -80C. Avoid repeated freeze / thaw cycles.
Storage Buffer
1*PBS (pH7.4), 0.2% BSA, 40% Glycerol. Preservative: 0.05% Sodium Azide.
PURIFICATION
Immunogen affinity purified
TARGET
PROTEIN NAME
Myc proto-oncogene protein
POST-TRANSLATIONAL MODIFICATION
Phosphorylated by PRKDC. Phosphorylation at Ser-329 by PIM2 leads to the stabilization of MYC (By similarity). Phosphorylation at Ser-62 by CDK2 prevents Ras-induced senescence. Phosphorylated at Ser-62 by DYRK2; this primes the protein for subsequent phosphorylation by GSK3B at Thr-58. Phosphorylation at Thr-58 and Ser-62 by GSK3 is required for ubiquitination and degradation by the proteasome.; Ubiquitinated by the SCF(FBXW7) complex when phosphorylated at Thr-58 and Ser-62, leading to its degradation by the proteasome. In the nucleoplasm, ubiquitination is counteracted by USP28, which interacts with isoform 1 of FBXW7 (FBW7alpha), leading to its deubiquitination and preventing degradation. In the nucleolus, however, ubiquitination is not counteracted by USP28 but by USP36, due to the lack of interaction between isoform 3 of FBXW7 (FBW7gamma) and USP28, explaining the selective MYC degradation in the nucleolus. Also polyubiquitinated by the DCX(TRUSS) complex. Ubiquitinated by TRIM6 in a phosphorylation-independent manner (By similarity).
SUBCELLULAR LOCATION
Nucleus, nucleoplasm. Nucleus, nucleolus.
FUNCTION
Transcription factor that binds DNA in a non-specific manner, yet also specifically recognizes the core sequence 5'-CAC[GA]TG-3'. Activates the transcription of growth-related genes. Binds to the VEGFA promoter, promoting VEGFA production and subsequent sprouting angiogenesis. Regulator of somatic reprogramming, controls self-renewal of embryonic stem cells. Functions with TAF6L to activate target gene expression through RNA polymerase II pause release (By similarity).
CITATIONS
Zan, Jie et al.

Rabies Virus Infection Induces Microtubule Depolymerization to Facilitate Viral RNA Synthesis by Upregulating HDAC6. | Frontiers in Cellular and Infection Microbiology [2017]

Fan, Xiaojing et al.

The ColRS-Regulated Membrane Protein Gene XAC1347 Is Involved in Copper Homeostasis and hrp Gene Expression in Xanthomonas citri subsp. citri. | Frontiers in Microbiology [2018]

WB

Xanthomonas citrisubsp.citri

Huang, Chao et al.

MORF2 tightly associates with MORF9 to regulate chloroplast RNA editing in Arabidopsis. | Plant Science : An International Journal of Experimental Plant Biology [2019]