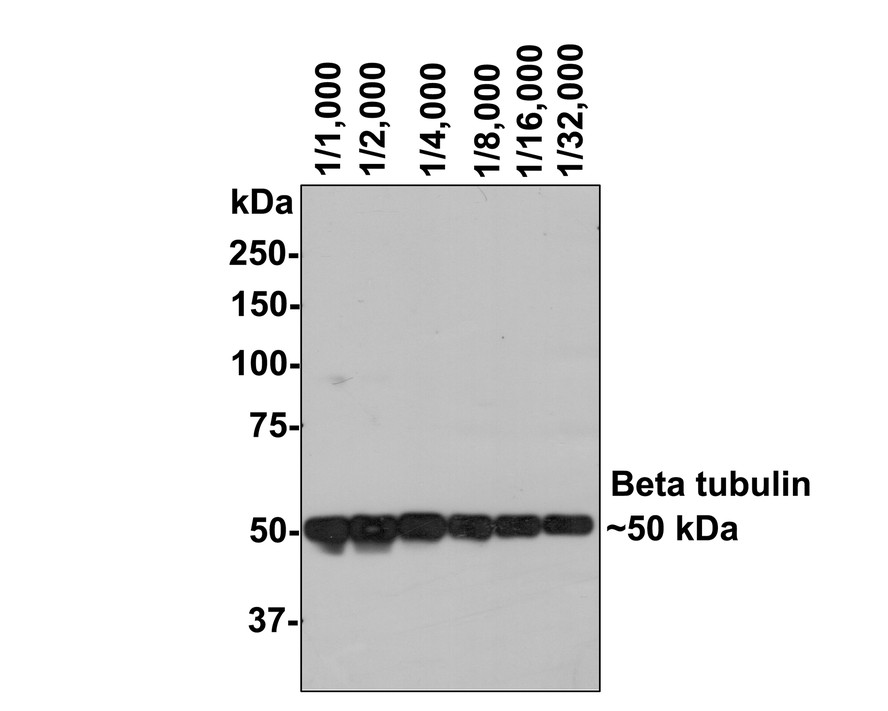 Western blot analysis on 1、NIH/3T3 2、Hela lysates using anti-β-tubulin Mouse mAb (Cat. # M1305-2).
SPECIFICATIONS
Product Name
Beta tubulin Mouse Monoclonal Antibody [A1-A4] (M1305-2)
Positive Control
NIH/3T3, Hela, SKOV-3, human tonsil tissue, human spleen tissue, human colon tissue, rat brain tissue, SHSY-5Y cells.
PROPERTIES
Storage Condition
Store at +4C after thawing. Aliquot store at -20C or -80C. Avoid repeated freeze / thaw cycles.
Storage Buffer
1*PBS (pH7.4), 0.2% BSA, 40% Glycerol. Preservative: 0.05% Sodium Azide.
TARGET
SYNONYMS
beta 3 tubulin antibody; beta-4 antibody; CDCBM antibody; CDCBM1 antibody; CFEOM3 antibody; CFEOM3A antibody; FEOM3 antibody; M(beta)3 antibody; M(beta)6 antibody; MC1R antibody; Neuron specific beta III Tubulin antibody; Neuron-specific class III beta-tubulin antibody; QccE-11995 antibody; QccE-15186 antibody; TBB3_HUMAN antibody; Tubb 3 antibody; TUBB3 antibody; TUBB4 antibody; Tubulin beta 3 antibody; Tubulin beta 3 chain antibody; Tubulin beta 4 antibody; Tubulin beta III antibody; Tubulin beta-3 chain antibody; Tubulin beta-4 chain antibody; Tubulin beta-III antibody
SEQUENCE SIMILARITIES
Belongs to the tubulin family.
TISSUE SPECIFICITY
Ubiquitously expressed with highest levels in spleen, thymus and immature brain.
POST-TRANSLATIONAL MODIFICATION
Some glutamate residues at the C-terminus are polyglutamylated, resulting in polyglutamate chains on the gamma-carboxyl group. Polyglutamylation plays a key role in microtubule severing by spastin (SPAST). SPAST preferentially recognizes and acts on microtubules decorated with short polyglutamate tails: severing activity by SPAST increases as the number of glutamates per tubulin rises from one to eight, but decreases beyond this glutamylation threshold.; Some glutamate residues at the C-terminus are monoglycylated but not polyglycylated due to the absence of functional TTLL10 in human. Monoglycylation is mainly limited to tubulin incorporated into axonemes (cilia and flagella). Both polyglutamylation and monoglycylation can coexist on the same protein on adjacent residues, and lowering glycylation levels increases polyglutamylation, and reciprocally. The precise function of monoglycylation is still unclear (Probable).; Phosphorylated on Ser-172 by CDK1 during the cell cycle, from metaphase to telophase, but not in interphase. This phosphorylation inhibits tubulin incorporation into microtubules.
FUNCTION
Tubulins is one of several members of a small family of globular proteins. The most common members of the tubulins family are α-tubulins and β-tubulins. The beta-tubulins (relative molecular weight about 50 kDa) is counterpart of alpha-tubulin in tubulins heterodimer, it is coded by multiple tubulins genes and it is also posttranslationally modified. Heterogeneity of subunit is concentrated in C-terminal structural domain. Beta-Tubulins may have bound GTP or GDP. Under certain conditions β-tubulin can hydrolyze its bound GTP to GDP plus Pi, release the Pi, and exchange the GDP for GTP.