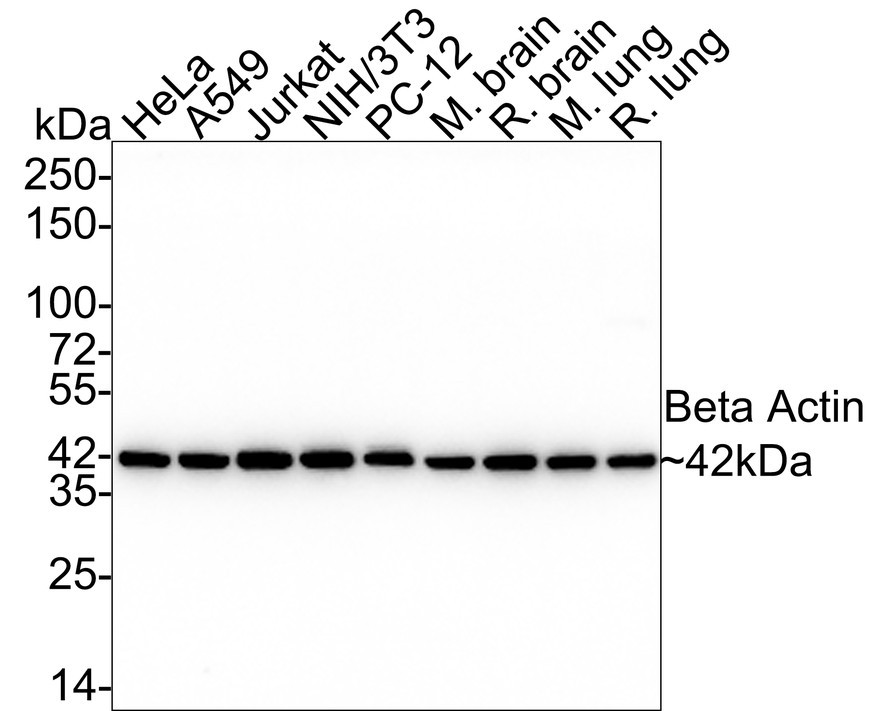 Western blot analysis of β-actin on different lysates using anti-β-actin antibody at 1/1,000 dilution.
Positive control:
Lane 1: NIH/3T3
Lane 2: Hela
Lane 3: PC12
Lane 4: Zebrafish
REACTIVITY
Human

Mouse

Rat

Zebrafish

Bamboo
SPECIFICATIONS
Product Type
Rabbit polyclonal primary
Product Name
Beta Actin Rabbit Polyclonal Antibody (R1207-1)
Immunogen
Synthetic peptide within n-terminal residues of β-actin.
Positive Control
Hela, NIH/3T3, PC12, Zebrafish
PROPERTIES
Storage Condition
Store at +4C after thawing. Aliquot store at -20C or -80C. Avoid repeated freeze / thaw cycles.
Storage Buffer
1*PBS (pH7.4), 0.2% BSA, 40% Glycerol. Preservative: 0.05% Sodium Azide.
PURIFICATION
Immunogen affinity purified
TARGET
SYNONYMS
A26C1A antibody; A26C1B antibody; ACTB antibody; ACTB_HUMAN antibody; Actin beta antibody; Actin cytoplasmic 1 antibody; Actin, cytoplasmic 1, N-terminally processed antibody; Actx antibody; b actin antibody; Beta cytoskeletal actin antibody; Beta-actin antibody; BRWS1 antibody; E430023M04Rik antibody; MGC128179 antibody; PS1TP5 binding protein 1 antibody; PS1TP5BP1 antibody
SEQUENCE SIMILARITIES
Belongs to the actin family.
POST-TRANSLATIONAL MODIFICATION
ISGylated.; Oxidation of Met-44 and Met-47 by MICALs (MICAL1, MICAL2 or MICAL3) to form methionine sulfoxide promotes actin filament depolymerization. MICAL1 and MICAL2 produce the (R)-S-oxide form. The (R)-S-oxide form is reverted by MSRB1 and MSRB2, which promote actin repolymerization.; Monomethylation at Lys-84 (K84me1) regulates actin-myosin interaction and actomyosin-dependent processes. Demethylation by ALKBH4 is required for maintaining actomyosin dynamics supporting normal cleavage furrow ingression during cytokinesis and cell migration.; Methylated at His-73 by SETD3. Methylation at His-73 is required for smooth muscle contraction of the laboring uterus during delivery (By similarity).; [Actin, cytoplasmic 1, N-terminally processed]: N-terminal acetylation by NAA80 affects actin filament depolymerization and elongation, including elongation driven by formins. In contrast, filament nucleation by the Arp2/3 complex is not affected.; (Microbial infection) Monomeric actin is cross-linked by V.cholerae toxins RtxA and VgrG1 in case of infection: bacterial toxins mediate the cross-link between Lys-50 of one monomer and Glu-270 of another actin monomer, resulting in formation of highly toxic actin oligomers that cause cell rounding. The toxin can be highly efficient at very low concentrations by acting on formin homology family proteins: toxic actin oligomers bind with high affinity to formins and adversely affect both nucleation and elongation abilities of formins, causing their potent inhibition in both profilin-dependent and independent manners.
FUNCTION
Actins are highly conserved proteins involved in cell motility, structure and integrity. Actin has been found to be expressed in at least six isomeric forms. It is expressed in heart and skeletal striated muscle tissue, and in certain smooth muscle tissues, regulating contractile potentials for these cells. It is also expressed in the cytoplasm of non-muscle cells, functioning to control cell structure and motility. Beta actin is usually used as a loading control, for among others, the integrity of cells, protein degradation, in Western Blotting.
CITATIONS
Guan, Yihong et al.

Phosphorylation of Def Regulates Nucleolar p53 Turnover and Cell Cycle Progression through Def Recruitment of Calpain3. | PloS Biology [2016]

Wei-Qiang Tan;Jun Chen

p53 isoform Δ113p53 promotes zebrafish heart regeneration by maintaining redox homeostasis

Lin, Sue et al.

BcMF8, a putative arabinogalactan protein-encoding gene, contributes to pollen wall development, aperture formation and pollen tube growth in Brassica campestris. | Annals of Botany [2014]

Zhan, Ming-Yue et al.

Molecular cloning and analysis of PGRP-L1 and IMD from silkworm Bombyx mori. | Comparative Biochemistry and Physiology. Part B, Biochemistry & Molecular Biology [2018]

Lixin Wei

Autophagy protects against palmitate-induced apoptosis in hepatocytes

Cheng, Y., Mo, F., Li, Q., ...

Targeting CXCR2 inhibits the progression of lung cancer and promotes therapeutic effect of cisplatin. Molecular cancer, 20(1), 62.

Tian, Zhantao et al.

Histone H3K9 demethylase JMJD1A is a co-activator of erythropoietin expression under hypoxia. | The International Journal of Biochemistry & Cell Biology [2019]

WB

hepatocellular carcinoma cells (HepG2)

Liu, Y., Wang, C., Cheng, P...

FHL1 Inhibits the Progression of Colorectal Cancer by Regulating the Wnt/β-Catenin Signaling Pathway. Journal of Cancer, 12(17), 5345–5354.

Xia, Zhidan et al.

Zebrafish slc30a10 deficiency revealed a novel compensatory mechanism of Atp2c1 in maintaining manganese homeostasis. | PloS Genetics [2017]

Jian Li; Caiqiao Zhang

Metformin Prevents Follicular Atresia in Aging Laying Chickens through Activation of PI3K/AKT and Calcium Signaling Pathways

Guo-Kang Fan

Cancer-Associated Fibroblasts in a Human HEp-2 Established Laryngeal Xenografted Tumor Are Not Derived from Cancer Cells through Epithelial-Mesenchymal Transition,Phenotypically Activated but Karyotypically Normal

Zhou, Yan et al.

Autophagy inhibits chemotherapy-induced apoptosis through downregulating Bad and Bim in hepatocellular carcinoma cells. | Scientific Reports [2014]

Liu, Hong-Han et al.

Production and Function of Different Regions from Mytichitin-1 of Mytilus coruscus. | Fish & Shellfish Immunology [2019]

Wu, Chun-Ping et al.

Identification of cancer stem-like side population cells in purified primary cultured human laryngeal squamous cell carcinoma epithelia. | PloS One [2013]

Xiang, H., Shao, M., Lu, Y....

Kaempferol Alleviates Steatosis and Inflammation During Early Non-Alcoholic Steatohepatitis Associated With Liver X Receptor α-Lysophosphatidylcholine Acyltransferase 3 Signaling Pathway. Frontiers in pharmacology, 12, 690736.

Zhou, Yan et al.

Selective Killing of Cancer Cells by Nonplanar Aromatic Hydrocarbon-Induced DNA Damage. | Advanced Science (Weinheim, Baden-Wurttemberg, Germany) [2019]

Huang, J., Zhang, Q., Shen,...

Multi-omics analysis identifies potential mechanisms of AURKB in mediating poor outcome of lung adenocarcinoma. Aging, 13(4), 5946–5966.

Zhou, Yan et al.

The multi-targeted tyrosine kinase inhibitor vandetanib plays a bifunctional role in non-small cell lung cancer cells. | Scientific Reports [2015]

Sun, Can et al.

Chronic mild hypoxia promotes hippocampal neurogenesis involving Notch1 signaling in epileptic rats. | Brain Research [2019]

Xu, Jie et al.

The ABORTED MICROSPORES regulatory network is required for postmeiotic male reproductive development in Arabidopsis thaliana. | The Plant Cell [2010]

Liu, Jin-Tao et al.

Inhibition of MyD88 Signaling Skews Microglia/Macrophage Polarization and Attenuates Neuronal Apoptosis in the Hippocampus After Status Epilepticus in Mice. | Neurotherapeutics : the Journal of the American Society for Experimental NeuroTherapeutics [2018]

Lv, Sunjian et al.

Immune response of peroxinectin of Chinese mitten crab Eriocheir sinensis to exterior stimulation. | Developmental and Comparative Immunology [2015]

Hu, Minjie et al.

Liver-Enriched Gene 1, a Glycosylated Secretory Protein, Binds to FGFR and Mediates an Anti-stress Pathway to Protect Liver Development in Zebrafish. | PloS Genetics [2016]

Xiao, L. X., Qi, L., Zhang,...

Liver injury in septic mice were suppressed by a camptothecin-bile acid conjugate via inhibiting NF-κB signaling pathway. Life sciences, 257, 118130.

Zong, X., Xiao, X., Shen, B...

The N6-methyladenosine RNA-binding protein YTHDF1 modulates the translation of TRAF6 to mediate the intestinal immune response. Nucleic acids research, 49(10), 5537–5552.

Wang, J., Bai, Y., Yin, S.,...

Circadian clock gene BMAL1 reduces urinary calcium oxalate stones formation by regulating NRF2/HO-1 pathway. Life sciences, 265, 118853.