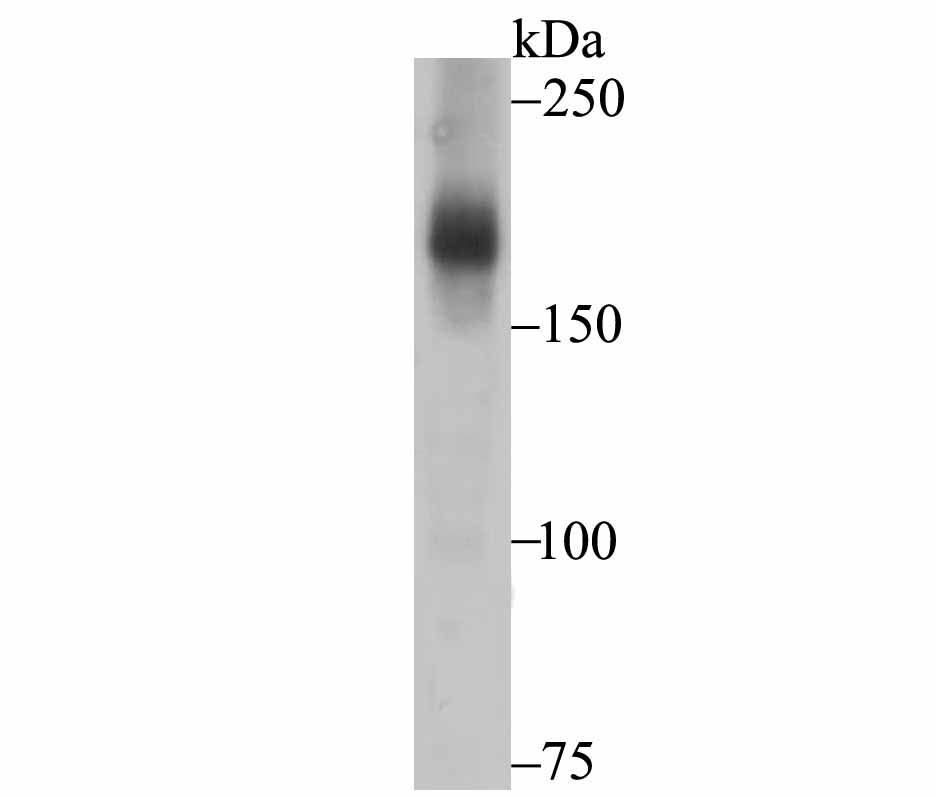 Western blot analysis of ASK1 on human skeletal muscle tissue lysate using anti-ASK1 antibody at 1/500 dilution.
SPECIFICATIONS
Product Type
Rabbit polyclonal primary
Product Name
ASK1 Rabbit Polyclonal Antibody (ER1802-84)
Immunogen
Synthetic peptide of c-terminal human ask1.
Positive Control
Human skeletal muscle tissue lysate, human colon cancer tissue, mouse testis tissue, PANC-1.
PROPERTIES
Storage Condition
Store at +4C after thawing. Aliquot store at -20C. Avoid repeated freeze / thaw cycles.
Storage Buffer
1*PBS (pH7.4), 0.2% BSA, 50% Glycerol. Preservative: 0.05% Sodium Azide.
PURIFICATION
Peptide affinity purified.
TARGET
SYNONYMS
Apoptosis signal regulating kinase 1 antibody; Apoptosis signal-regulating kinase 1 antibody; ASK 1 antibody; ASK-1 antibody; ASK1 antibody; M3K5 antibody; M3K5_HUMAN antibody; MAP/ERK kinase kinase 5 antibody; MAP3K5 antibody; MAPK/ERK kinase kinase 5 antibody; MAPKKK5 antibody; MEK kinase 5 antibody; MEKK 5 antibody; MEKK5 antibody; Mitogen activated protein kinase kinase kinase 5 antibody; Mitogen-activated protein kinase kinase kinase 5 antibody
SEQUENCE SIMILARITIES
Belongs to the protein kinase superfamily. STE Ser/Thr protein kinase family. MAP kinase kinase kinase subfamily.
TISSUE SPECIFICITY
Abundantly expressed in heart and pancreas.
POST-TRANSLATIONAL MODIFICATION
Phosphorylated at Thr-838 through autophosphorylation and by MAP3K6/ASK2 which leads to activation. Thr-838 is dephosphorylated by PPP5C. Ser-83 and Ser-1033 are inactivating phosphorylation sites, the former of which is phosphorylated by AKT1 and AKT2. Phosphorylated at Ser-966 which induces association of MAP3K5/ASK1 with the 14-3-3 family proteins and suppresses MAP3K5/ASK1 activity. Calcineurin (CN) dephosphorylates this site. Also dephosphorylated and activated by PGAM5.; Ubiquitinated. Tumor necrosis factor (TNF) induces TNFR2-dependent ubiquitination leading to proteasomal degradation.
SUBCELLULAR LOCATION
Cytoplasm. Endoplasmic reticulum.
FUNCTION
Mitogen-activated protein (MAP) kinase cascades are activated by various extracellular stimuli including growth factors. The MEK kinases (also designated MAP kinase kinase kinases, MKKKs, MAP3Ks or MEKKs) phosphorylate and thereby activate the MEKs (also called MAP kinase kinases or MKKs), including ERK, JNK and p38. These activated MEKs in turn phosphorylate and activate the MAP kinases. The MEK kinases include Raf-1, Raf-B, Mos, MEK kinase-1, MEK kinase-2, MEK kinase-3, MEK kinase-4, ASK 1 (MEK kinase-5) and MAP3K6 (MEK kinase-6). MEK kinase-1 has been shown to phosphorylate MEK-1 via a Raf-independent pathway. Evidence suggests that MEK-3 is preferentially activated by MEK kinase-3 and that MEK-4 is activated by both MEK kinase-2 and MEK kinase-3. MEK kinase-4 has been shown to specifically activate the JNK pathway. ASK1 activates both MEK-4 and MEK-3/MEK-6 pathways.