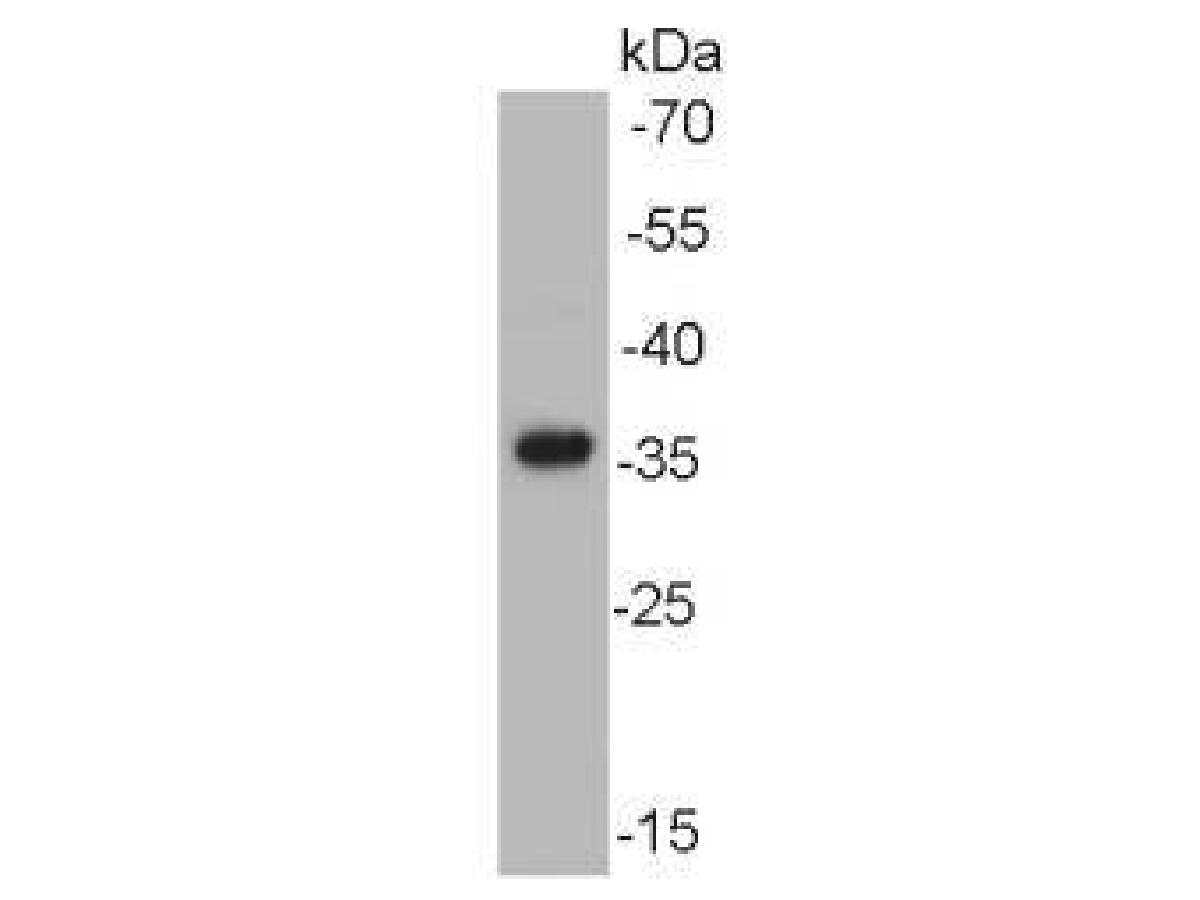 Western blot analysis of AKR7A2 on human spermatozoa lysate using anti-AKR7A2 antibody at 1/1,000 dilution.
SPECIFICATIONS
Product Name
AKR7A2 Mouse Monoclonal Antibody [C10-D5] (M1505-12)
PROPERTIES
Storage Condition
Store at +4C after thawing. Aliquot store at -20C or -80C. Avoid repeated freeze / thaw cycles.
Storage Buffer
1*PBS (pH7.4), 0.2% BSA, 40% Glycerol. Preservative: 0.05% Sodium Azide.
TARGET
SYNONYMS
AFAR antibody; AFAR1 antibody; AFB1 aldehyde reductase 1 antibody; AFB1 AR1 antibody; AFB1-AR 1 antibody; AFB1AR1 antibody; Aflatoxin aldehyde reductase antibody; Aflatoxin B1 aldehyde reductase member 2 antibody; Aflatoxin beta1 aldehyde reductase antibody; Aiar antibody; AKR7 antibody; Akr7a2 antibody; Aldo keto reductase family 7 antibody; Aldo keto reductase family 7 member A2 aflatoxin aldehyde reductase antibody; Aldo keto reductase family 7 member A2 antibody; Aldo keto reductase family 7, member A2 (aflatoxin aldehyde reductase) antibody; Aldoketoreductase 7 antibody; ARK72_HUMAN antibody; SSA reductase antibody; Succinic semialdehyde reductase antibody
SEQUENCE SIMILARITIES
Belongs to the aldo/keto reductase family. Aldo/keto reductase 2 subfamily.
TISSUE SPECIFICITY
Detected in brain, liver, small intestine and testis, and at lower levels in heart, prostate, skeletal muscle and spleen. Detected in kidney proximal and distal tubules, endothelial cells lining the Bowman's capsules and some cysts. Detected at low levels in lung and pancreas (at protein level). Widely expressed.
SUBCELLULAR LOCATION
Cytoplasm, Golgi apparatus
FUNCTION
Aflatoxin B1 aldehyde reductase member 2 is an enzyme that in humans is encoded by the AKR7A2 gene. It catalyzes the NADPH-dependent reduction of succinic semialdehyde to gamma-hydroxybutyrate and may have an important role in producing the neuromodulator gamma-hydroxybutyrate (GHB). AKR7A2 has broad substrate specificity and NADPH-dependent aldehyde reductase activity towards 2-carboxybenzaldehyde, 2-nitrobenzaldehyde and pyridine-2-aldehyde (in vitro). AKR7A2 can reduce 1,2-naphthoquinone and 9,10-phenanthrenequinone (in vitro) and reduce the dialdehyde protein-binding form of aflatoxin B1 (AFB1) to the non-binding AFB1 dialcohol. It may be involved in protection of liver against the toxic and carcinogenic effects of AFB1, a potent hepatocarcinogen.