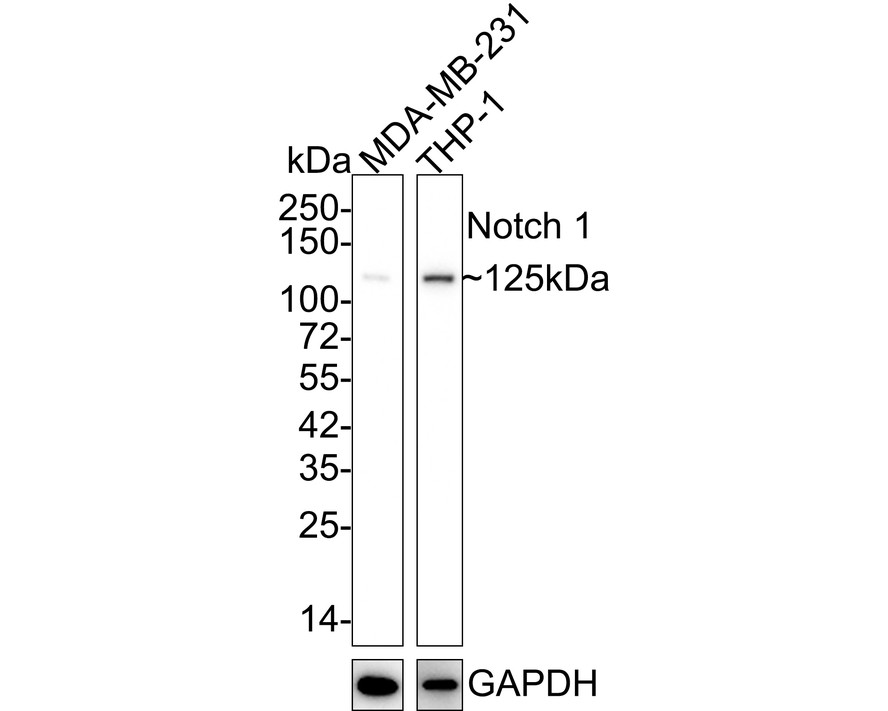 Western blot analysis of Notch 1 on different lysates. Proteins were transferred to a PVDF membrane and blocked with 5% BSA in PBS for 1 hour at room temperature. The primary antibody (ET1606-55, 1/500) was used in 5% BSA at room temperature for 2 hours. Goat Anti-Rabbit IgG - HRP Secondary Antibody (HA1001) at 1:5,000 dilution was used for 1 hour at room temperature.
Positive control:
Lane 1: SW1990 cell lysate
Lane 2: HepG2 cell lysate
SPECIFICATIONS
Product Type
Recombinant Rabbit monoclonal primary
Product Name
Notch 1 Recombinant Rabbit Monoclonal Antibody [SJ205] (ET1606-55)
Immunogen
Synthetic peptide within human notch 1 aa 2,481-2,530 / 2,555.
Positive Control
SW1990 cell lysate, HepG2 cell lysate, Hela, HepG2, NIH/3T3, human lung tissue, human spleen tissue, human pancreas tissue, mouse spleen tissue, mouse lung tissue, mouse pancreas tissue.
PROPERTIES
Storage Condition
Store at +4C after thawing. Aliquot store at -20C or -80C. Avoid repeated freeze / thaw cycles.
Storage Buffer
1*TBS (pH7.4), 0.05% BSA, 40% Glycerol. Preservative: 0.05% Sodium Azide.
PURIFICATION
Protein A affinity purified.
TARGET
SYNONYMS
9930111A19Rik antibody; AOS5 antibody; AOVD1 antibody; hN1 antibody; Lin-12 antibody; LIN12 antibody; Mis6 antibody; Motch A antibody; mT14 antibody; Neurogenic locus notch homolog protein 1 antibody; Neurogenic locus notch protein homolog antibody; NICD antibody; NOTC1_HUMAN antibody; Notch 1 antibody; Notch 1 intracellular domain antibody; NOTCH antibody; Notch gene homolog 1 (Drosophila) antibody; Notch homolog 1, translocation-associated (Drosophila) antibody; NOTCH, Drosophila, homolog of, 1 antibody; notch1 antibody; TAN1 antibody; Translocation associated notch homolog antibody; Translocation associated notch protein TAN 1 antibody; Translocation-associated notch protein TAN-1 antibody; xotch antibody
SEQUENCE SIMILARITIES
Belongs to the NOTCH family.
TISSUE SPECIFICITY
In fetal tissues most abundant in spleen, brain stem and lung. Also present in most adult tissues where it is found mainly in lymphoid tissues.
POST-TRANSLATIONAL MODIFICATION
Synthesized in the endoplasmic reticulum as an inactive form which is proteolytically cleaved by a furin-like convertase in the trans-Golgi network before it reaches the plasma membrane to yield an active, ligand-accessible form (By similarity). Cleavage results in a C-terminal fragment N(TM) and a N-terminal fragment N(EC). Following ligand binding, it is cleaved by ADAM17 to yield a membrane-associated intermediate fragment called notch extracellular truncation (NEXT). Following endocytosis, this fragment is then cleaved by one of the catalytic subunits of gamma-secretase (PSEN1 or PSEN2), to release a Notch-derived peptide containing the intracellular domain (NICD) from the membrane.; Phosphorylated.; O-glycosylated on the EGF-like domains. O-glucosylated at Ser-435 by KDELC1 and KDELC2. Contains both O-linked fucose and O-linked glucose in the EGF-like domains 11, 12 and 13, which are interacting with the residues on DLL4 (By similarity). O-linked glycosylation by GALNT11 is involved in determination of left/right symmetry: glycosylation promotes activation of NOTCH1, possibly by promoting cleavage by ADAM17, modulating the balance between motile and immotile (sensory) cilia at the left-right organiser (LRO). MFNG-, RFNG- and LFNG-mediated modification of O-fucose residues at specific EGF-like domains results in inhibition of its activation by JAG1 and enhancement of its activation by DLL1 via an increased binding to DLL1 (By similarity).; Ubiquitinated. Undergoes 'Lys-29'-linked polyubiquitination by ITCH; promotes the lysosomal degradation of non-activated internalized NOTCH1. Monoubiquitination at Lys-1759 is required for activation by gamma-secretase cleavage, it promotes interaction with AAK1, which stabilizes it. Deubiquitination by EIF3F is necessary for nuclear import of activated Notch.; Hydroxylated at Asn-1955 by HIF1AN. Hydroxylated at Asn-2022 by HIF1AN (By similarity). Hydroxylation reduces affinity for HI1AN and may thus indirectly modulate negative regulation of NICD (By similarity).
SUBCELLULAR LOCATION
Cell membrane, Nucleus(intracellular domain).
FUNCTION
The LIN-12/notch family of transmembrane receptors is believed to play a central role in development by regulating cell fate decisions. To date, four notch homologs have been identified in mammals and have been designated Notch 1, Notch 2, Notch 3 and Notch 4. The notch genes are expressed in a variety of tissues in both the embryonic and adult organism, suggesting that the genes are involved in multiple signaling pathways. The notch proteins have been found to be overexpressed or rearranged in human tumors. Ligands for notch include Jagged1, Jagged2 and Delta. Jagged can activate notch and prevent myoblast differentiation by inhibiting the expression of muscle regulatory and structural genes. Jagged2 is thought to be involved in the development of various tissues whose development is dependent upon epithelial-mesenchymal interactions. Normal Delta expression is restricted to the adrenal gland and placenta. Delta expression has also been found in neuroendocrine tumors such as neuroblastomas and pheochromocytomas.