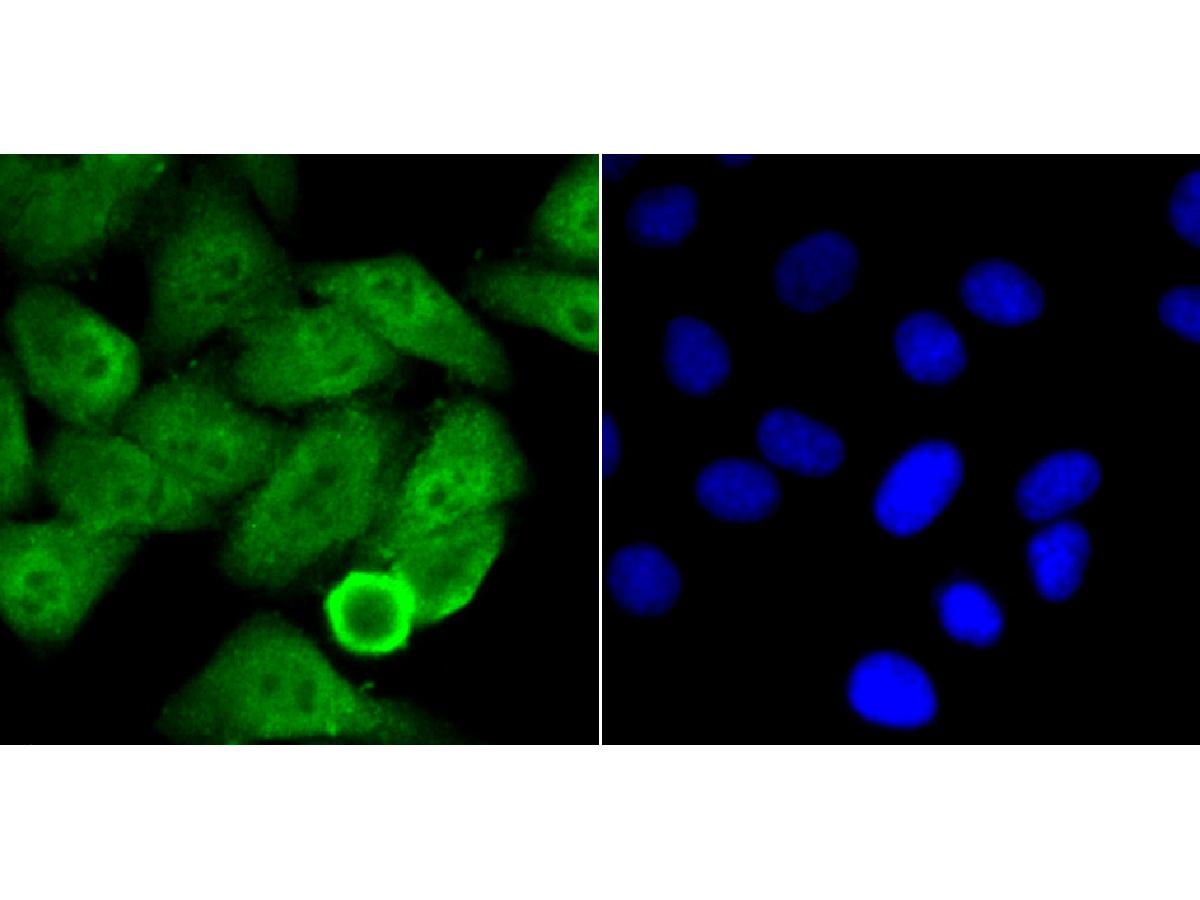 ICC staining of VEGF Receptor 2 in HepG2 cells (green). Formalin fixed cells were permeabilized with 0.1% Triton X-100 in TBS for 10 minutes at room temperature and blocked with 10% negative goat serum for 15 minutes at room temperature. Cells were probed with the primary antibody (ER1706-99, 1/50) for 1 hour at room temperature, washed with PBS. Alexa Fluor®488 conjugate-Goat anti-Rabbit IgG was used as the secondary antibody at 1/1,000 dilution. The nuclear counter stain is DAPI (blue).
SPECIFICATIONS
Product Type
Rabbit polyclonal primary
Product Name
VEGF Receptor 2 Rabbit Polyclonal Antibody (ER1706-99)
Immunogen
Synthetic peptide within human vegf receptor 2 aa 1282-1335.
Positive Control
HepG2, HUVEC, PMVEC, rat kidney tissue, human breast tissue, human kidney tissue, mouse kidney tissue.
PROPERTIES
Storage Condition
Store at +4C after thawing. Aliquot store at -20C or -80C. Avoid repeated freeze / thaw cycles.
Storage Buffer
1*PBS (pH7.4), 0.2% BSA, 50% Glycerol. Preservative: 0.05% Sodium Azide.
PURIFICATION
Peptide affinity purified
TARGET
SYNONYMS
CD309 antibody; CD309 antigen antibody; EC 2.7.10.1 antibody; Fetal liver kinase 1 antibody; FLK-1 antibody; FLK1 antibody; FLK1, mouse, homolog of antibody; Kdr antibody; Kinase insert domain receptor (a type III receptor tyrosine kinase) antibody; Kinase insert domain receptor antibody; KRD1 antibody; Ly73 antibody; Protein tyrosine kinase receptor FLK1 antibody; Protein-tyrosine kinase receptor flk-1 antibody; soluble VEGFR2 antibody; Tyrosine kinase growth factor receptor antibody; Vascular endothelial growth factor receptor 2 antibody; VEGFR 2 antibody; VEGFR antibody; VEGFR-2 antibody; VEGFR2 antibody; VGFR2_HUMAN antibody
SEQUENCE SIMILARITIES
Belongs to the protein kinase superfamily. Tyr protein kinase family. CSF-1/PDGF receptor subfamily.
TISSUE SPECIFICITY
Detected in cornea (at protein level). Widely expressed.
POST-TRANSLATIONAL MODIFICATION
N-glycosylated.; Ubiquitinated. Tyrosine phosphorylation of the receptor promotes its poly-ubiquitination, leading to its degradation via the proteasome or lysosomal proteases.; Autophosphorylated on tyrosine residues upon ligand binding. Autophosphorylation occurs in trans, i.e. one subunit of the dimeric receptor phosphorylates tyrosine residues on the other subunit. Phosphorylation at Tyr-951 is important for interaction with SH2D2A/TSAD and VEGFA-mediated reorganization of the actin cytoskeleton. Phosphorylation at Tyr-1175 is important for interaction with PLCG1 and SHB. Phosphorylation at Tyr-1214 is important for interaction with NCK1 and FYN. Dephosphorylated by PTPRB. Dephosphorylated by PTPRJ at Tyr-951, Tyr-996, Tyr-1054, Tyr-1059, Tyr-1175 and Tyr-1214.; The inhibitory disulfide bond between Cys-1024 and Cys-1045 may serve as a specific molecular switch for H(2)S-induced modification that regulates KDR/VEGFR2 function.
SUBCELLULAR LOCATION
Nucleus. Membrane. Secreted.
FUNCTION
Three cell membrane receptor tyrosine kinases, Flt (also designated VEGF-R1) (1-3), Flk-1 (also designated VEGF-R2) (4-6) and Flt-4, putatively involved in the growth of endothelial cells, are characterized by the presence of seven immunoglobulin-like sequences in their extracellular domain. These receptors exhibit high degrees of sequence relatedness to each other as well as lesser degrees of relatedness to the class III receptors including CSF-1/Fms, PDGR, SLFR/Kit and Flt-3/Flk-2. Two members of this receptor class, Flt-1 and Flk-1, have been shown to represent high affinity receptors for vascular endothelial growth factors (VEGFs) (3,5). On the basis of structural similarity to Flt and Flk-1, it has been speculated that Flt-4 might represent a third receptor for either VEGF or a VEGF-related ligand.