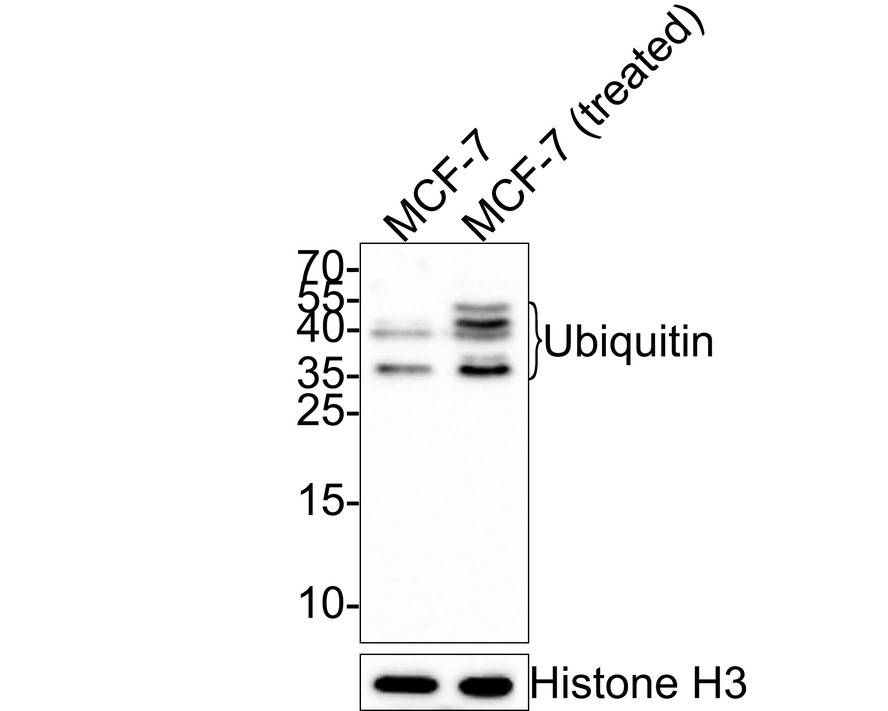 Western blot analysis of Ubiquitin on different cell lysates using anti-Ubiquitin antibody at 1/1000 dilution.
Positive control:
Lane 1: 293T
Lane 2: HepG2
Lane 3: Hela
Lane 4: MCF-2
SPECIFICATIONS
Product Type
Rabbit polyclonal primary
Product Name
Ubiquitin Antibody (ER31212)
Positive Control
293T, HepG2, Hela, MCF-7, human tonsil tissue,mouse spleen tissue.
PROPERTIES
Storage Condition
Store at +4C after thawing. Aliquot store at -20C or -80C. Avoid repeated freeze / thaw cycles.
Storage Buffer
1*PBS (pH7.4), 0.2% BSA, 40% Glycerol. Preservative: 0.05% Sodium Azide.
PURIFICATION
Peptide affinity purified
TARGET
SYNONYMS
Epididymis secretory protein Li 50 antibody; FLJ25987 antibody; HEL S 50 antibody; MGC8385 antibody; Polyubiquitin B antibody; RPS 27A antibody; RPS27A antibody; UBA 52 antibody; UBA 80 antibody; UBA52 antibody; UBA80 antibody; UBB antibody; UBB_HUMAN antibody; UBC antibody; UBCEP 1 antibody; UBCEP 2 antibody; UBCEP1 antibody; UBCEP2 antibody; Ubiquitin antibody; Ubiquitin B antibody
SEQUENCE SIMILARITIES
Belongs to the ubiquitin family.
POST-TRANSLATIONAL MODIFICATION
[Ubiquitin]: Phosphorylated at Ser-65 by PINK1 during mitophagy. Phosphorylated ubiquitin specifically binds and activates parkin (PRKN), triggering mitophagy. Phosphorylation does not affect E1-mediated E2 charging of ubiquitin but affects discharging of E2 enzymes to form polyubiquitin chains. It also affects deubiquitination by deubiquitinase enzymes such as USP30.; [Ubiquitin]: Mono-ADP-ribosylated at the C-terminus by PARP9, a component of the PPAR9-DTX3L complex. ADP-ribosylation requires processing by E1 and E2 enzymes and prevents ubiquitin conjugation to substrates such as histones.
FUNCTION
Ubiquitin is a conserved polypeptide unit that plays an important role in the ubiquitin-proteasome pathway. Ubiquitin exists either covalently attached to another protein, or free (unanchored). When covalently bound, it is conjugated to target proteins via an isopeptide bond either as a monomer (monoubiquitin), a polymer linked via different Lys residues of the ubiquitin (polyubiquitin chains) or a linear polymer linked via the initiator Met of the ubiquitin (linear polyubiquitin chains). Polyubiquitin chains, when attached to a target protein, have different functions depending on the Lys residue of the ubiquitin that is linked: Lys-6-linked may be involved in DNA repair; Lys-11-linked is involved in ERAD (endoplasmic reticulum-associated degradation) and in cell-cycle regulation; Lys-29-linked is involved in lysosomal degradation; Lys-33-linked is involved in kinase modification; Lys-48-linked is involved in protein degradation via the proteasome; Lys-63-linked is involved in endocytosis, DNA-damage responses as well as in signaling processes leading to activation of the transcription factor NF-kappa-B.