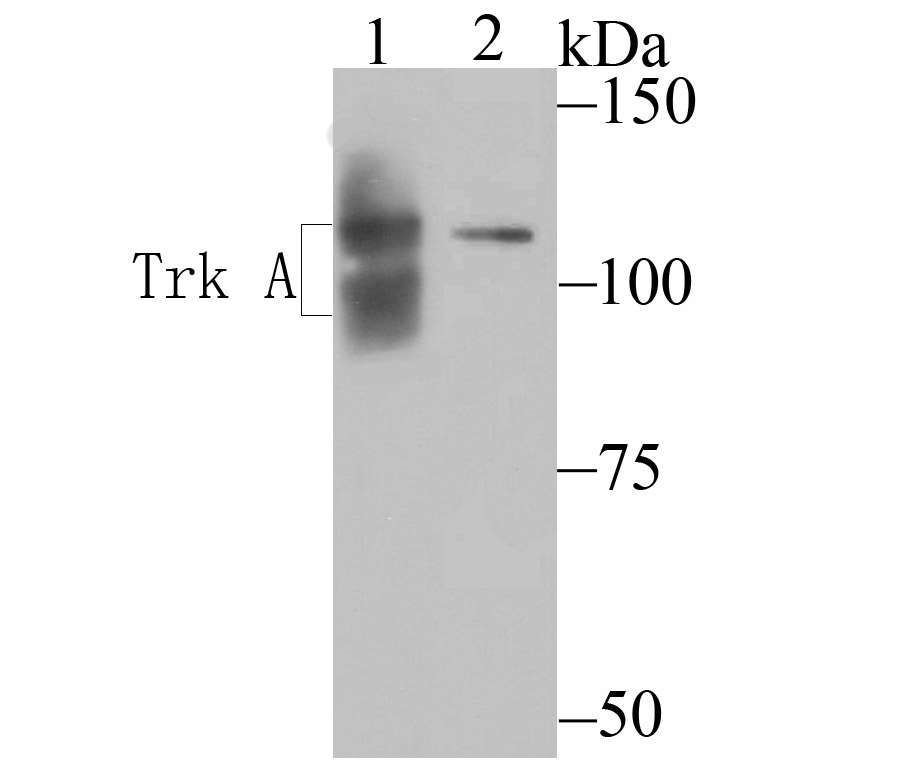 Western blot analysis of TrkA on SHSY5Y (1) and SHG-44 (2) cell lysates using anti-TrkA antibody at 1/200 dilution.

SPECIFICATIONS
Product Type
Rabbit polyclonal primary
Product Name
TrkA Antibody (ER1706-86)
Positive Control
SHSY5Y, SHG-44, PC-12, Human liver cancer tissue, human stomach cancer tissue, mouse brain tissue, rat brain tissue.
PROPERTIES
Storage Condition
Store at +4C after thawing. Aliquot store at -20C or -80C. Avoid repeated freeze / thaw cycles.
Storage Buffer
1*PBS (pH7.4), 0.2% BSA, 50% Glycerol. Preservative: 0.05% Sodium Azide.
PURIFICATION
Protein affinity purified.
MOLECULAR WEIGHT
Predicted band size 87 kDa
TARGET
PROTEIN NAME
High affinity nerve growth factor receptor
SYNONYMS
Trk-A, NTRK1, MTC, TRK, TRKA
SEQUENCE SIMILARITIES
Belongs to the protein kinase superfamily. Tyr protein kinase family. Insulin receptor subfamily.
TISSUE SPECIFICITY
Isoform TrkA-I is found in most non-neuronal tissues. Isoform TrkA-II is primarily expressed in neuronal cells. TrkA-III is specifically expressed by pluripotent neural stem and neural crest progenitors.
POST-TRANSLATIONAL MODIFICATION
Ligand-mediated autophosphorylation. Interaction with SQSTM1 is phosphotyrosine-dependent. Autophosphorylation at Tyr-496 mediates interaction and phosphorylation of SHC1.; N-glycosylated. Isoform TrkA-I and isoform TrkA-II are N-glycosylated.; Ubiquitinated. Undergoes polyubiquitination upon activation; regulated by NGFR. Ubiquitination by NEDD4L leads to degradation. Ubiquitination regulates the internalization of the receptor (By similarity).
SUBCELLULAR LOCATION
Cell membrane; Single-pass type I membrane protein. Early endosome membrane.
FUNCTION
Receptor tyrosine kinase involved in the development and the maturation of the central and peripheral nervous systems through regulation of proliferation, differentiation and survival of sympathetic and nervous neurons. High affinity receptor for NGF which is its primary ligand. Can also bind and be activated by NTF3/neurotrophin-3. However, NTF3 only supports axonal extension through NTRK1 but has no effect on neuron survival (By similarity). Upon dimeric NGF ligand-binding, undergoes homodimerization, autophosphorylation and activation. Recruits, phosphorylates and/or activates several downstream effectors including SHC1, FRS2, SH2B1, SH2B2 and PLCG1 that regulate distinct overlapping signaling cascades driving cell survival and differentiation. Through SHC1 and FRS2 activates a GRB2-Ras-MAPK cascade that regulates cell differentiation and survival. Through PLCG1 controls NF-Kappa-B activation and the transcription of genes involved in cell survival. Through SHC1 and SH2B1 controls a Ras-PI3 kinase-AKT1 signaling cascade that is also regulating survival. In absence of ligand and activation, may promote cell death, making the survival of neurons dependent on trophic factors.; [Isoform TrkA-III]: Resistant to NGF, it constitutively activates AKT1 and NF-kappa-B and is unable to activate the Ras-MAPK signaling cascade. Antagonizes the anti-proliferative NGF-NTRK1 signaling that promotes neuronal precursors differentiation. Isoform TrkA-III promotes angiogenesis and has oncogenic activity when overexpressed.