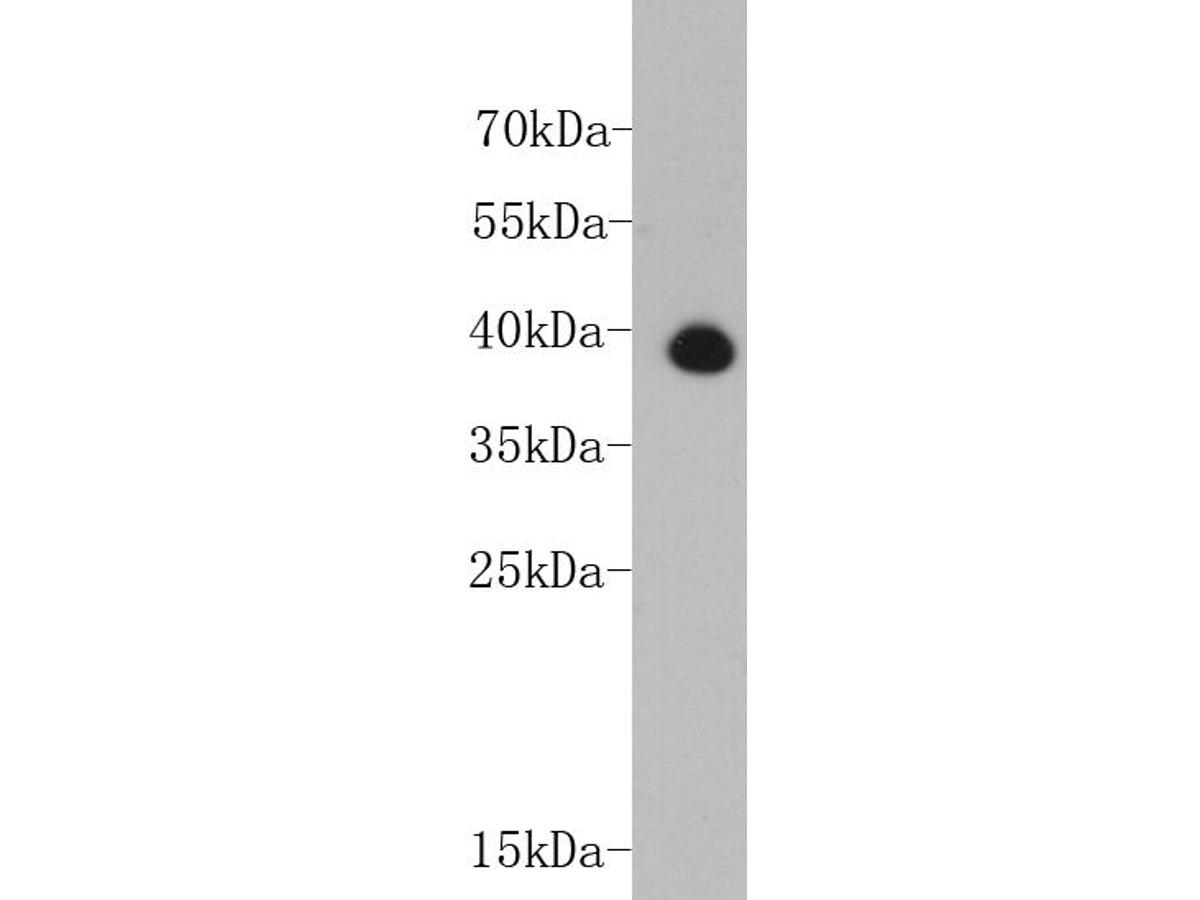 Western blot analysis of TNNT2 on human heart tissue lysate using anti-TNNT2 antibody at 1/2,000 dilution.
SPECIFICATIONS
Product Name
TNNT2 Mouse Monoclonal Antibody [5-C7] (M1302-1)
Immunogen
Synthetic peptide within human tnnt2 50-100 aa.
Positive Control
Human heart tissue lysate, SK-Br-3, mouse heart tissue.
PROPERTIES
Storage Condition
Store at +4C after thawing. Aliquot store at -20C. Avoid repeated freeze / thaw cycles.
Storage Buffer
1*PBS (pH7.4), 0.2% BSA, 40% Glycerol. Preservative: 0.05% Sodium Azide.
PURIFICATION
Peptide affinity purified
TARGET
SYNONYMS
Cardiac muscle troponin T antibody; Cardiomyopathy dilated 1D (autosomal dominant) antibody; Cardiomyopathy hypertrophic 2 antibody; CMD1D antibody; CMH2 antibody; CMPD2 antibody; cTnT antibody; LVNC6 antibody; MGC3889 antibody; OTTHUMP00000033864 antibody; OTTHUMP00000033865 antibody; OTTHUMP00000033866 antibody; OTTHUMP00000033867 antibody; OTTHUMP00000033870 antibody; OTTHUMP00000218095 antibody; RCM3 antibody; TNNT 2 antibody; TNNT2 antibody; TNNT2_HUMAN antibody; TnTc antibody; Troponin T cardiac muscle antibody; Troponin T type 2 (cardiac) antibody; Troponin T type 2 cardiac antibody; Troponin T, cardiac muscle antibody; Troponin T2 cardiac antibody
SEQUENCE SIMILARITIES
Belongs to the troponin T family.
TISSUE SPECIFICITY
Heart. The fetal heart shows a greater expression in the atrium than in the ventricle, while the adult heart shows a greater expression in the ventricle than in the atrium. Isoform 6 predominates in normal adult heart. Isoforms 1, 7 and 8 are expressed in fetal heart. Isoform 7 is also expressed in failing adult heart.
POST-TRANSLATIONAL MODIFICATION
Phosphorylation at Thr-213 by PRKCA induces significant reduction in myofilament calcium sensitivity and actomyosin ATPase activity.
FUNCTION
Troponin, working in conjunction with tropomyosin, functions as a molecular switch, regulating muscle contraction in response to changes in the intracellular Ca2+ concentration. Troponin consists of three subunits: the Ca2+-binding subunit troponin C (TnC), the tropomyosin-binding subunit troponin T (TnT), and the inhibitory subunit troponin I (TnI).Troponin T type 2 (cTnT,TNNT2) is a cardiac troponin T isoform expressed in the human heart, that is essential for calcium-regulated myofibrillar ATPase activity. Assays for measuring serum concentrations of cTnT, as well as cTnI, have been reported for analyzing cardiac injury.