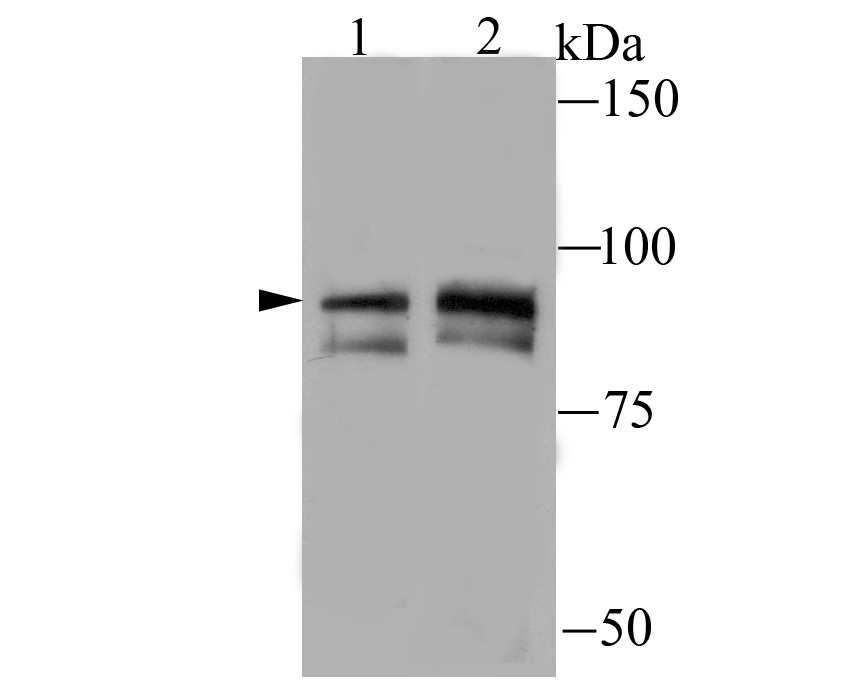 Western blot analysis of TNFAIP3 on Jurkat (1) and Daudi (2) cell lysate using anti-TNFAIP3 antibody at 1/100 dilution.
SPECIFICATIONS
Product Type
Rabbit polyclonal primary
Product Name
TNFAIP3 Antibody (ER1706-32)
Positive Control
Jurkat, Daudi, A431, LOVO, rat lung tissue, human liver cancer tissue, human kidney tissue, mouse testis tissue, HepG2.
PROPERTIES
Storage Condition
Store at +4C after thawing. Aliquot store at -20C or -80C. Avoid repeated freeze / thaw cycles.
Storage Buffer
1*PBS (pH7.4), 0.2% BSA, 50% Glycerol. Preservative: 0.05% Sodium Azide.
TARGET
PROTEIN NAME
Tumor necrosis factor alpha-induced protein 3
SYNONYMS
TNF alpha-induced protein 3, TNFAIP3, OTUD7C
SEQUENCE SIMILARITIES
Belongs to the peptidase C64 family.
POST-TRANSLATIONAL MODIFICATION
Proteolytically cleaved by MALT1 upon TCR stimulation; disrupts NF-kappa-B inhibitory function and results in increased IL-2 production. It is proposed that only a fraction of TNFAIP3 colocalized with TCR and CBM complex is cleaved, leaving the main TNFAIP3 pool intact.
SUBCELLULAR LOCATION
Cytoplasm. Nucleus. Lysosome.; [A20p50]: Cytoplasm.
FUNCTION
Ubiquitin-editing enzyme that contains both ubiquitin ligase and deubiquitinase activities. Involved in immune and inflammatory responses signaled by cytokines, such as TNF-alpha and IL-1 beta, or pathogens via Toll-like receptors (TLRs) through terminating NF-kappa-B activity. Essential component of a ubiquitin-editing protein complex, comprising also RNF11, ITCH and TAX1BP1, that ensures the transient nature of inflammatory signaling pathways. In cooperation with TAX1BP1 promotes disassembly of E2-E3 ubiquitin protein ligase complexes in IL-1R and TNFR-1 pathways; affected are at least E3 ligases TRAF6, TRAF2 and BIRC2, and E2 ubiquitin-conjugating enzymes UBE2N and UBE2D3. In cooperation with TAX1BP1 promotes ubiquitination of UBE2N and proteasomal degradation of UBE2N and UBE2D3. Upon TNF stimulation, deubiquitinates 'Lys-63'-polyubiquitin chains on RIPK1 and catalyzes the formation of 'Lys-48'-polyubiquitin chains. This leads to RIPK1 proteasomal degradation and consequently termination of the TNF- or LPS-mediated activation of NF-kappa-B. Deubiquitinates TRAF6 probably acting on 'Lys-63'-linked polyubiquitin. Upon T-cell receptor (TCR)-mediated T-cell activation, deubiquitinates 'Lys-63'-polyubiquitin chains on MALT1 thereby mediating disassociation of the CBM (CARD11:BCL10:MALT1) and IKK complexes and preventing sustained IKK activation. Deubiquitinates NEMO/IKBKG; the function is facilitated by TNIP1 and leads to inhibition of NF-kappa-B activation. Upon stimulation by bacterial peptidoglycans, probably deubiquitinates RIPK2. Can also inhibit I-kappa-B-kinase (IKK) through a non-catalytic mechanism which involves polyubiquitin; polyubiquitin promotes association with IKBKG and prevents IKK MAP3K7-mediated phosphorylation. Targets TRAF2 for lysosomal degradation. In vitro able to deubiquitinate 'Lys-11'-, 'Lys-48'- and 'Lys-63' polyubiquitin chains. Inhibitor of programmed cell death. Has a role in the function of the lymphoid system. Required for LPS-induced production of proinflammatory cytokines and IFN beta in LPS-tolerized macrophages.