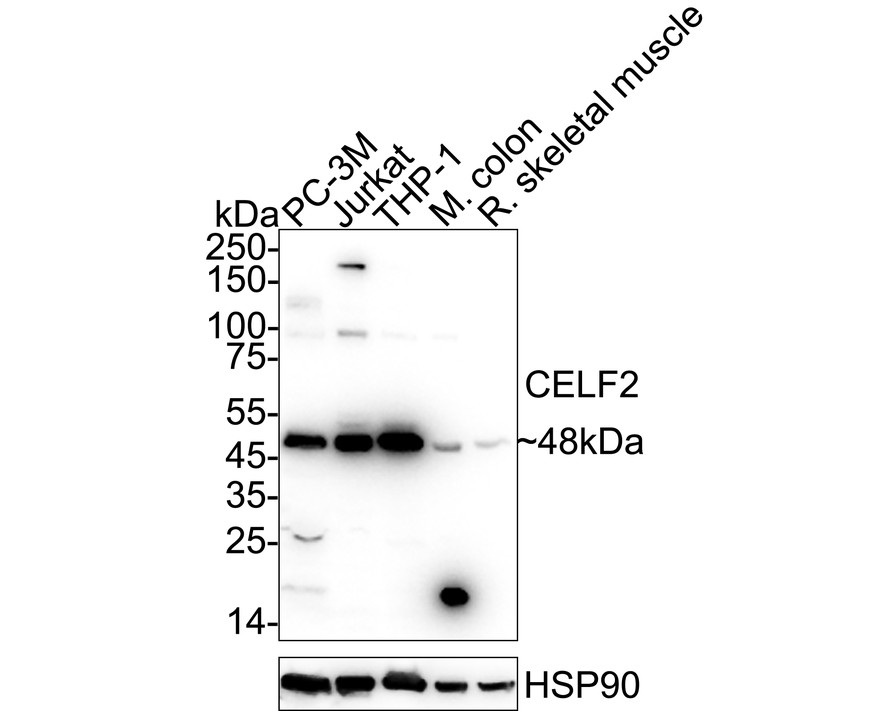 Western blot analysis of CELF2 on different lysates. Proteins were transferred to a PVDF membrane and blocked with 5% BSA in PBS for 1 hour at room temperature. The primary antibody (EM1902-41, 1/500) was used in 5% BSA at room temperature for 2 hours. Goat Anti-Mouse IgG - HRP Secondary Antibody (HA1006) at 1:5,000 dilution was used for 1 hour at room temperature.
Positive control:
Lane 1: MCF-7 cell lysate
Lane 2: A549 cell lysate
Lane 3: PC-3M cell lysate
SPECIFICATIONS
Product Name
SV2B Monoclonal Antibody (EM1902-41)
Immunogen
Synthetic peptide within human celf2 aa 450-508.
Positive Control
MCF-7 cell lysate, A549 cell lysate, PC-3M cell lysate, rat brain tissue, mouse brain tissue.
PROPERTIES
Storage Condition
Store at +4Á¾ after thawing. Aliquot store at -20Á¾. Avoid repeated freeze / thaw cycles.
Storage Buffer
1*TBS (pH7.4), 0.2% BSA, 50% Glycerol. Preservative: 0.05% Sodium Azide.
PURIFICATION
Protein G affinity purified.
TARGET
PROTEIN NAME
CUGBP Elav-like family member 2,CELF-2,Bruno-like protein 3 CUG triplet repeat RNA-binding protein 2 CUG-BP2 CUG-BP- and ETR-3-like factor 2 ELAV-type RNA-binding protein 3 ETR-3 Neuroblastoma apoptosis-related RNA-binding protein hNAPOR RNA-binding protein BRUNOL-3
FUNCTION
RNA-binding protein implicated in the regulation of several post-transcriptional events. Involved in pre-mRNA alternative splicing, mRNA translation and stability. Mediates exon inclusion and/or exclusion in pre-mRNA that are subject to tissue-specific and developmentally regulated alternative splicing. Specifically activates exon 5 inclusion of TNNT2 in embryonic, but not adult, skeletal muscle. Activates TNNT2 exon 5 inclusion by antagonizing the repressive effect of PTB. Acts as both an activator and repressor of a pair of coregulated exons: promotes inclusion of the smooth muscle (SM) exon but exclusion of the non-muscle (NM) exon in actinin pre-mRNAs. Promotes inclusion of exonS 21 and exclusion of exon 5 of the NMDA receptor R1 pre-mRNA. Involved in the apoB RNA editing activity. Increases COX2 mRNA stability and inhibits COX2 mRNA translation in epithelial cells after radiation injury. Modulates the cellular apoptosis program by regulating COX2-mediated prostaglandin E2 (PGE2) expression. Binds to (CUG)n triplet repeats in the 3'-UTR of transcripts such as DMPK. Binds to the muscle-specific splicing enhancer (MSE) intronic sites flanking the TNNT2 alternative exon 5.