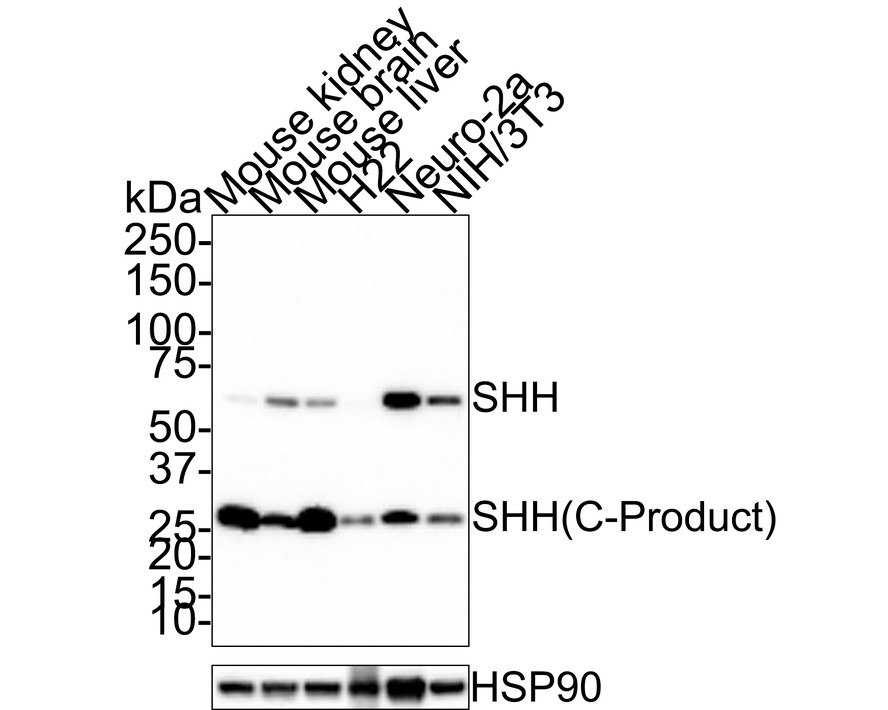 Western blot analysis of Sonic Hedgehog Protein on different lysates using anti-Sonic Hedgehog Protein antibody at 1/1,000 dilution.
Positive control:
Lane 1: Hela
Lane 2: HepG2
SPECIFICATIONS
Product Type
Recombinant Rabbit monoclonal primary
Product Name
Sonic Hedgehog Protein/SHH(C-Product) Recombinant Rabbit Monoclonal Antibody [SC05-28] (ET1610-6)
Positive Control
A549, 293, Hela, HepG2, human kidney tissue, human liver cancer tissue.
PROPERTIES
Storage Condition
Store at +4C after thawing. Aliquot store at -20C or -80C. Avoid repeated freeze / thaw cycles.
Storage Buffer
1*TBS (pH7.4), 0.05% BSA, 40% Glycerol. Preservative: 0.05% Sodium Azide.
TARGET
PROTEIN NAME
Sonic Hedgehog Protein/SHH(C-Product)
SYNONYMS
HHG 1 antibody; HHG-1 antibody; HHG1 antibody; HLP 3 antibody; HLP3 antibody; Holoprosencephaly 3 antibody; HPE 3 antibody; HPE3 antibody; MCOPCB5 antibody; shh antibody; SHH_HUMAN antibody; SMMC I antibody; SMMCI antibody; Sonic Hedgehog (Drosophila) homolog antibody; sonic hedgehog homolog (Drosophila) antibody; Sonic hedgehog homolog antibody; Sonic hedgehog protein antibody; Sonic hedgehog protein C-product antibody; TPT antibody; TPTPS antibody
SEQUENCE SIMILARITIES
Belongs to the hedgehog family.
POST-TRANSLATIONAL MODIFICATION
[Sonic hedgehog protein]: The C-terminal domain displays an autoproteolysis activity and a cholesterol transferase activity (By similarity). Both activities result in the cleavage of the full-length protein and covalent attachment of a cholesterol moiety to the C-terminal of the newly generated N-terminal fragment (ShhN) (By similarity). Cholesterylation is required for the sonic hedgehog protein N-product targeting to lipid rafts and multimerization. ShhN is the active species in both local and long-range signaling, whereas the C-product (ShhC) is degraded in the reticulum endoplasmic (By similarity).; [Sonic hedgehog protein N-product]: N-palmitoylation by HHAT of ShhN is required for sonic hedgehog protein N-product multimerization and full activity (By similarity). It is a prerequisite for the membrane-proximal positioning and the subsequent shedding of this N-terminal peptide.; [Sonic hedgehog protein N-product]: The lipidated N- and C-terminal peptides of ShhNp can be cleaved (shedding)(PubMed:24522195). The N-terminal palmitoylated peptide is cleaved at the Cardin-Weintraub (CW) motif site. The cleavage reduced the interactions with heparan sulfate. The cleavage is enhanced by SCUBE2.
FUNCTION
The Drosophila segment polarity gene hedgehog (hh) encodes a precursor protein which undergoes autocleavage to generate amino- and carboxy-terminal peptides. Both proteins are secreted and appear to function in embryonic and imaginal disc patterning. Several vertebrate homologs of Drosophila hh have been identified. These include Sonic hedgehog (Shh) (alternatively designated Vhh-1), Desert hedgehog (Dhh) and Indian hedgehog (Ihh). Each contain amino-terminal signal peptides and apparently function as secreted proteins involved in the mediation of various cell-cell interactions. Shh resembles Drosophila hh in that it is processed to generate an amino-terminal secreted peptide that is retained at or near the cell surface and a carboxy-terminal glycosylated more diffusible peptide.