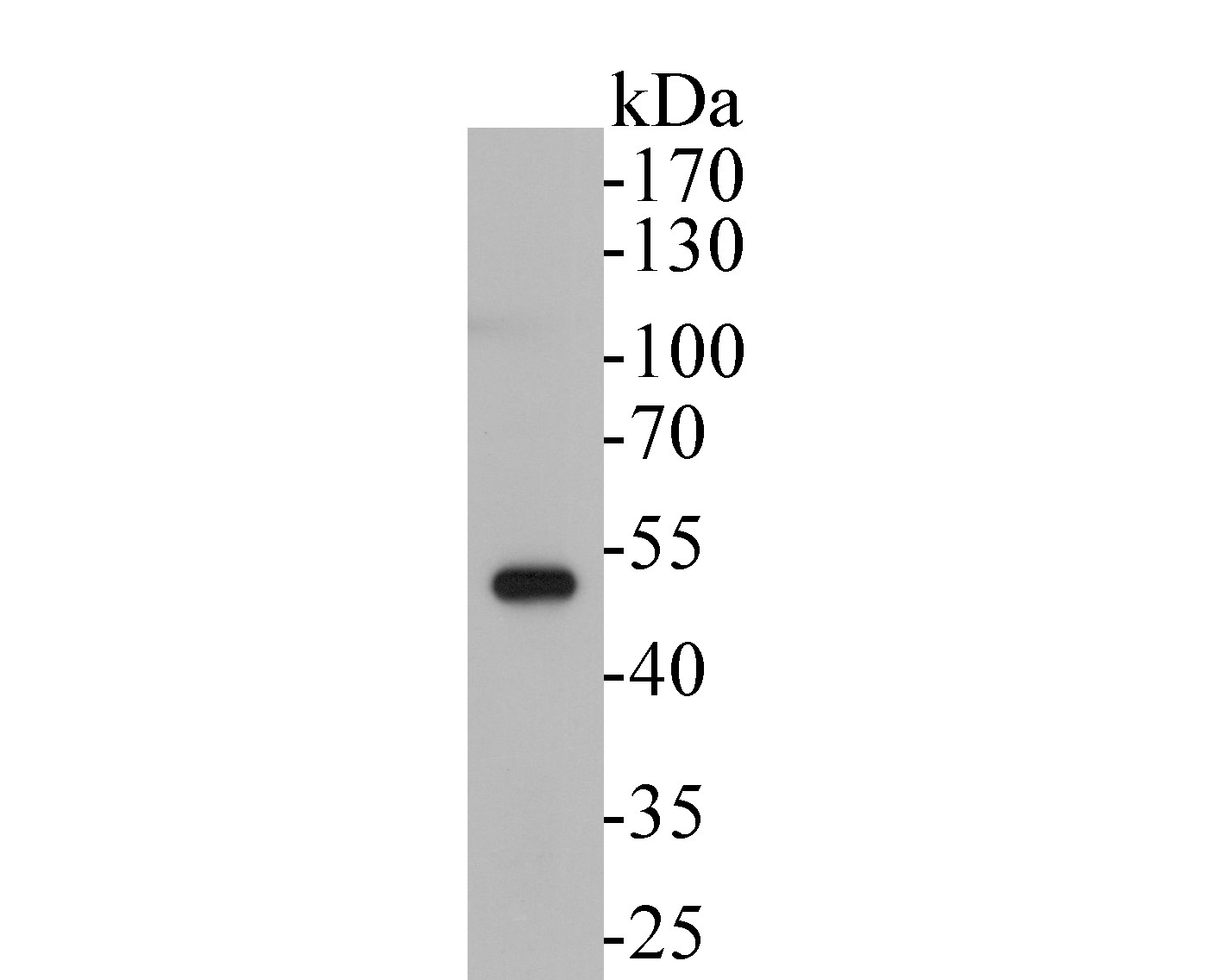 Western blot analysis of RUVB2 on A549 cell lysates. Proteins were transferred to a PVDF membrane and blocked with 5% BSA in PBS for 1 hour at room temperature. The primary antibody (EM1901-59, 1/500) was used in 5% BSA at room temperature for 2 hours. Goat Anti-Mouse IgG - HRP Secondary Antibody (HA1006) at 1:5,000 dilution was used for 1 hour at room temperature.
SPECIFICATIONS
Product Name
RUVB2 Monoclonal Antibody (EM1901-59)
Immunogen
Recombinant protein within human ruvb2 aa 100-350.
Positive Control
A549 cell lysates, A549, HT-29, rat trachea tissue tissue, human tonsil tissue, human colon tissue, mouse testis tissue, HL-60.
PROPERTIES
Storage Condition
Store at +4C after thawing. Aliquot store at -20C. Avoid repeated freeze / thaw cycles.
Storage Buffer
1*PBS (pH7.4), 0.2% BSA, 50% Glycerol. Preservative: 0.05% Sodium Azide.
PURIFICATION
Protein G affinity purified.
TARGET
SEQUENCE SIMILARITIES
Belongs to the RuvB family.
TISSUE SPECIFICITY
Ubiquitously expressed. Highly expressed in testis and thymus.
SUBCELLULAR LOCATION
Nucleus matrix. Nucleus, nucleoplasm. Cytoplasm. Membrane. Note=Mainly localized in the nucleus, associated with nuclear matrix or in the nuclear cytosol. Although it is also present in the cytoplasm and associated with the cell membranes.
FUNCTION
Possesses single-stranded DNA-stimulated ATPase and ATP-dependent DNA helicase (5' to 3') activity; hexamerization is thought to be critical for ATP hydrolysis and adjacent subunits in the ring-like structure contribute to the ATPase activity. Component of the NuA4 histone acetyltransferase complex which is involved in transcriptional activation of select genes principally by acetylation of nucleosomal histones H4 and H2A. This modification may both alter nucleosome -DNA interactions and promote interaction of the modified histones with other proteins which positively regulate transcription. This complex may be required for the activation of transcriptional programs associated with oncogene and proto-oncogene mediated growth induction, tumor suppressor mediated growth arrest and replicative senescence, apoptosis, and DNA repair. The NuA4 complex ATPase and helicase activities seem to be, at least in part, contributed by the association of RUVBL1 and RUVBL2 with EP400. NuA4 may also play a direct role in DNA repair when recruited to sites of DNA damage. Component of a SWR1-like complex that specifically mediates the removal of histone H2A.Z/H2AZ1 from the nucleosome. Proposed core component of the chromatin remodeling INO80 complex which exhibits DNA- and nucleosome-activated ATPase activity and catalyzes ATP-dependent nucleosome sliding. Plays an essential role in oncogenic transformation by MYC and also modulates transcriptional activation by the LEF1/TCF1-CTNNB1 complex. May also inhibit the transcriptional activity of ATF2. Involved in the endoplasmic reticulum (ER)-associated degradation (ERAD) pathway where it negatively regulates expression of ER stress response genes. May play a role in regulating the composition of the U5 snRNP complex.