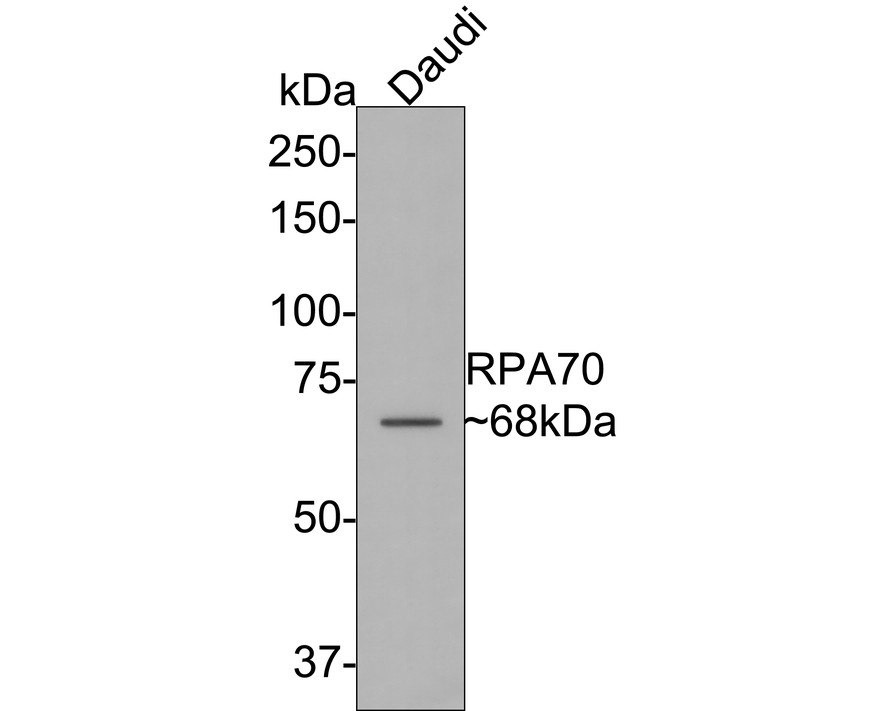 Western blot analysis of RPA70 on Siha cell lysates using anti-RPA70 antibody at 1/500 dilution.
SPECIFICATIONS
Product Type
Recombinant Rabbit monoclonal primary
Product Name
RPA70 Recombinant Rabbit Monoclonal Antibody [JB75-32] (ET7107-51)
Immunogen
Recombinant protein corresponding to human rpa70 aa 1-100.
PROPERTIES
Storage Condition
Store at +4C after thawing. Aliquot store at -20C or -80C. Avoid repeated freeze / thaw cycles.
Storage Buffer
1*TBS (pH7.4), 0.05% BSA, 40% Glycerol. Preservative: 0.05% Sodium Azide.
TARGET
SYNONYMS
Dmrpa1 antibody; Drosophila Replication Protein A antibody; DRPA antibody; HSSB antibody; Human single stranded DNA binding protein antibody; MST075 antibody; MSTP075 antibody; p70 antibody; REPA1 antibody; Replication factor A antibody; Replication factor A protein 1 antibody; Replication protein A 70 kDa DNA-binding subunit antibody; Replication protein A 70kDa DNA binding subunit antibody; Replication protein A1 70kDa antibody; Replication protein A1 antibody; RF A antibody; RF-A protein 1 antibody; RFA antibody; RFA1_HUMAN antibody; RP A antibody; RP-A p70 antibody; RPA 70 antibody; RPA antibody; rpa1 antibody; Single stranded binding protein 70 antibody; Single-stranded DNA-binding protein antibody
SEQUENCE SIMILARITIES
Belongs to the replication factor A protein 1 family.
POST-TRANSLATIONAL MODIFICATION
DNA damage-induced 'Lys-63'-linked polyubiquitination by PRPF19 mediates ATRIP recruitment to the RPA complex at sites of DNA damage and activation of ATR. Ubiquitinated by RFWD3 at stalled replication forks in response to DNA damage: ubiquitination by RFWD3 does not lead to degradation by the proteasome and promotes removal of the RPA complex from stalled replication forks, promoting homologous recombination.; Sumoylated on lysine residues Lys-449 and Lys-577, with Lys-449 being the major site. Sumoylation promotes recruitment of RAD51 to the DNA damage foci to initiate DNA repair through homologous recombination. Desumoylated by SENP6.
FUNCTION
The single-stranded-DNA-binding proteins (SSBs) are essential for DNA function in prokaryotic and eukaryotic cells, mitochondria, phages and viruses. Replication protein A (RPA), a highly conserved eukaryotic protein, is a heterotrimeric SSB. RPA plays an important role in DNA replication, recombination and repair. The binding of human RPA (hRPA) to DNA involves molecular polarity in which initial hRPA binding occurs on the 5' side of an ssDNA substrate and then extends in the 3' direction to create a stably bound hRPA. RPA is a major damage-recognition protein involved in the early stages of nucleotide excision repair. It can also play a role in telomere maintenance. The RPA 70 kDa subunit binds to ssDNA and mediates interactions with many cellular and viral proteins. The DNA binding domain lies in the middle of RPA 70 kDa subunit and comprises two structurally homologous subdomains oriented in tandem. RPA contains a conserved four cysteine-type zinc-finger motif, which mediates the transition of RPA-ssDNA interaction to a stable RPA-ssDNA complex in a redox-dependent manner.