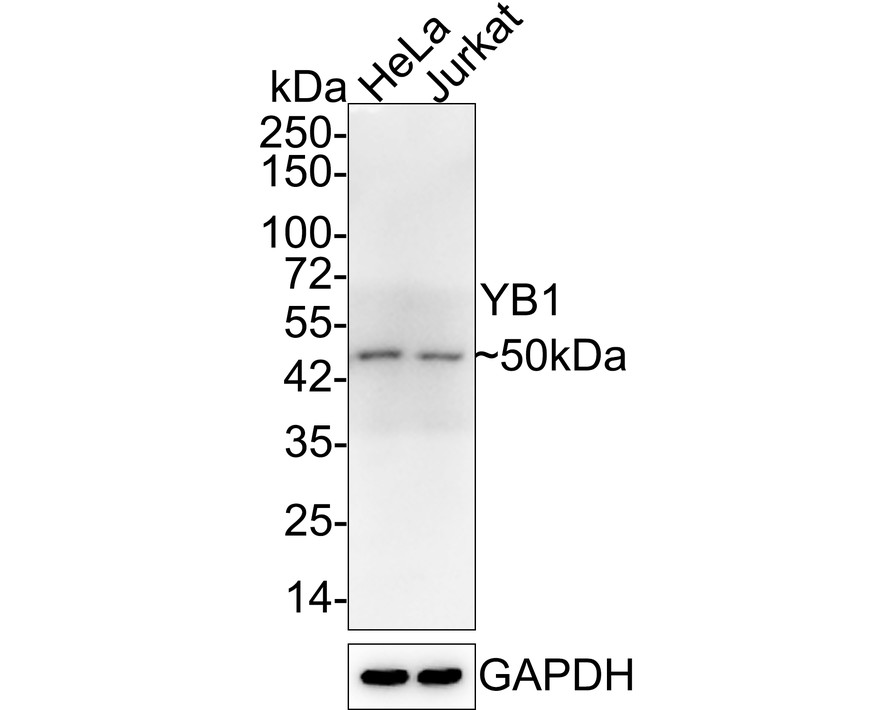 Western blot analysis of YB1 on different lysates using anti-YB1 antibody at 1/1,000 dilution.
Positive control:
Lane 1: Hela
Lane 2: Jurkat
SPECIFICATIONS
Product Type
Recombinant Rabbit monoclonal primary
Product Name
Recombinant YB1 Monoclonal Antibody (ET1609-10)
Positive Control
Jurkat, MCF-7, Hela, HepG2, human breast carcinoma tissue, human kidney tissue, mouse colon tissue, mouse stomach tissue.
PROPERTIES
Storage Condition
Store at +4C after thawing. Aliquot store at -20C or -80C. Avoid repeated freeze / thaw cycles.
Storage Buffer
1*TBS (pH7.4), 0.05% BSA, 40% Glycerol. Preservative: 0.05% Sodium Azide.
TARGET
SYNONYMS
CBF-A, DBPB, EFI-A, YB-1, YBX1
SEQUENCE SIMILARITIES
Belongs to the YBX1 family.
POST-TRANSLATIONAL MODIFICATION
Ubiquitinated by RBBP6; leading to a decrease of YBX1 transcactivational ability.; In the absence of phosphorylation the protein is retained in the cytoplasm.; Cleaved by a 20S proteasomal protease in response to agents that damage DNA. Cleavage takes place in the absence of ubiquitination and ATP. The resulting N-terminal fragment accumulates in the nucleus (By similarity).
SUBCELLULAR LOCATION
Cytoplasm. Nucleus. Cytoplasmic granule. Secreted. Secreted, extracellular exosome. Note=Predominantly cytoplasmic in proliferating cells. Cytotoxic stress and DNA damage enhance translocation to the nucleus. Localized in cytoplasmic mRNP granules containing untranslated mRNAs. Shuttles between nucleus and cytoplasm. Localized with DDX1, MBNL1 and TIAL1 in stress granules upon stress. Secreted by mesangial and monocytic cells after inflammatory challenges.
FUNCTION
DNA- and RNA-binding protein involved in various processes, such as translational repression, RNA stabilization, mRNA splicing, DNA repair and transcription regulation. Predominantly acts as a RNA-binding protein: binds preferentially to the 5'-[CU]CUGCG-3' RNA motif and specifically recognizes mRNA transcripts modified by C5-methylcytosine (m5C). Promotes mRNA stabilization: acts by binding to m5C-containing mRNAs and recruiting the mRNA stability maintainer ELAVL1, thereby preventing mRNA decay. Component of the CRD-mediated complex that promotes MYC mRNA stability. Contributes to the regulation of translation by modulating the interaction between the mRNA and eukaryotic initiation factors (By similarity). Plays a key role in RNA composition of extracellular exosomes by defining the sorting of small non-coding RNAs, such as tRNAs, Y RNAs, Vault RNAs and miRNAs. Probably sorts RNAs in exosomes by recognizing and binding C5-methylcytosine (m5C)-containing RNAs. Acts as a key effector of epidermal progenitors by preventing epidermal progenitor senescence: acts by regulating the translation of a senescence-associated subset of cytokine mRNAs, possibly by binding to m5C-containing mRNAs. Also involved in pre-mRNA alternative splicing regulation: binds to splice sites in pre-mRNA and regulates splice site selection. Also able to bind DNA: regulates transcription of the multidrug resistance gene MDR1 is enhanced in presence of the APEX1 acetylated form at 'Lys-6' and 'Lys-7'. Binds to promoters that contain a Y-box (5'-CTGATTGGCCAA-3'), such as MDR1 and HLA class II genes. Promotes separation of DNA strands that contain mismatches or are modified by cisplatin. Has endonucleolytic activity and can introduce nicks or breaks into double-stranded DNA, suggesting a role in DNA repair. The secreted form acts as an extracellular mitogen and stimulates cell migration and proliferation.