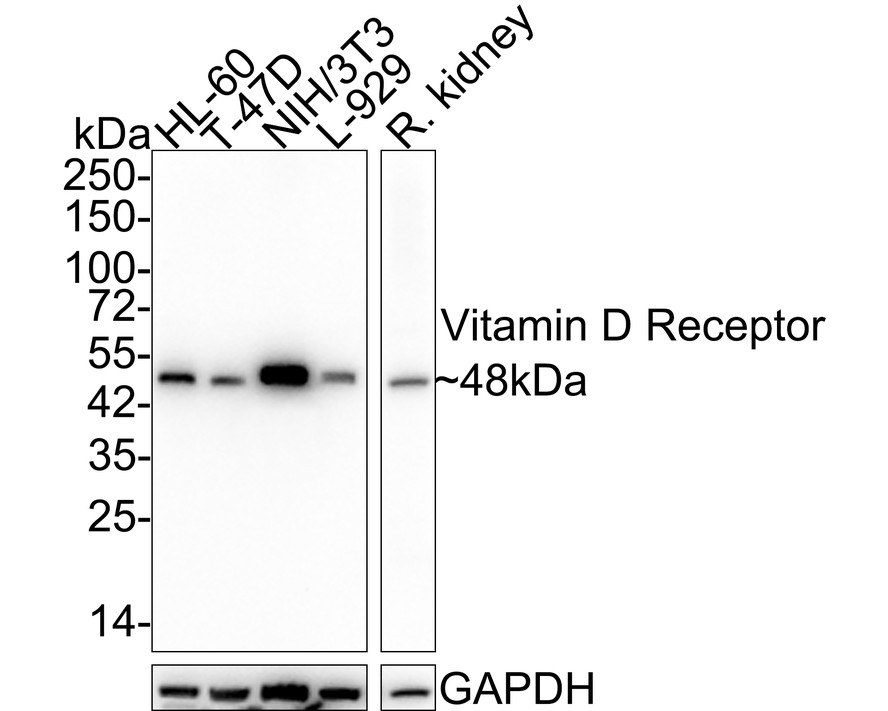 Immunohistochemical analysis of paraffin-embedded rat colon tissue using anti-Vitamin D Receptor antibody. The section was pre-treated using heat mediated antigen retrieval with sodium citrate buffer (pH 6.0) for 20 minutes. The tissues were blocked in 5% BSA for 30 minutes at room temperature, washed with ddH2O and PBS, and then probed with the antibody (ET1704-09) at 1/100 dilution, for 30 minutes at room temperature and detected using an HRP conjugated compact polymer system. DAB was used as the chromogen. Counter stained with hematoxylin and mounted with DPX.
SPECIFICATIONS
Product Type
Recombinant Rabbit monoclonal primary
Product Name
Recombinant Vitamin D Receptor Monoclonal Antibody (ET1704-09)
Immunogen
Recombinant protein with n terminal human vitamin d receptor.
Positive Control
MCF-7 cell lysate, U937 cell lysate, rat large intestine tissue, human skin tissue, mouse colon tissue, mouse skin tissue, Hela.
PROPERTIES
Storage Condition
Store at +4C after thawing. Aliquot store at -20C. Avoid repeated freeze / thaw cycles.
Storage Buffer
1*TBS (pH7.4), 0.05% BSA, 40% Glycerol. Preservative: 0.05% Sodium Azide.
PURIFICATION
Protein A affinity purified.
TARGET
SYNONYMS
1 25 dihydroxyvitamin D3 receptor antibody; 1 antibody; 1,25 dihydroxyvitamin D3 receptor antibody; 1,[email protected] D3 receptor antibody; 25-dihydroxyvitamin D3 receptor antibody; Member 1 antibody; NR1I1 antibody; Nuclear receptor subfamily 1 group I member 1 antibody; PPP1R163 antibody; Protein phosphatase 1, regulatory subunit 163 antibody; VDR antibody; VDR_HUMAN antibody; Vitamin D (1,25- dihydroxyvitamin D3) receptor antibody; Vitamin D hormone receptor antibody; Vitamin D nuclear receptor variant 1 antibody; Vitamin D receptor antibody; Vitamin D3 receptor antibody
SEQUENCE SIMILARITIES
Belongs to the nuclear hormone receptor family. NR1 subfamily.
FUNCTION
This gene encodes the nuclear hormone receptor for vitamin D3. The active metabolite of vitamin D modulates the expression of a wide variety of genes in a developmentally specific manner. The receptor belongs to the family of trans-acting transcriptional regulatory factors and shows sequence similarity to the steroid and thyroid hormone receptors. This secosteroid hormone can up- or downregulate the expression of genes involved in a diverse array of responses such as proliferation, differentiation and calcium homeostasis. 1,25-(OH)2-vitamin D3 exerts its effects through interaction with the vitamin D receptor (VDR), a member of the superfamily of hormone-activated nuclear receptors. In its ligand-bound state, the VDR forms heterodimers with the 9-cis retinoic acid receptor, RXR, and affects gene expression by binding specific DNA sequences known as hormone response elements, or HREs. In addition to regulating the above-mentioned cellular responses, 1,25-(OH)2-vitamin D3 exhibits antiproliferative properties in osteosarcoma, melanoma, colon carcinoma and breast carcinoma cells. Mutations in this gene are associated with type II vitamin D-resistant rickets. A single nucleotide polymorphism in the initiation codon results in an alternate translation start site three codons downstream. Alternative splicing results in multiple transcript variants encoding different proteins.