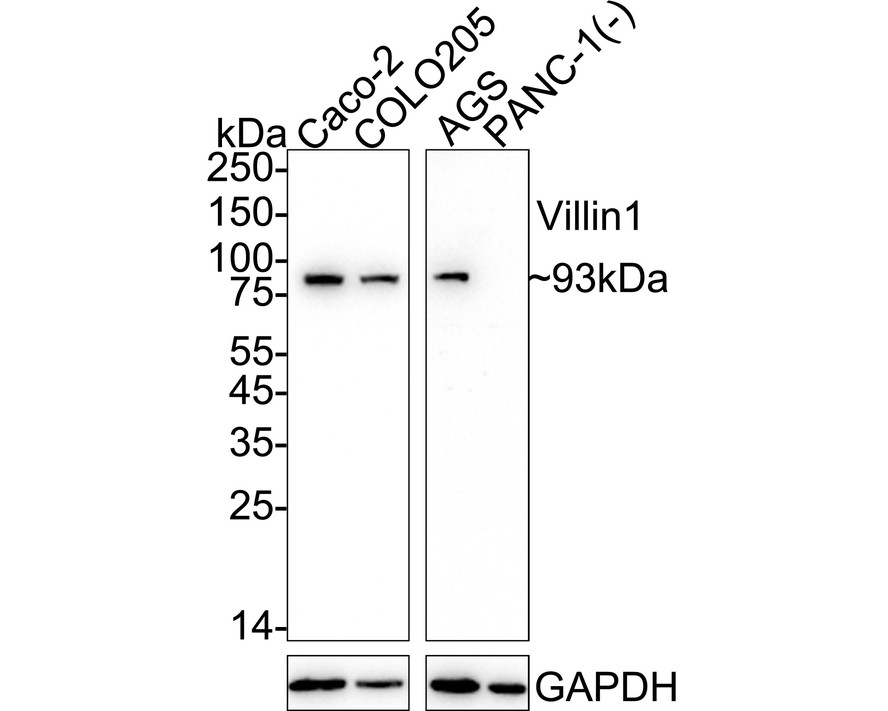 Western blot analysis of villin1 on different lysates. Proteins were transferred to a PVDF membrane and blocked with 5% BSA in PBS for 1 hour at room temperature. The primary antibody (ET7106-62, 1/500) was used in 5% BSA at room temperature for 2 hours. Goat Anti-Rabbit IgG - HRP Secondary Antibody (HA1001) at 1:5,000 dilution was used for 1 hour at room temperature.
Positive control:
Lane 1: mouse colon tissue lysate
Lane 2: human small intestine tissue lysate
Lane 3: human colon tissue lysate
Lane 4: rat kidney tissue lysate
SPECIFICATIONS
Product Type
Recombinant Rabbit monoclonal primary
Product Name
Recombinant villin1 Monoclonal Antibody (ET7106-62)
Positive Control
Mouse colon tissue lysate, human small intestine tissue lysate, human colon tissue lysate, rat kidney tissue lysate, Hela, HepG2, LOVO, human colon cancer tissue, human kidney, mouse colon tissue.
PROPERTIES
Storage Condition
Store at +4C after thawing. Aliquot store at -20C or -80C. Avoid repeated freeze / thaw cycles.
Storage Buffer
1*TBS (pH7.4), 0.05% BSA, 40% Glycerol. Preservative: 0.05% Sodium Azide.
TARGET
SEQUENCE SIMILARITIES
Belongs to the villin/gelsolin family.
TISSUE SPECIFICITY
Specifically expressed in epithelial cells. Major component of microvilli of intestinal epithelial cells and kidney proximal tubule cells. Expressed in canalicular microvilli of hepatocytes (at protein level).
POST-TRANSLATIONAL MODIFICATION
Tyrosine phosphorylation is induced by epidermal growth factor (EGF) and stimulates cell migration (By similarity). Phosphorylated on tyrosine residues by SRC. The unphosphorylated form increases the initial rate of actin-nucleating activity, whereas the tyrosine-phosphorylated form inhibits actin-nucleating activity, enhances actin-bundling activity and enhances actin-severing activity by reducing high Ca(2+) requirements. The tyrosine-phosphorylated form does not regulate actin-capping activity. Tyrosine phosphorylation is essential for cell migration: tyrosine phosphorylation sites in the N-terminus half regulate actin reorganization and cell morphology, whereas tyrosine phosphorylation sites in the C-terminus half regulate cell migration via interaction with PLCG1.
SUBCELLULAR LOCATION
Cytoplasm, cytoskeleton. Cell projection, lamellipodium. Cell projection, ruffle. Cell projection, microvillus. Cell projection, filopodium tip. Cell projection, filopodium. Note=Relocalized in the tip of cellular protrusions and filipodial extensions upon infection with S.flexneri in primary intestinal epithelial cells (IEC) and in the tail-like structures forming the actin comets of S.flexneri. Redistributed to the leading edge of hepatocyte growth factor (HGF)-induced lamellipodia (By similarity). Rapidly redistributed to ruffles and lamellipodia structures in response to autotaxin, lysophosphatidic acid (LPA) and epidermal growth factor (EGF) treatment.
FUNCTION
Epithelial cell-specific Ca(2+)-regulated actin-modifying protein that modulates the reorganization of microvillar actin filaments. Plays a role in the actin nucleation, actin filament bundle assembly, actin filament capping and severing. Binds phosphatidylinositol 4,5-bisphosphate (PIP2) and lysophosphatidic acid (LPA); binds LPA with higher affinity than PIP2. Binding to LPA increases its phosphorylation by SRC and inhibits all actin-modifying activities. Binding to PIP2 inhibits actin-capping and -severing activities but enhances actin-bundling activity. Regulates the intestinal epithelial cell morphology, cell invasion, cell migration and apoptosis. Protects against apoptosis induced by dextran sodium sulfate (DSS) in the gastrointestinal epithelium. Appears to regulate cell death by maintaining mitochondrial integrity. Enhances hepatocyte growth factor (HGF)-induced epithelial cell motility, chemotaxis and wound repair. Upon S.flexneri cell infection, its actin-severing activity enhances actin-based motility of the bacteria and plays a role during the dissemination.