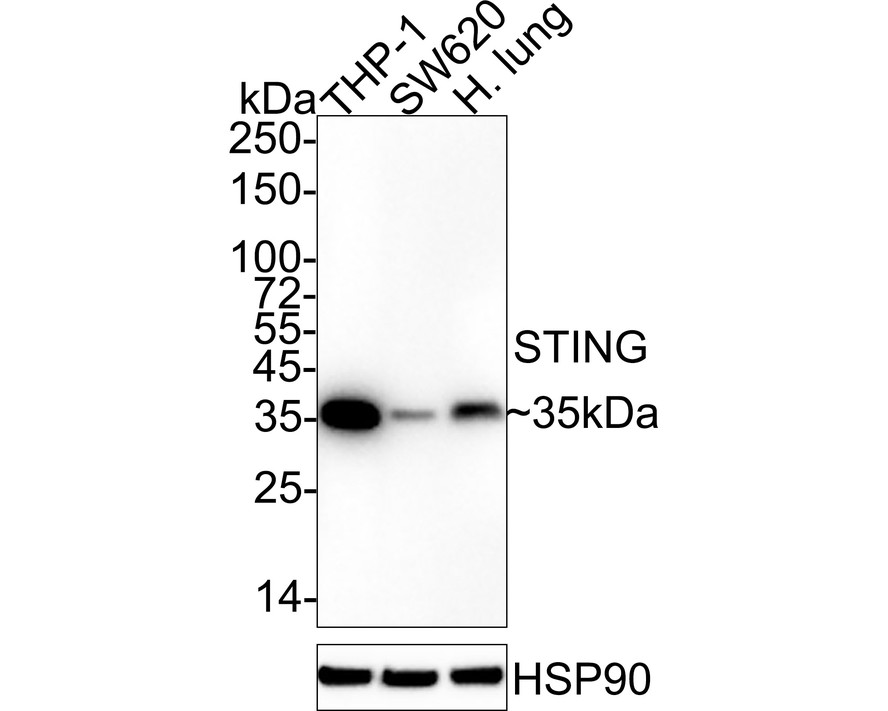 Western blot analysis of TMEM173 on U937 (1) and 293 (2) cell lysate using anti-TMEM173 antibody at 1/1,000 dilution.
SPECIFICATIONS
Product Type
Recombinant Rabbit monoclonal primary
Product Name
Recombinant TMEM173 Monoclonal Antibody (ET1705-68)
PROPERTIES
Storage Condition
Store at +4C after thawing. Aliquot store at -20C or -80C. Avoid repeated freeze / thaw cycles.
Storage Buffer
1*TBS (pH7.4), 0.05% BSA, 40% Glycerol. Preservative: 0.05% Sodium Azide.
TARGET
SYNONYMS
endoplasmic reticulum IFN stimulator antibody; Endoplasmic reticulum interferon stimulator antibody; ERIS antibody; FLJ38577 antibody; hMITA antibody; hSTING antibody; Mediator of IRF3 activation antibody; MITA antibody; Mitochondrial mediator of IRF3 activation antibody; MPYS antibody; N terminal methionine proline tyrosine serine plasma membrane tetraspanner antibody; NET23 antibody; Stimulator of interferon genes antibody; Stimulator of interferon genes protein antibody; STING antibody; TM173_HUMAN antibody; Tmem173 antibody; Transmembrane protein 173 antibody
SEQUENCE SIMILARITIES
Belongs to the STING family.
TISSUE SPECIFICITY
Ubiquitously expressed. Expressed in skin endothelial cells, alveolar type 2 pneumocytes, bronchial epithelium and alveolar macrophages.
POST-TRANSLATIONAL MODIFICATION
Phosphorylation by TBK1 leads to activation and production of IFN-beta. Following cyclic nucleotide (c-di-GMP or cGAMP)-binding, activation and translocation from the endoplasmic reticulum, STING1 is phosphorylated by TBK1 at Ser-366 in the pLxIS motif. The phosphorylated pLxIS motif constitutes an IRF3-binding motif, leading to recruitment of the transcription factor IRF3 to induce type-I interferons and other cytokines. Phosphorylated on tyrosine residues upon MHC-II aggregation (By similarity).; Ubiquitinated. Ubiquitinated via 'Lys-63'-linked ubiquitin chains in response to double-stranded DNA treatment, leading to relocalization to autophagosomes and subsequent degradation; this process is dependent on SQSTM1 (By similarity). 'Lys-63'-linked ubiquitination mediated by TRIM56 at Lys-150 promotes homodimerization and recruitment of the antiviral kinase TBK1 and subsequent production of IFN-beta. 'Lys-48'-linked polyubiquitination at Lys-150 occurring after viral infection is mediated by RNF5 and leads to proteasomal degradation. 'Lys-11'-linked polyubiquitination at Lys-150 by RNF26 leads to stabilize STING1: it protects STING1 from RNF5-mediated 'Lys-48'-linked polyubiquitination.
FUNCTION
Facilitator of innate immune signaling that promotes the production of type I interferon (IFN-alpha and IFN-beta). Innate immune response is triggered in response to non-CpG double-stranded DNA from viruses and bacteria delivered to the cytoplasm. Able to activate both NF-kappa-B and IRF3 transcription pathways to induce expression of type I interferon and exert a potent anti-viral state following expression. May be involved in translocon function, the translocon possibly being able to influence the induction of type I interferons. May be involved in transduction of apoptotic signals via its association with the major histocompatibility complex class II (MHC-II). Mediates death signaling via activation of the extracellular signal-regulated kinase (ERK) pathway.