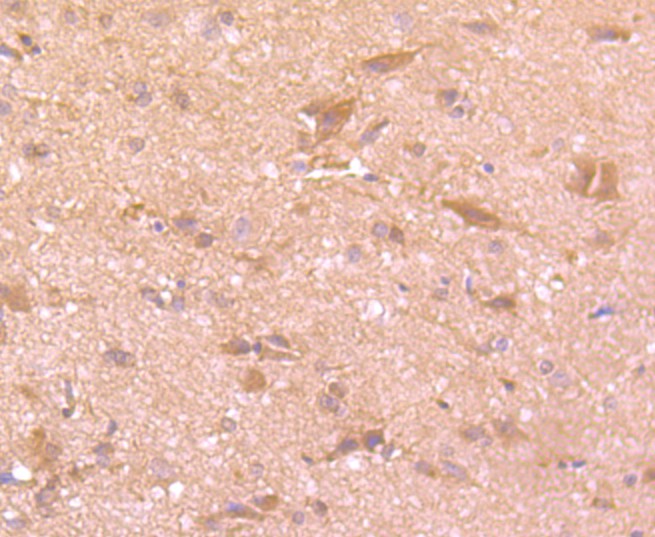 Immunohistochemical analysis of paraffin-embedded rat brain tissue using anti-PLAT antibody. Counter stained with hematoxylin.
SPECIFICATIONS
Product Type
Recombinant Rabbit monoclonal primary
Product Name
Recombinant Tissue-type plasminogen activator Monoclonal Antibody (ET1702-19)
Positive Control
Rat brain tissue, mouse brain tissue.
PROPERTIES
Storage Condition
Store at +4C after thawing. Aliquot store at -20C or -80C. Avoid repeated freeze / thaw cycles.
Storage Buffer
1*TBS (pH7.4), 0.05% BSA, 40% Glycerol. Preservative: 0.05% Sodium Azide.
TARGET
PROTEIN NAME
Tissue-type plasminogen activator
SYNONYMS
Alteplase antibody; DKFZp686I03148 antibody; Plasminogen activator tissue antibody; Plasminogen activator tissue type antibody; PLAT antibody; Reteplase antibody; t PA antibody; T Plasminogen Activator antibody; t-PA antibody; T-plasminogen activator antibody; Tissue plasminogen activator (t PA) antibody; Tissue type plasminogen activator antibody; Tissue-type plasminogen activator chain B antibody; tPA antibody; TPA_HUMAN antibody; TPA1 antibody
SEQUENCE SIMILARITIES
Belongs to the peptidase S1 family.
TISSUE SPECIFICITY
Synthesized in numerous tissues (including tumors) and secreted into most extracellular body fluids, such as plasma, uterine fluid, saliva, gingival crevicular fluid, tears, seminal fluid, and milk.
POST-TRANSLATIONAL MODIFICATION
The single chain, almost fully active enzyme, can be further processed into a two-chain fully active form by a cleavage after Arg-310 catalyzed by plasmin, tissue kallikrein or factor Xa.; Differential cell-specific N-linked glycosylation gives rise to two glycoforms, type I (glycosylated at Asn-219) and type II (not glycosylated at Asn-219). The single chain type I glycoform is less readily converted into the two-chain form by plasmin, and the two-chain type I glycoform has a lower activity than the two-chain type II glycoform in the presence of fibrin.; N-glycosylation of Asn-152; the bound oligomannosidic glycan is involved in the interaction with the mannose receptor.; Characterization of O-linked glycan was studied in Bowes melanoma cell line.
FUNCTION
uPA (urokinase-type plasminogen activator) and tPA (tissue plasminogen activator), which are serine proteases and members of the trypsin family, are essential to the intrinsic coagulation system. tPA is primarily involved in fibrinolysis, whereas uPA principally mediates cell migration and tissue remodeling processes. uPA and tPA are responsible for cleaving plasminogen, a large serum β-globulin that is deposited on the Fibrin strands within a thrombus. uPA and tPA preferentially target plasminogen at the Arg-Val bond to produce plasmin (also designated fibrinolysin), which is a trypsin-like enzyme that acts on Arg-Lys bonds in Fibrin and Fibrinogen and contributes to the systematic activation of the coagulation cascade. uPA and tPA each consist of two chains that are designated A and B. The A chain of uPA can be cleaved, resulting in low and high molecular mass forms. uPA and tPA are regulated by the serpin family members PAI-1 and PAI-2, which are serine proteinase inhibitors that complex with uPA, tPA and other targeted proteinases and then slowly disassociate to produce cleaved species that fold into stable inactive conformations.