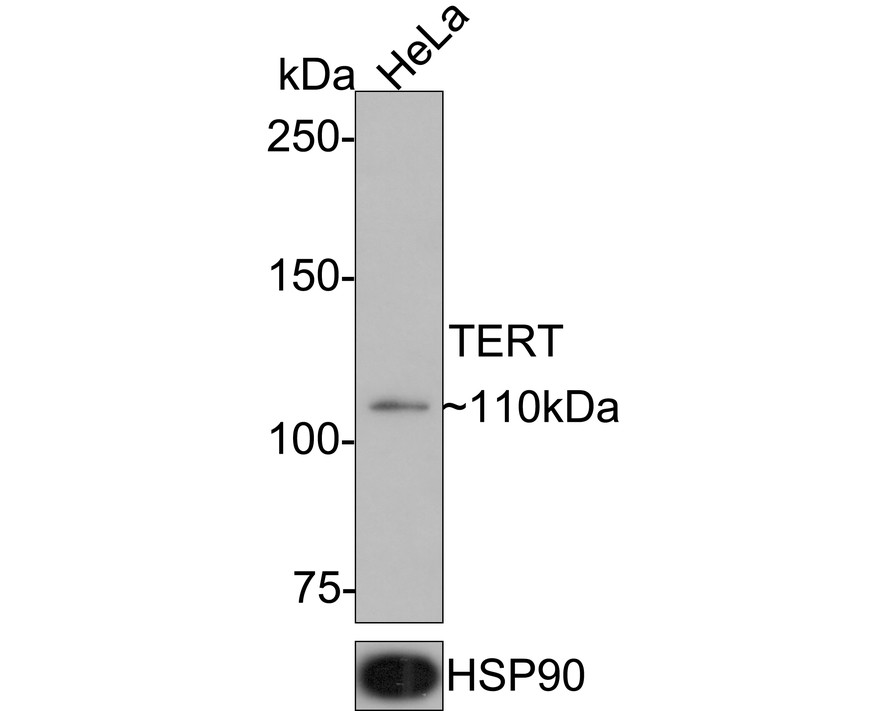 Western blot analysis of TERT on Hela cells lysates using anti-TERT antibody at 1/1,000 dilution.
SPECIFICATIONS
Product Type
Recombinant Rabbit monoclonal primary
Product Name
Recombinant Telomerase reverse transcriptase Monoclonal Antibody (ET1702-22)
PROPERTIES
Storage Condition
Store at +4C after thawing. Aliquot store at -20C or -80C. Avoid repeated freeze / thaw cycles.
Storage Buffer
1*TBS (pH7.4), 0.05% BSA, 40% Glycerol. Preservative: 0.05% Sodium Azide.
TARGET
PROTEIN NAME
Telomerase reverse transcriptase
SEQUENCE SIMILARITIES
Belongs to the reverse transcriptase family. Telomerase subfamily.
TISSUE SPECIFICITY
Expressed at a high level in thymocyte subpopulations, at an intermediate level in tonsil T-lymphocytes, and at a low to undetectable level in peripheral blood T-lymphocytes.
POST-TRANSLATIONAL MODIFICATION
Phosphorylation at Tyr-707 under oxidative stress leads to translocation of TERT to the cytoplasm and reduces its antiapoptotic activity. Dephosphorylated by SHP2/PTPN11 leading to nuclear retention. Phosphorylation at Ser-227 by the AKT pathway promotes nuclear location. Phosphorylation at the G2/M phase at Ser-457 by DYRK2 promotes ubiquitination by the EDVP complex and degradation.; Ubiquitinated by the EDVP complex, a E3 ligase complex following phosphorylation at Ser-457 by DYRK2. Ubiquitinated leads to proteasomal degradation.; (Microbial infection) In case of infection by HIV-1, the EDVP complex is hijacked by HIV-1 via interaction between HIV-1 Vpr and DCAF1/VPRBP, leading to ubiquitination and degradation.
SUBCELLULAR LOCATION
Nucleus, nucleolus. Nucleus, nucleoplasm. Nucleus. Chromosome, telomere. Cytoplasm. Nucleus, PML body. Note=Shuttling between nuclear and cytoplasm depends on cell cycle, phosphorylation states, transformation and DNA damage. Diffuse localization in the nucleoplasm. Enriched in nucleoli of certain cell types. Translocated to the cytoplasm via nuclear pores in a CRM1/RAN-dependent manner involving oxidative stress-mediated phosphorylation at Tyr-707. Dephosphorylation at this site by SHP2 retains TERT in the nucleus. Translocated to the nucleus by phosphorylation by AKT.
FUNCTION
Telomerase is a ribonucleoprotein enzyme essential for the replication of chromosome termini in most eukaryotes. Active in progenitor and cancer cells. Inactive, or very low activity, in normal somatic cells. Catalytic component of the teleromerase holoenzyme complex whose main activity is the elongation of telomeres by acting as a reverse transcriptase that adds simple sequence repeats to chromosome ends by copying a template sequence within the RNA component of the enzyme. Catalyzes the RNA-dependent extension of 3'-chromosomal termini with the 6-nucleotide telomeric repeat unit, 5'-TTAGGG-3'. The catalytic cycle involves primer binding, primer extension and release of product once the template boundary has been reached or nascent product translocation followed by further extension. More active on substrates containing 2 or 3 telomeric repeats. Telomerase activity is regulated by a number of factors including telomerase complex-associated proteins, chaperones and polypeptide modifiers. Modulates Wnt signaling. Plays important roles in aging and antiapoptosis.