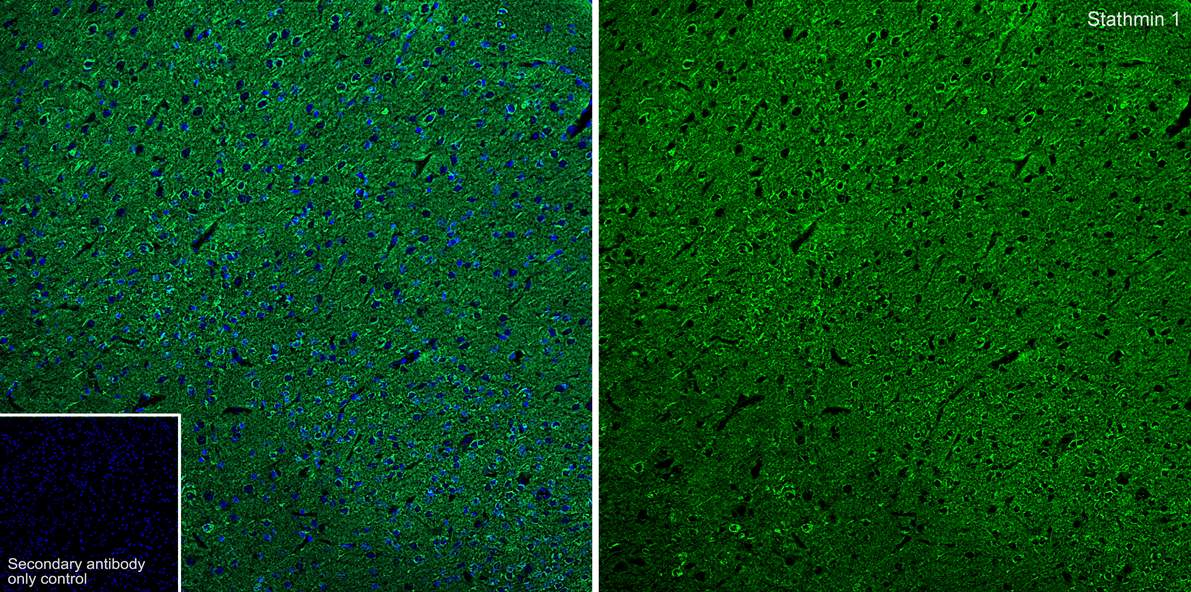 ICC staining Stathmin 1 in PC-12 cells (green). The nuclear counter stain is DAPI (blue). Cells were fixed in paraformaldehyde, permeabilised with 0.25% Triton X100/PBS.
SPECIFICATIONS
Product Type
Recombinant Rabbit monoclonal primary
Product Name
Recombinant Stathmin 1 Monoclonal Antibody (ET1609-20)
Positive Control
PC-12, SH-SY-5Y, Hela, human tonsil tissue, human breast carcinoma tissue, mouse testis tissue, mouse spinal cord tissue, mouse brain tissue.
PROPERTIES
Storage Condition
Store at +4C after thawing. Aliquot store at -20C or -80C. Avoid repeated freeze / thaw cycles.
Storage Buffer
1*TBS (pH7.4), 0.05% BSA, 40% Glycerol. Preservative: 0.05% Sodium Azide.
TARGET
SYNONYMS
C1orf215 antibody; Lag antibody; LAP 18 antibody; LAP18 antibody; Leukemia associated phosphoprotein p18 antibody; Leukemia-associated phosphoprotein p18 antibody; Metablastin antibody; Oncoprotein 18 antibody; OP 18 antibody; Op18 antibody; p18 antibody; p19 antibody; Phosphoprotein 19 antibody; Phosphoprotein p19 antibody; pp17 antibody; pp19 antibody; PR22 antibody; Pr22 protein antibody; Prosolin antibody; Protein Pr22 antibody; SMN antibody; Stathmin antibody; Stathmin1 antibody; STMN 1 antibody; Stmn1 antibody; STMN1_HUMAN antibody
SEQUENCE SIMILARITIES
Belongs to the stathmin family.
TISSUE SPECIFICITY
Ubiquitous. Expression is strongest in fetal and adult brain, spinal cord, and cerebellum, followed by thymus, bone marrow, testis, and fetal liver. Expression is intermediate in colon, ovary, placenta, uterus, and trachea, and is readily detected at substantially lower levels in all other tissues examined. Lowest expression is found in adult liver. Present in much greater abundance in cells from patients with acute leukemia of different subtypes than in normal peripheral blood lymphocytes, non-leukemic proliferating lymphoid cells, bone marrow cells, or cells from patients with chronic lymphoid or myeloid leukemia.
POST-TRANSLATIONAL MODIFICATION
Many different phosphorylated forms are observed depending on specific combinations among the sites which can be phosphorylated. MAPK is responsible for the phosphorylation of stathmin in response to NGF. Phosphorylation at Ser-16 seems to be required for neuron polarization (By similarity). Phosphorylation at Ser-63 reduces tubulin binding 10-fold and suppresses the MT polymerization inhibition activity.
FUNCTION
Op18 (for oncoprotein 18, also designated stathmin, prosolin or metablastin) is a conserved, tubulin-associated, intracellular phosphoprotein . Many different phosphorylated forms of Op18 are observed, and it is expressed as two different isoforms. Op18 is considered a critical regulator of microtubulin dynamics and is downregulated by p53. It serves as a transducing protein, via phophorylation, for a variety of cell signaling pathways and involved in both mitosis and differentiation. Op18 is present in many cancers, including breast carcinomas, and is highly expressed in acute leukemias of different subtypes.