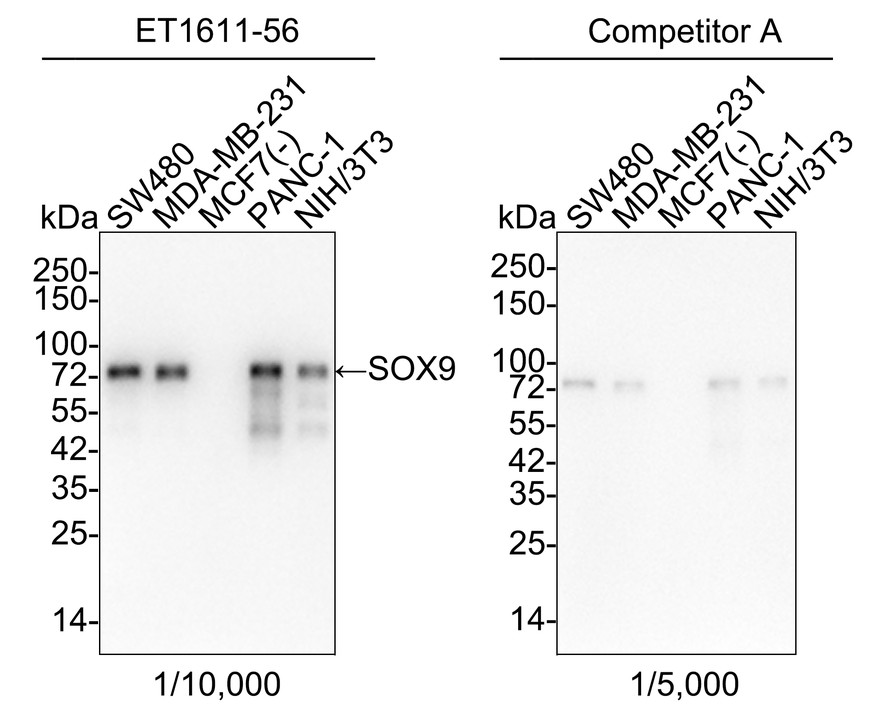 Western blot analysis of SOX9 on SW480 cell lysates. Proteins were transferred to a PVDF membrane and blocked with 5% BSA in PBS for 1 hour at room temperature. The primary antibody (ET1611-56, 1/500) was used in 5% BSA at room temperature for 2 hours. Goat Anti-Rabbit IgG - HRP Secondary Antibody (HA1001) at 1:5,000 dilution was used for 1 hour at room temperature.
SPECIFICATIONS
Product Type
Recombinant Rabbit monoclonal primary
Product Name
Recombinant SOX9 Monoclonal Antibody (ET1611-56)
Positive Control
SW480, MCF-7, human tonsil tissue, human breast carcinoma tissue, mouse spleen tissue, mouse colon tissue.
PROPERTIES
Storage Condition
Store at +4C after thawing. Aliquot store at -20C or -80C. Avoid repeated freeze / thaw cycles.
Storage Buffer
1*TBS (pH7.4), 0.05% BSA, 40% Glycerol. Preservative: 0.05% Sodium Azide.
TARGET
PROTEIN NAME
Transcription factor SOX-9
POST-TRANSLATIONAL MODIFICATION
Acetylated; acetylation impairs nuclear localization and ability to transactivate expression of target genes. Deacetylated by SIRT1.; Phosphorylation at Ser-64 and Ser-211 by PKA increases transcriptional activity and may help delay chondrocyte maturation downstream of PTHLH/PTHrP signaling. Phosphorylation at either Ser-64 or Ser-211 is required for sumoylation, but phosphorylation is not dependent on sumoylation. Phosphorylated on tyrosine residues; tyrosine dephosphorylation by PTPN11/SHP2 blocks SOX9 phosphorylation by PKA and subsequent SUMOylation.; Ubiquitinated; ubiquitination leads to proteasomal degradation and is negatively regulated by DDRGK1.; Sumoylated; phosphorylation at either Ser-64 or Ser-211 is required for sumoylation. Sumoylation is induced by BMP signaling pathway.
FUNCTION
Transcription factor that plays a key role in chondrocytes differentiation and skeletal development. Specifically binds the 5'-ACAAAG-3' DNA motif present in enhancers and super-enhancers and promotes expression of genes important for chondrogenesis, including cartilage matrix protein-coding genes COL2A1, COL4A2, COL9A1, COL11A2 and ACAN, SOX5 and SOX6. Also binds to some promoter regions (By similarity). Plays a central role in successive steps of chondrocyte differentiation (By similarity). Absolutely required for precartilaginous condensation, the first step in chondrogenesis during which skeletal progenitors differentiate into prechondrocytes (By similarity). Together with SOX5 and SOX6, required for overt chondrogenesis when condensed prechondrocytes differentiate into early stage chondrocytes, the second step in chondrogenesis (By similarity). Later, required to direct hypertrophic maturation and block osteoblast differentiation of growth plate chondrocytes: maintains chondrocyte columnar proliferation, delays prehypertrophy and then prevents osteoblastic differentiation of chondrocytes by lowering beta-catenin (CTNNB1) signaling and RUNX2 expression (By similarity). Also required for chondrocyte hypertrophy, both indirectly, by keeping the lineage fate of chondrocytes, and directly, by remaining present in upper hypertrophic cells and transactivating COL10A1 along with MEF2C (By similarity). Low lipid levels are the main nutritional determinant for chondrogenic commitment of skeletal progenitor cells: when lipids levels are low, FOXO (FOXO1 and FOXO3) transcription factors promote expression of SOX9, which induces chondrogenic commitment and suppresses fatty acid oxidation (By similarity). Mechanistically, helps, but is not required, to remove epigenetic signatures of transcriptional repression and deposit active promoter and enhancer marks at chondrocyte-specific genes (By similarity). Acts in cooperation with the Hedgehog pathway-dependent GLI (GLI1 and GLI3) transcription factors (By similarity). In addition to cartilage development, also acts as a regulator of proliferation and differentiation in epithelial stem/progenitor cells: involved in the lung epithelium during branching morphogenesis, by balancing proliferation and differentiation and regulating the extracellular matrix (By similarity). Controls epithelial branching during kidney development (By similarity).
CITATIONS
Huang, Bao et al.

The RCAN1.4-calcineurin/NFAT signaling pathway is essential for hypoxic adaption of intervertebral discs. | Experimental & Molecular Medicine [2020]